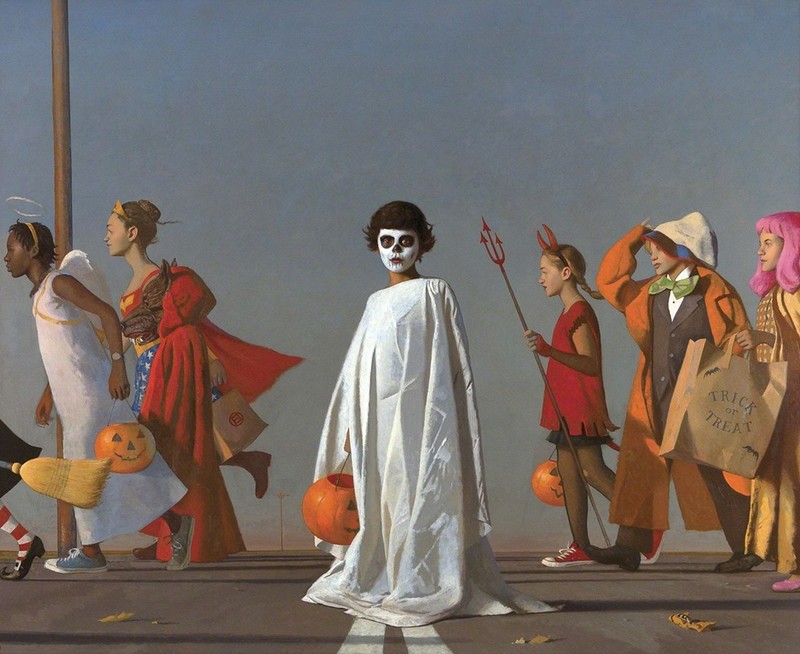 Bo Bartlett is an American realist with a modernist vision. His paintings are well within the tradition of American realism as defined by artists such as Thomas Eakins and Andrew Wyeth. Like these artists, Bartlett looks at America's heart—its land and its people—and describes the beauty he finds in everyday life. His paintings celebrate the underlying epic nature of the commonplace and the personal significance of the extraordinary.
Bartlett was educated at the Pennsylvania Academy of the Fine Arts, where realist principles must be grasped before modernist ventures are encouraged. He pushes the boundaries of the realist tradition with his multilayered imagery. Life, death, passage, memory, and confrontation coexist easily in his world. Family and friends are the cast of characters that appear in his dreamlike narrative works. Although the scenes are set around his childhood home in Georgia, his island summer home in Maine, his home in Pennsylvania or the surroundings of his studio and residence in Washington state, they represent a deeper, mythical concept of the archetypal, universal home.
– Tom Butler, excerpt from the book Bo Bartlett, Heartland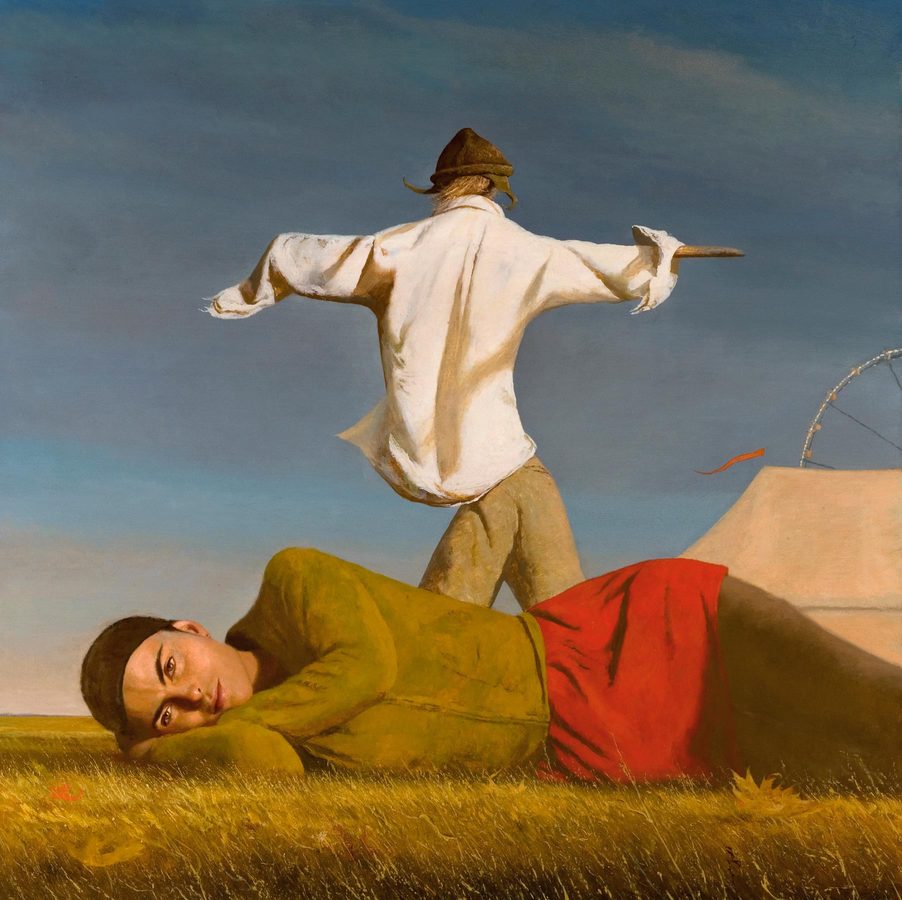 I've loved the work of Bo Bartlett since I first laid eyes on it. Even as a young artist, I found myself drawn to his work, and I couldn't really explain why. I think that happens a lot with artists whose work falls into the category of realism. It's a lot easier for an audience to connect with realism, because 'taste' plays less of a roll in their immediate impression of the work. Very few layman are turned off by realism. We simply 'accept' it… It's easy digestible.
And that, I think, is part of the reason I like Bo Barlett's work, and why I find it so compelling. Because it's so easy to 'digest', it gives the viewer time to appreciate all the of subtleties of the work. Instead of questioning the execution, one begins to question the story. Bo's sense of minimalism has a way of making even seemingly unimportant elements carry a lot of narrative weight by comparison. Even the smallest of gestures seem to elude to some deeper sense of symbolism… and even if they don't symbolize anything, they FEEL like they do. And getting the viewer to do your storytelling for you… well, that's just smart painting.
Because of that strong sense of implied symbolism, Bo Bartlett's work takes on an 'uncanny' aura, where things appear normal on the surface, but somehow feel alien just beneath that. It's an unsettling feeling, and at times actually results in his work feeling closer to the Fantasy genre, in my opinion.
Biography:
Bo Bartlett was born on December 29, 1955 in Columbus, Georgia. At the age of 19 he traveled to Florence, Italy where he studied under Ben Long. In 1975 he returned to the United States, where he studied at the University of the Arts in Philadelphia, and then the Pennsylvania Academy of Fine Arts. He also studied anatomy at the Philadelphia College of Osteopathic Medicine. During his time in Pennsylvania, Bartlett apprenticed under Nelson Shanks. Bartlett then went on to study liberal arts at the University of Pennsylvania from 1980 to 1981.
In 1986, Bartlett received a Certificate in Filmmaking from New York University. This led him to embark upon the 5-year process of creating a film in collaboration with Betsy Wyeth on the life and works of her husband, Andrew Wyeth. The film, entitled Snow Hill, began Bartlett's relationship with Wyeth as a lifelong friend.
Bo Bartlett currently lives and paints on an island off the coast of Maine in summer, and in his hometown of Columbus, Georgia in the winter.
He is married to artist Betsy Eby.
If you'd like to see more of Bo Bartlett's work, there are several books available. And of course, be sure to check out his website, which is quite comprehensive. I would also recommend watching this short documentary below. Not only is it a beautifully filmed interview with the artist, but it show's Bo working in his studio, and gives you an impression of the scale of these images. It's easy to look at small images on your phone, and dismiss them. But it's a lot harder to ignore an image when the figures stand life-size, and stare right back at you. It's a powerful feeling to experience these works in person. And although the video can't give you that feeling, it can help show you what you're missing out on.