I've got a new card out for Magic: the Gathering – Wilds of Eldraine! It's called "Charmed Clothier."
I thought I'd share some process pics.
I started out with some scribbly little thumbnails. Because the card was a sort of fairy-godmother kind of description and the faerie was the focus, I wanted to use a left to right swirling composition so that the faerie would be the first thing you would see (at least for Western audiences who are used to reading images left to right). I had a couple of false starts…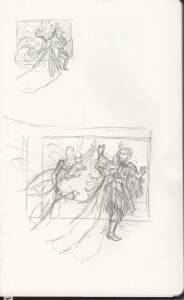 The third thumbnail had the floating, magical feeling I was looking for. This thumbnail is a little bigger than my usual, at about 2.5 x 3.5 inches. (The larger one on the previous page was about the same, and the small one was 1 x 1.4 inches.)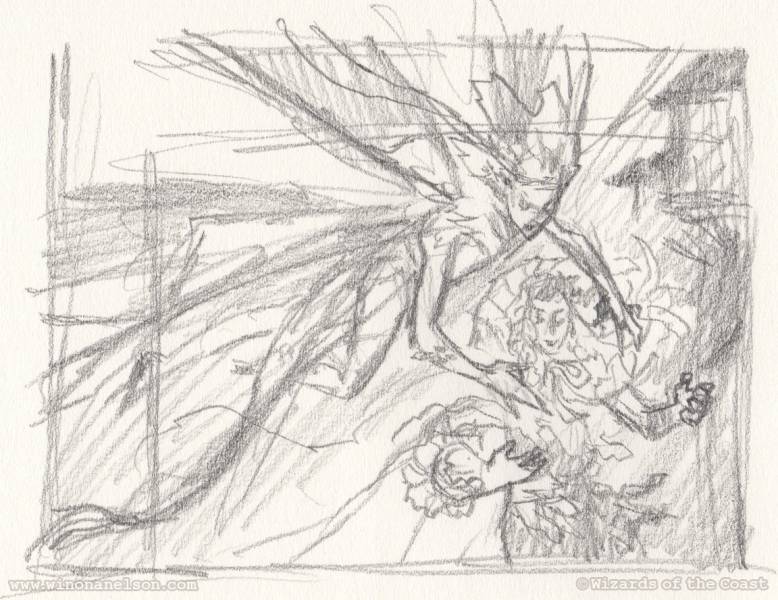 I scanned the thumbnail and added values digitally, using the lasso tool to select and copy elements onto new layers to paint on. Here I brought in the results of some experiments I posted a while back, from using various media to create analog swirling textures. You can see a bit of one of my scanned poured-ink swirl textures in the flowy magic on the left side.

Once that sketch was approved by the art director, Deborah Garcia, I printed it at a larger size to start doing a tighter drawing. I decided to try using my more line-based style as a part of this process. The first step of this process is a loose drawing on Dura-Lar, which I like using because you can draw over and over and erase completely without damaging the paper. Here's what the back of this drawing looks like, taped to the final drawing I'll show next.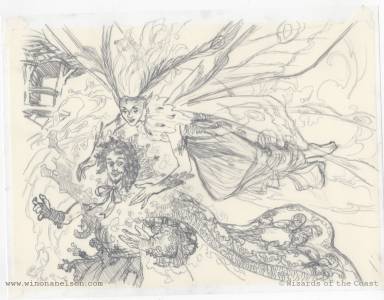 Once the loose drawing was done, I taped it to the back of a sheet of Moleskine paper I love for its creamy color, and then used a lightbox to draw the tight lines.
I started in on adding color to the image and was really liking how it looked with the lines showing – and I got hit with Covid. I shared the flat version with lines still evident to the art director hoping we could use this line-based style (previously I had used it on "Alesha, Who Smiles At Death"), but because of other plans for more stylized art in other places in the set, it wouldn't fit the needs of this card, and she gave me some more time to finish post-recovery.
And finally, here's the digital render on top of the line art again! Though I still love the line version, I was glad for the extra time to bring this to a more rendered finish.