Spectrum 17 is out and it is my good fortune to have the cover image. Especially on a nice white background. (Thanks, Arnie! ) I'm a fan of white backgrounds. Probably an influence from the Saturday Evening Post and a decade of the best paperback covers in the world. 
I love that crisp edge against white, and usually with a perspective that keeps the ground at level view, looking at the toes of shoes and upward towards the head. We hardly ever observe this point of view in life, but we feel it. We feel like we take in the entire figure when we see someone coming toward us, but we are really only focused on a very small part. The rest is impression.
I've been a fan of the Wizard of Oz story since my whole family sat around a b/w tv set while I was a kid, watching Hallmark Cards sponsor the rerun of the 1939 movie every spring. Every year, my parents would argue about what scenes had been cut from the original. I was alway curious about those left out scenes. I thought my folks were mistaken, until I watched the LaserDisc version that had background material…and deleted scenes. After all, my parents had seen it in a real theater, when it came out. It's very likely the first version included those scenes in the initial release.
This painting was going to be different though. I wanted to take the basic story premise and change it up. Dorothy became a goth Asian chick, the Scarecrow became a highwayman, the Lion got some cahones and became a saber tooth, and the Tin Man became a robot. Little Toto had to man-up and became a bull terrier. I was not a fan of Toto as a kid. I had a real dog.
I started with Dorothy, moved to the Scarecrow, then the Tin Man, the Lion, and finally Toto. I drew them all separately and projected the individual sketches onto my canvas. I designed it on the wall, building the composition I had in my head as I completed the pencil drawing.
Here's a shot under the projector.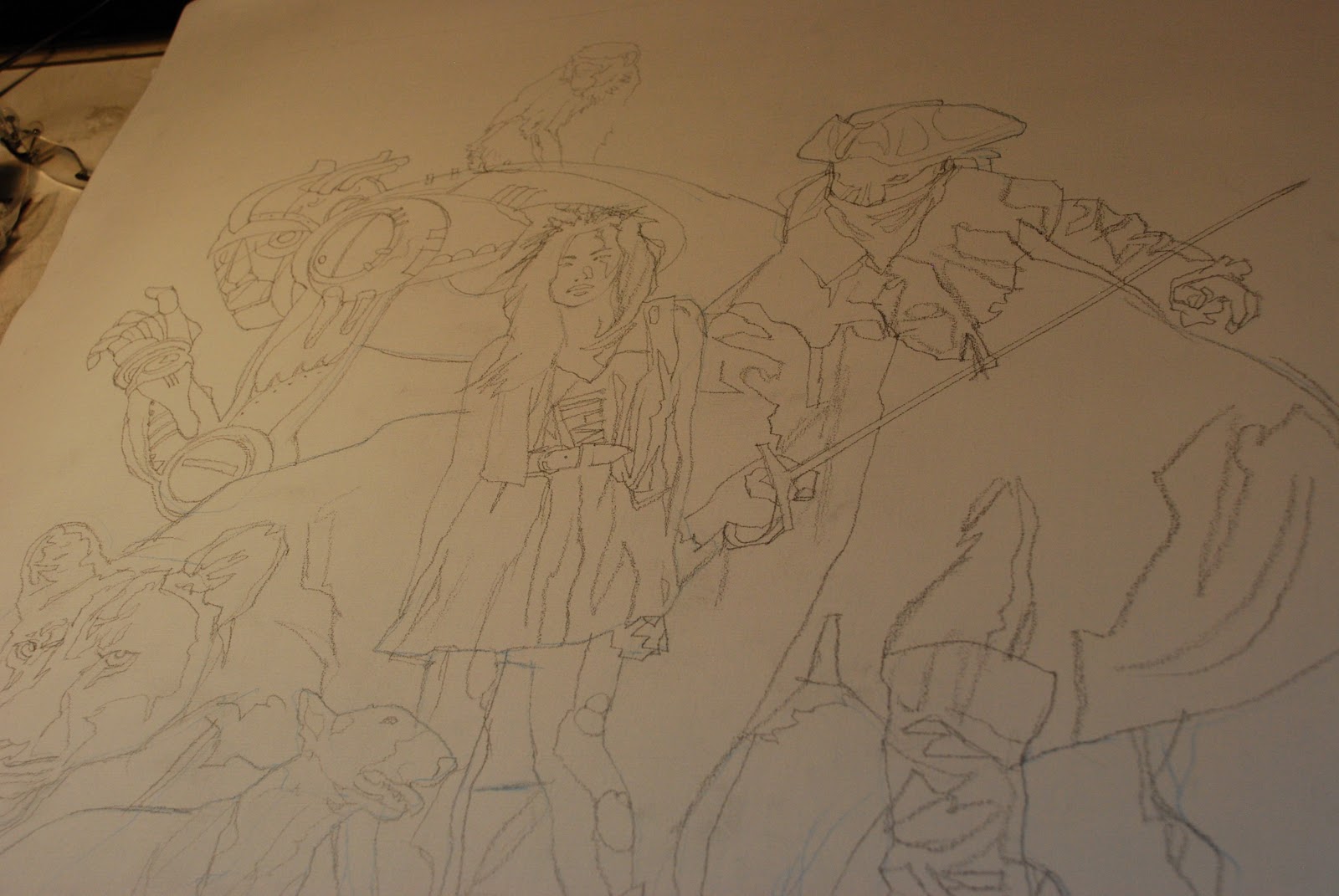 I brought the prepared canvas to the Illustration Master Class that 9 of us teach every June in Amherst, MA. It was one of two demo paintings I did during the week. We used the W of Oz story for a book cover assignment for the class, but with a slant toward steampunk. What a treat to work with all of the painters and their ideas! One of my favorites (everyone's really) was our own Justin Gerard. A killer piece.
To start, I sealed the drawing with acrylics, and began painting the Scarecrow. I finished most of it that week, but it sat for about 6 months before I decided to finish it. It was just a fun project for me. I've since written two chapters of my reworking of the story. Maybe I'll get to illustrate my version someday….maybe test out a chapter on you guys here at Muddy Colors!