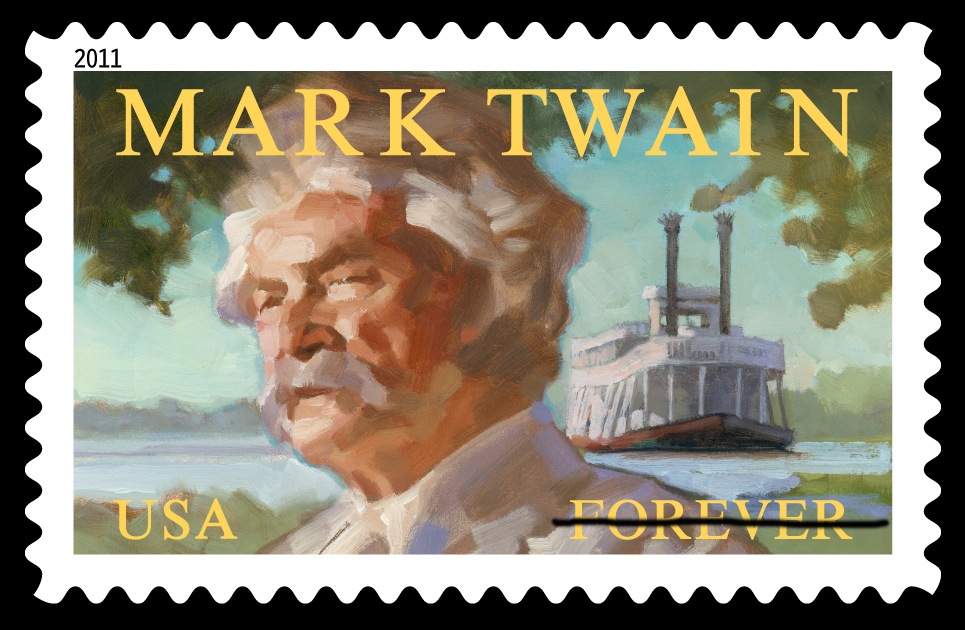 Gregory Manchess
I painted the portrait of Mark Twain for the newly released stamp by the US Postal Service. Twain returns to my portfolio once again.
My first serious head study in clay was a portrait of Twain. My first accepted piece in the Society Annual was a charcoal portrait of him for the cover of a Hellman Design Associates calendar. I did them both from memory.
For the stamp, however, I looked at quite a few photos of Twain. I chose a shot from 1907 that was too contrasty, but had the right attitude. I had to shift the value of his fantastic white hair, even though it couldn't fit in the frame. Such a magnificent face, and perfect to draw.
Phil Jordan and I worked together on planning the piece. He's such a great art director, always open to my thoughts. As you can see from my thumbnails, I worked through a few designs. He suggested the riverboat element would be best for this particular portrait of Twain, instead of Halley's Comet, as they had used that motif on an earlier stamp of Twain. Once we agreed on a final layout, I did a quick color study.
One challenge was designing enough space into the image so I could give a feeling of the Mississippi. The final trick was getting it to look as painterly as possible at an inch and a half across. I down-sized my brushes, working the final at six inches wide, actual size. After three months of on and off work, the painting came together in about two hours.
A later change reduced the size of the riverboat by about 10-20%. No digital magic–I actually painted it down smaller. That took about the same time as the entire painting, but I was happy to do it. The original goes into the USPS permanent collection and I wanted the painting to reflect the actual final stamp, if it ever went on exhibition.
Even though it was small, I had a check list of criteria for the project:
-Large portrait head
-get hair to read
-strong light on facial structure
-classic Twain look
-riverboat
-Mississippi River
-foliage
-room for type
-contrast values for type to read
-painterly strokes
Sequential shots of the painting in progress: