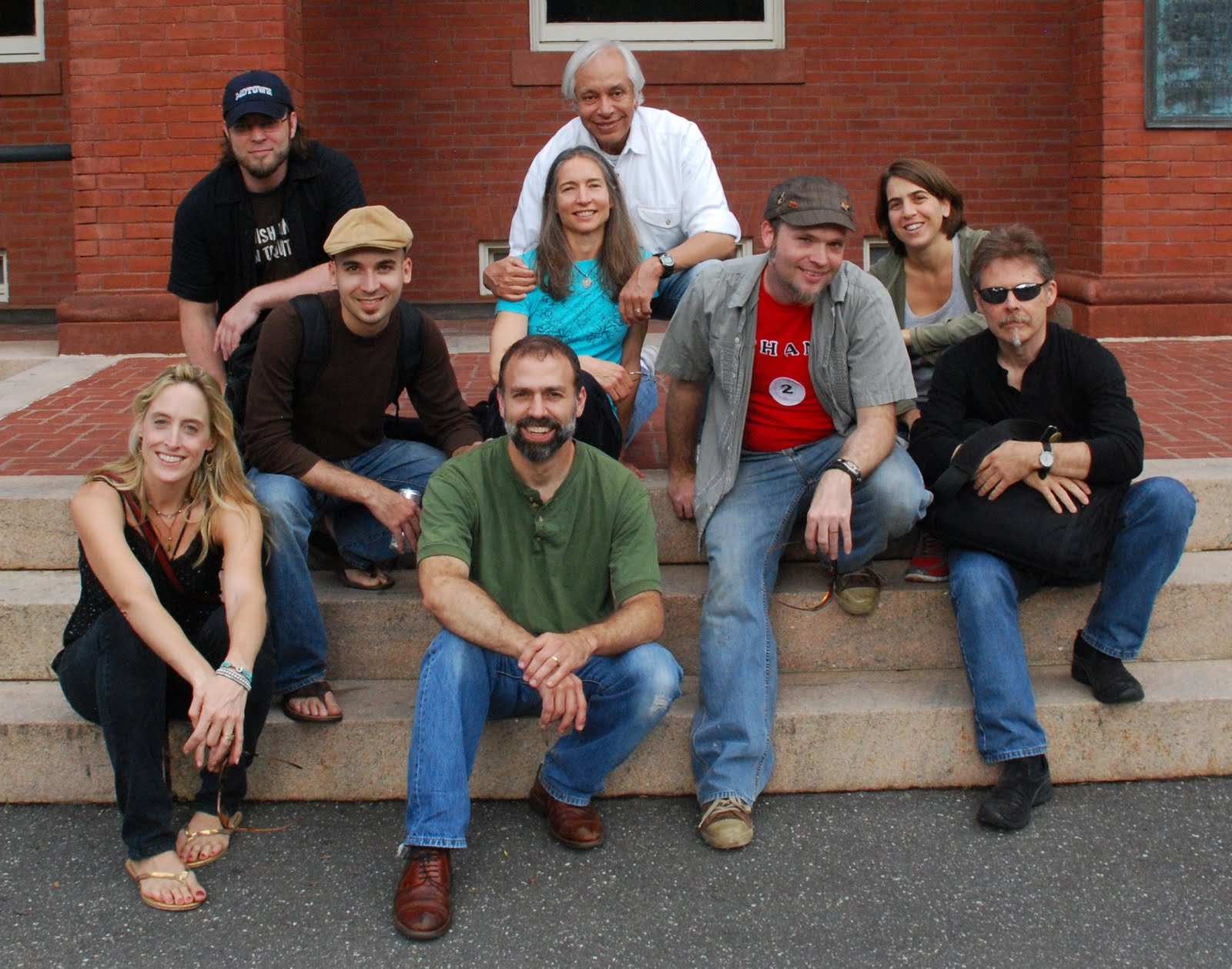 L to r: Rebecca Guay, Jeremy Jarvis (guest instructor '09), Dan Dos Santos, Donato Giancola, Julie Bell, Boris Vallejo, Scott Fischer, Irene Gallo, Greg Manchess

Gregory Manchess
Five years ago, Rebecca Guay looked around at a gathering of friends and said, "Look at this group of artists. Remarkable. We should all do a workshop or something. We love what we do, and what better group to express that love to students?"
As I remember, everyone thought it sounded great and fun, but none of us believed it would ever get done. Most of us answered, "Great idea, Rebecca. You go put that one together and get back to us. Knock yourself out."
Six weeks of winter and holidays went by. Rebecca contacted all of us within that original little group and said, "Ok. Here's the plan." She'd put it all together on her own, following a passion to give back to the illustration world, teamed-up with her close painting buddies. The idea: to share what she and all of us had learned through long hours of training and perseverance.
The Illustration Master Class was born. Just that fast. Each year, Rebecca schedules studios at Amherst College in Massachusetts, during their summer program in June.
For sure, other workshops had been around, other training centers had grown from a similar kernel of interest. The Famous Artists School of the 1960's included such notables as Austin Briggs, Robert Fawcett, and Norman Rockwell. The Illustration Workshop, now The Illustration Academy, began in the 1970's and has been going strong ever since. Ateliers and private workshops abound, all training potential illustrators about the world they long to understand.
Why? With so many institutions of fine art in the US, why more?
For the simple reason that most of the established art schools do not understand, nor do they endorse, the field of illustration as a viable aspect of an art career. Granted, there are a number of schools that have been working hard to re-establish illustration classes to interested students. For example, Martin French has managed to build such a strong department at the Pacific Northwest College of Art in Portland, OR that they now eclipse their own fine art department. Not long ago, the PNCA had canceled all of their illustration classes for 'lack of interest,' until they discovered that the lack was in the administration, not the students. Likewise for the Ringling College of Art in Florida, and Kendall College in Michigan. Their departments are thriving.
There is still a factor, however, that drives the IMC: the science fiction and fantasy genre. This was the key element that drove us all to say yes! to Rebecca's offer. We all loved it so much we were willing to spend an entire week teaching, demonstrating, even hand-holding other student-enthusiasts.
None of us got the kind of training in our collective educations about working in the sf&f world that we had wanted. The camaraderie between artists at countless conventions, sharing their work and knowledge, fostered a collegial feeling in all of us. Rebecca's idea would provide that to students in spades. And she found the crew to do it.
Every year, we work with the attending students all day long and into the evening, freely sharing any and all information and experience we have within the field. We view them as equals. No question is taboo, no inquiry too awkward or silly. There truly are no dumb questions at the IMC. We, the instructors, have all been in that awkward position with the same dumb questions ourselves.
What we understand as artists at this stage, though, is that the simple questions lead to complex, far-ranging answers. With nine instructors and a bevy of lecturers from all sorts of areas of expertise, the students get the range of information they need to ultimately make their own decisions, to learn how to answer complex questions that will inevitably come up.
We talk about everything: generating ideas, establishing composition, value studies, technical painting aspects for any medium, business opportunities, working with clients, communication skills, troubleshooting, reference gathering, photography, digital skills, narrative structure and story-telling, portfolio development. Anything that would come up for an illustrator to handle, and all within one long, intensively focused week.
The enthusiasm at the IMC is infectious and while the students toil late into the wee hours of the morning, we're right there with them, intoxicated by their interest and energy. If only art school had been this liberating.
Everyone is extremely serious at the Master Class, and yet, you won't find anyone so serious they're not laughing more than half the time. We're so serious about what we do there that no one has a need to be. We are all, instructors and students alike, already drawn to the process of getting better at what we love to do. In fact, many of the attendees are already professionals looking to push themselves to new levels. In an environment like that, no one needs to pretend to be serious about their education.

We always come away exhausted, wanting more. The students want to stay longer. The first year we started the IMC, with Rebecca in the lead, we really had no idea that it could work as well as it did. We weren't even sure that we could handle a second one. It was so special, we worried we couldn't repeat it. Now, going into preparation for year Five, we know that we'll likely continue as long as the love of the genre, and the enthusiasm for learning, keeps coming from the students.
With the jolt of energy we get from watching attendees blossom, like mirrors of ourselves, I can't see how it wouldn't.