Vincent Desiderio will be opening a new show of his large scale oil paintings on Thursday evening, September 15th from 6-8 pm in New York City at Marlborough Gallery Chelsea.
Vincent is one of the most brilliant painters living today, merging his knowledge of modern aesthetics with the love of the human form and sublime oil painting techniques. His work is unparalleled and has heavily influenced my own awareness of what image making could be. I highly recommend the viewing of his work first hand to appreciate the quality and emotional impact these images deliver.
Below is the press release from Marlborough.
Vincent also has a book covering his work up to 2005 if you cannot see the paintings first hand. It is an incredible collection of narrative images. A few copies are still available online at the bargain price of $100 (these have sold for $300+ in the past), I have just picked up a second copy…
If you ever get the chance to talk with Vincent or hear him lecture on art, you are in the presence of a genius.
Hope to see you at the opening!
Donato
---
Vincent Desiderio
September 15-October 15, 2011
Marlborough Chelsea
545 West 25th St
New York, NY 10001
t. 212.463.8634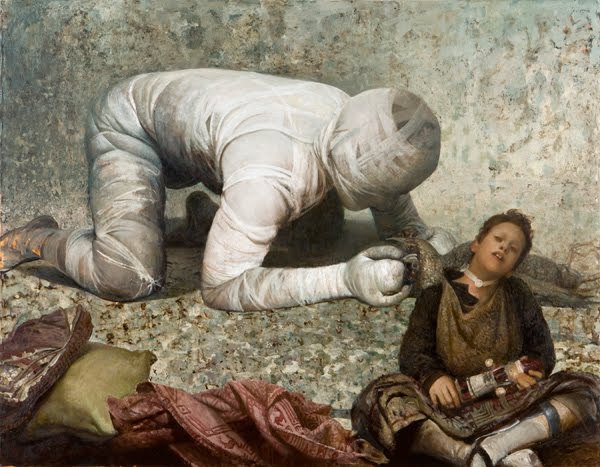 The Directors of Marlborough Chelsea are pleased to announce an exhibition of new work by Vincent Desiderio. Featuring eighteen new paintings in oil and mixed media, this will be Desiderio's seventh exhibition with Marlborough Gallery. The show will open with a reception from six to eight in the evening on Thursday, September 15, 2011, and will be on view through October 15 at 545 W. 25th Street.
Vincent Desiderio's new work revels in the uninhibited toughness of paint. He exploits this toughness to underscore the absolute presence of the work in all its unapologetic materiality. As such this work demonstrates the unique capacity of painting to anchor the viewer in a tangible present tense of viewing, while inducing a trance of speculation regarding, among other things, the nature of illusion.

We discover again and again with each canvas, Desiderio's uncanny sense of the power of art and, in particular, painting, to traverse the perilous isthmus that joins life with consciousness of being. One thought-provoking, hard-hitting, psychologically complex, and beautifully realized image after another comprises this new body of work. His is not a straightforward realistic approach to representation and his subjects are not classically beautiful in appearance, some in fact are startlingly bizarre.
Spiegel im Spiegel (2010), for example, is grand in scale and strikingly frightening and nightmarish. Lush and richly layered with virtuoso brush work, Desiderio holds the viewer's eye to feast and focus on the quality of painting and the subject matter equally, even though the subject makes for uncomfortable viewing. This complex composition draws us into an epic journey in which worlds within worlds unfold in an experience both intense and mysterious in feeling.
His own place in the world is questioned in Self-Portrait Before Orozco (2011), which depicts Desiderio in front of the section of José Clemente Orozco's monumental Dartmouth fresco entitled, Gods of the Modern World. The famous Mexican's work looms over Desiderio, pressing a palpable physical and psychological weight on him.
Bride (2011) is a near life-size portrait of a seated female in a bridal gown in front of a stacked stone wall – the symbolism of which cannot be overlooked. Stacked stone is held together without mortar by an inherent integrity and can last forever or crumble under slight duress, depending on its architects. Looking directly out at the viewer with a half-smiling, un-innocent countenance, she is the embodiment of contemporary women. Yet this bride, unembellished except for her gown, glows in a light from an unseen source and her emblematic, almost iconic presence may also be an invitation to consider the symbolism of another prominent bridal ritual – that of Marcel Duchamp's Large Glass. The large and menacing work entitled, I Liberati (2011) can be viewed in a similar vein, as can Desiderio's monumental Redux (2011).
Evident throughout the exhibition is Desiderio's technical ability, which he calls the "primary narrative" and by which he contends with great painters from any era. His paintings are characterized by virtuoso brushwork that ranges from searching to free, from descriptive to lyrical with authority across a seemingly limitless chromatic field. Explicit in Desiderio's work is an original mastery of his materials, and, as such, a Desiderio painting is unmistakable in its qualities. His provocative work breathes with the history of art while it explores the contemporary experience, giving us an extraordinary sense of real individuals in a complicated world.
How, in the face of a profound history, does an artist proceed and emerge with his own voice? Perhaps, as Desiderio has formerly noted, it is through the deployment of the artist's most audacious strategy – the heuristic plasticity by which he reconfigures the very history of art in order to clear imaginative space for himself. However, the key factor for Desiderio is not a matter of novelty or newness. Neither is it a matter of realistic illustration. It is a question of gaining of access to the "real" – the condition of being awake to the enigmatic subtext of our existence today.
Born in 1955, the second of five sons, Desiderio grew up in Media, PA, a suburb of Philadelphia. He graduated from Haverford College and later attended the Fine Arts Academy in Florence, Italy, followed by four years at the Pennsylvania Academy of Fine Arts, where he now teaches. He lives and works in Westchester County, New York.
Desiderio has received several grants and painting awards among which are the Pollock-Krasner Foundation Grant; Painting National Endowment for the Arts in 1987 and the Grand Prize of S.A.S. Prince Ranier III, Thirtieth Annual Show of Contemporary Art in Monte-Carlo, Monaco in 1996. He was the first American to receive that award.
His work can be found in many important public collections, including: the Museum of Fine Arts, Boston, MA; The Solomon R. Guggenheim Museum, New York; The Hirshhorn Museum, Washington, DC; The Kemper Museum of Contemporary Art, Kansas City; Galerie Sammlung Ludwig, Aachen, Germany; The Metropolitan Museum of Art, New York; The Pennsylvania Academy of Fine Arts Museum of American Art, Philadelphia, PA; and The Walker Art Center, Minneapolis. Desiderio's recent activities include solo exhibitions at Galería Marlborough, Madrid in 2006 and Jaffe-Friede Gallery, Hopkins Center, Dartmouth College in New Hampshire where he was invited to be an artist in residence.
In 2005, D.A.P./Distributed Art Publishers published a major monograph devoted to his oeuvre, Vincent Desiderio: Paintings 1975-2005, with significant texts by Mia Fineman, Donald Kuspit, Barry Schwabsky and Lawrence Weschler.
A publication including an interview with Vincent Desiderio will be available at the time of the exhibition.