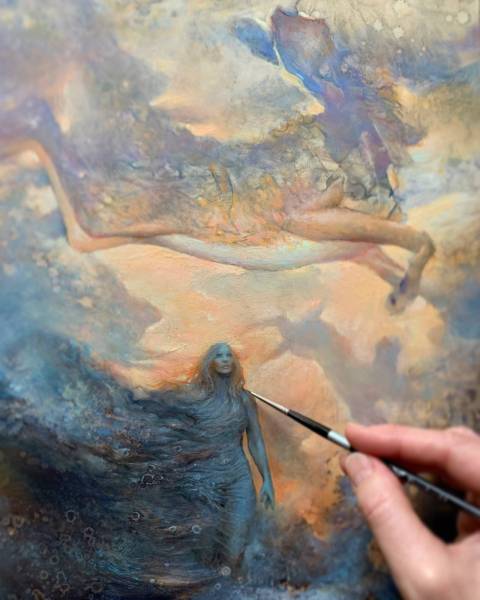 Hello and Happy New Year! I'm emerging from hibernation as we enter the new year to share a new painting called "Year Of The Rabbit". This painting is oil on panel and is inspired by the magical sky that has graced my days on many occasions, and sometimes extra special moments when I've found runes of wisdom and hope in those experiences.
The Year of the Rabbit has me hopeful. It embodies yin, the passive principle of the universe, which manifests in fluidity, quietness, and contemplation. It's suggested that even in the face of hurdles this year, people will benefit from the rabbit's quiet constancy to overcome them. The quality of yin is receptive, accepting, and intuitive – creating harmony with last year's yang. I'm looking forward to this year of the rabbit, and all it has to offer.
In the spirit of this painting which celebrates wonder in the form of pareidolia and renewal in the time of the Year of the Rabbit, here are a few things I wanted to share as reminders, to keep in mind as we start the new year:
We are able to manifest our thoughts by tapping into the unlimited potential of our minds. Take the act of looking at clouds. We all have the capability of finding creatures and scenes in clouds. When we're finding things in clouds, we're creating stories and compositions, often sharing with others, and this experience is built off of the simple act of at first just noticing the clouds in the sky. Apply this to creating an image from our imagination. This capability is in all of us. We then take the care involved in shaping the story, we hone our skillsets accordingly and set off on the pursuit of visual storytelling.
Our world is a construct of our thoughts and interpretations, and combined with the ability to change our perceptions and shift our trajectory as we go, this is where our story lies. We are creative beings who are capable of conjuring from ideas, developing tangible forms and great passages of sound, moving stories and imagery, functional spaces – the list of what we can accomplish has the potential to continue to expand. It's limitless, boundless. When it comes to art and all other things, human beings are quite amazing in the way that we can harvest the unknown, attempt many iterations, develop, refine, engage and produce.
In the spirit of the new year, we often seek renewal or change, or perhaps, realignment – a setting of intentions. We have the power to shape or change our reality. The mind has the ability to perceive, think, reason, evaluate. We can change our physical world by changing our thoughts and beliefs. Setting intentions can be in the form of life acts or creating, making images, stories, a body of work, acts of kindness, and many other forms. This can manifest in so much good that can be shared. It's quite remarkable how the simple act of perseverance will reveal the limitless bounty we have inside us and what we can accomplish.
One more thing.. I wanted to take this opportunity to extend my gratitude to all who keep the soul-fire burning, who find beauty in all that surrounds us, who find excitement in the pursuit of personal accomplishments and connection, who see value in community and importance in recognizing and respecting the dedication of our fellow humans, and who stoke the magic and wonder in the moments we share. I see you. Thank you. You inspire me to keep going. I think of you often, and I painted this with you in mind.
This painting was painted for the Year Of The Rabbit group exhibition at Modern Eden Gallery, January 14 -February 4, 2023.