by Arnie Fenner

Above: Tim Kirk and George Barr collaborated on this lovely and whimsical drawing for Graphic Illusions.
In the pre-Internet era, young artists, writers, and entrepreneurs often combined their interests to produce fanzines (or "semi-pro zines" if they paid for content), small press publications that filled a void in the marketplace and actually advanced the appreciation for the subjects (comics, SF, film, horror, etc.) highlighted in the magazines. Artists and authors were able to hone their craft or, if they were already working professionals, experiment with subjects or ideas they normally didn't have the opportunity to explore; publishers wet behind the ears were able to learn the ins and outs of the business while refining their design and editorial skills; readers were able to get something more than what the professional houses were putting on the news stands. Win, win, win.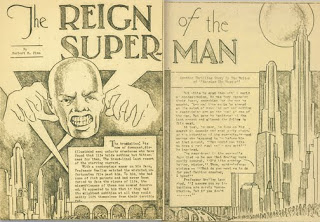 Above: The first appearance of what became Superman, written by Jerry Siegel under the pseudonym of Herbert S. Fine with art by Joe Shuster.


Fanzines were a natural extension of science fiction fandom, which in turn spawned comics fandom; it's well known that Jerry Siegel and Joe Shuster first created Superman for their fanzine Science Fiction #3 in 1933 (and eventually sold the character to National Allied Publications, much to their eventual sorrow). Ray Bradbury, Harlan Ellison, and Ray Harryhausen all produced fanzines in their youth, creating crude yet enthusiastic journals with stencils and mimeograph machines. Stephen King's sold his first story, "I Was a Teenage Grave Robber," to the amateur journal Comics Review, while Tim Kirk built his reputation doing cartoons for numerous fanzines, eventually capitalizing on his recognition to be the artist for the first Lord of the Rings calendar from Ballantine Books. Tim went on to design parts of Disneyland, Disney World, and Epcot and is currently working on designs for the Hong Kong Disneyland.
With the advent of off-set printing and machine saddle-stitch binding, fanzines not only became something of a higher-quality training ground for aspiring creatives, but they eventually began to compete with professional publishers for talent, advertisers, and customers. Trends, ideas, styles, and concepts were many times tried out in the more experimental amateur arena first before being adapted by the mainstream.
Now days, with the dominance of the Internet, chain bookstores, and professional publications that address many of the subjects and interests that used to be the domain of the small presses (combined with an overall decline in magazine sales), fanzines are no longer as common or influential as they once were. But there was a time when the most exciting part of the field was the small press publications. Here are a few of my favorites.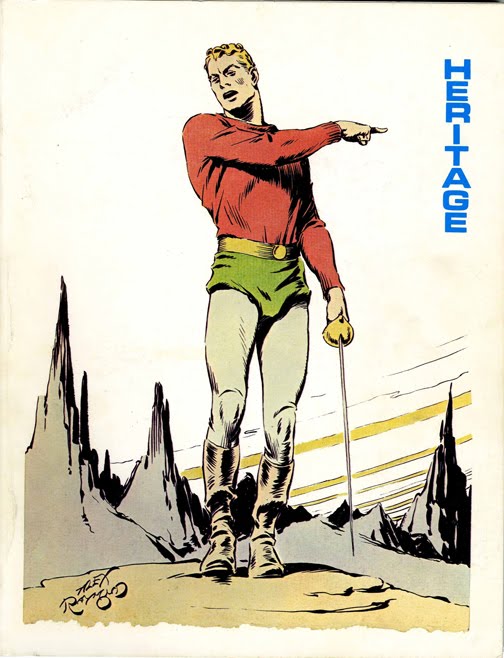 Above: Heritage was an ambitious, 2-issue fanzine devoted to Alex Raymond's Flash Gordon. It featured articles, photos, and new Flash stories by Jeffrey Jones and Frank Brunner among others.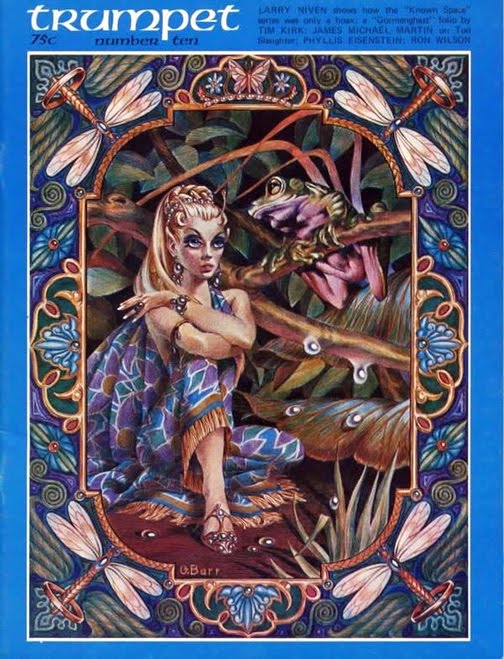 Above: Tom Reamy's Trumpet was one of the best designed, best illustrated, and best written fanzines of its day. This exceptional over by George Barr was drawn entirely in different color ballpoint pens.
Above: Wally Wood was responsible for witzend and called on many of his fellow artists—including Reed Crandall, Frank Frazetta, and Leo Dillon—to make it one of the most exciting fanzines… ever.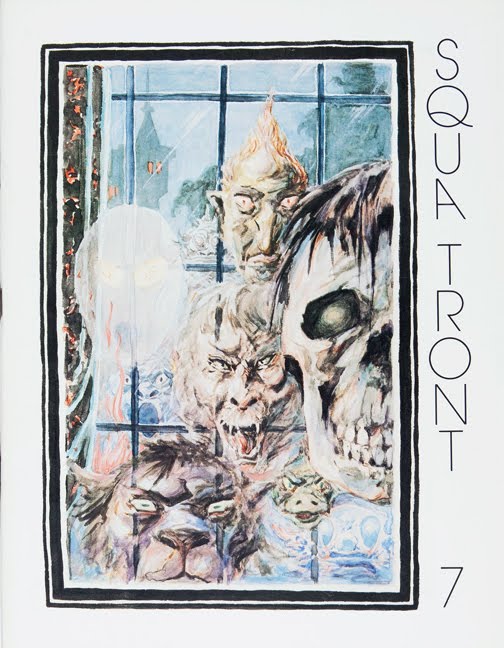 Above: Squa Tront, published by the late Jerry Weist, kept the interest in EC Comics and its creators alive for a new generation. The cover is by Roy Krenkel.
Above: Bookseller Bud Plant was one of the publishers of Promethean Enterprises. The fanzine helped bridge the gap between Underground and Mainstream comics and featured early work by Robert Crumb and Robert Williams.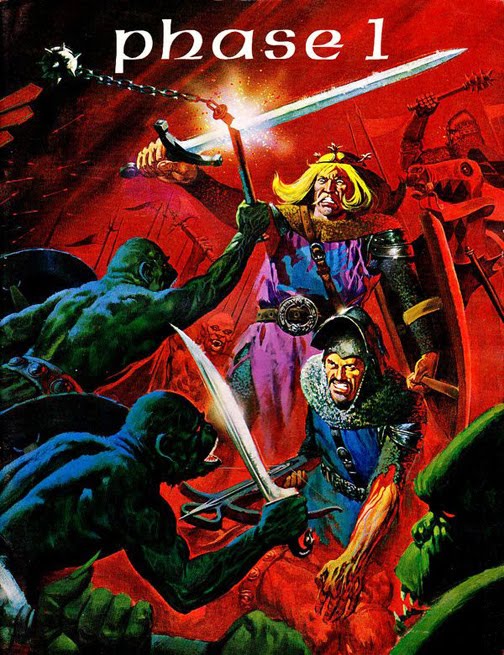 Above: Phase was one of the slickest fanzines ever produced and featured stories by Neal Adams and Rich Buckler that were later picked up and reprinted by professional publishers. The cover painting by Ken Barr was sold by Heritage Auctions several years ago for a tidy amount.
Above: Only one issue of Frazetta appeared (though it went into a second printing with a different cover): it was an early precursor to the Frank Frazetta phenomenon that was to come. A "sort-of-but-not-really" second issue appeared as part of the Burroughs Bulletin series, but it was something of a cheat for fans that had paid for 3-issue subscriptions to Frazetta to the publisher, Vern Coriell.
Above: Bernie Wrightson (who drew this cover), Jeffrey Jones, Michael Kaluta, and Bruce Jones combined their talents into a single volume of Abyss. A kind of "The Studio" in training, it gave everyone a nice glimpse of things to come.
Above: Richard Corben (who drew this cover) and Robert Kline provided stand-out art for writer Jan Strnad's Anomaly.
Above: Richard Powers painted this cover for Andrew Porter's long-running Algol. The magazine featured other excellent covers by John Schoenherr and Vincent Di Fate, who also wrote a long-running column about SF artists, something of a first for our field.