– by Cory Godbey

My very dear Muddy Colors readers– I have returned. This entry marks the Third and Concluding Act in what will probably be forever remembered as the GERARD WEDDING TRILOGY series of guest posts. My first post was on the importance of personal work. The second post featured an interview with gentleman adventurer and swordsmith David DelaGardelle. This third dispatch tackles my process of planning and not planning.
---
How much time do you spend planning a piece? For me, this process means working through thumbnails to think through composition, reference gathering, figure studies, and character sketches. From there I move on to digital roughs based off the most workable thumbnails and go from there to the actual drawing. I want the drawing to do the heavy-lifting and to get it there it takes a lot of planning on my part.
What I don't often plan so thoroughly is the painting stage, traditional or digital. Once I've got my values figured I'll have a basic idea of what I'm going for and then I dive into the piece. Sometimes I need to do color studies, but if I can, I like to just jump in and see what I find. It's an enjoyable challenge for me to discover the color along the way. If the piece is part of a series, then most likely the overall palette has already been defined, but I still get to shape the mood as it strikes me. For me, this way of working keeps things fresh and encourages me to expand beyond my usual palettes.
What follows here is a look at my workflow for planning an image. Just a simple overview of refining the idea, working through the drawing, and ultimately finding the piece.
Thumbnail. I hit on the idea quickly enough.
There were some other ones I liked but this was the main thumbnail from which I worked.
Digital Rough. The little rabbit did not make the final cut.
He did show up in another piece in my Lyrebird collection though. 
Something was bothering me about the girl looking off and I wanted her to engage us a bit more.
That, and the rhythm of the dragon's body felt more natural to my eyes flipped.

After settling on the rough, I gathered research and shot reference photos.
Drawing. The first pass, an under-drawing.
The second stage. This is probably my favorite step.
Dragon, detail.
At last, the finished drawing.
Just look at this weirdo, detail.
Digital painting. 
Drawing scanned and ready to go. I like to block out all my shapes.
Then I take all my main elements and make sure they're layered.
Easier to tinker with later on.
For this piece I really didn't have a specific palette in mind, just started playing.
I'll often do a separate watercolor to preserve the original drawing, as I did here for the background.
Working digitally affords me that luxury.
After some time I hit on something I liked though it wasn't quite there yet.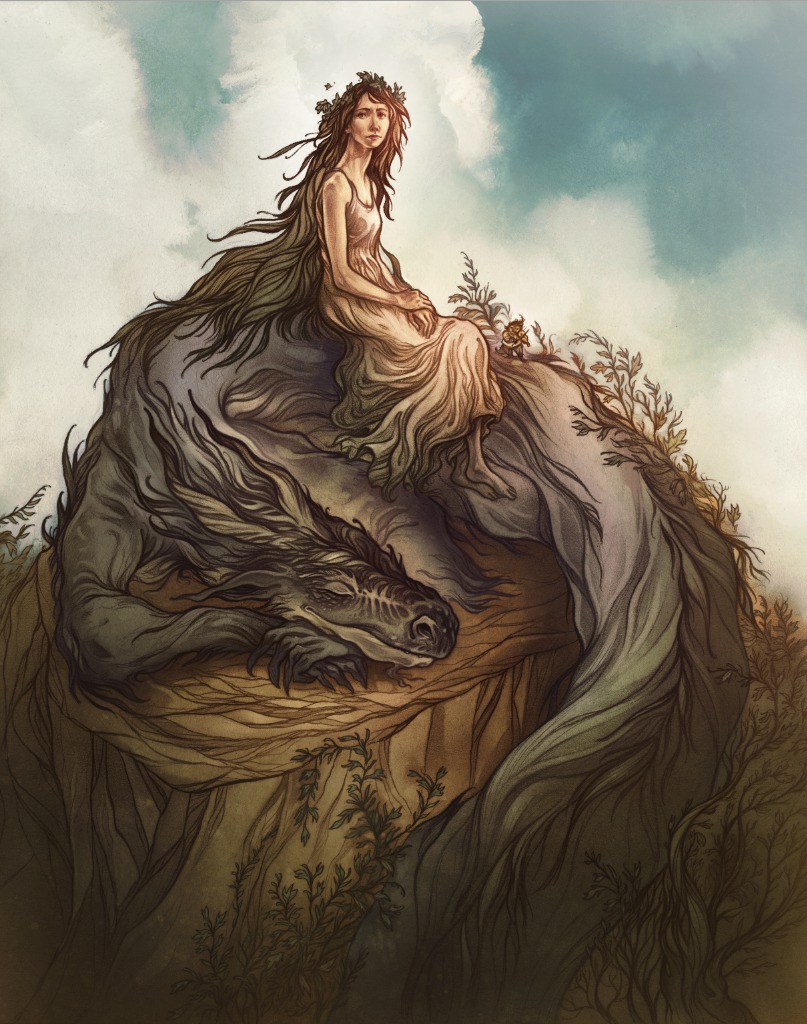 The next step.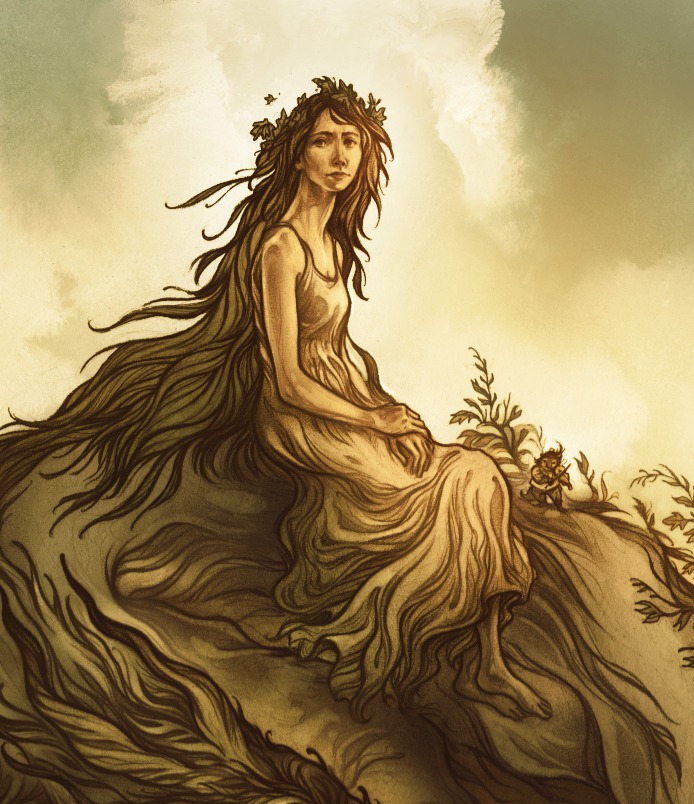 It took pushing the values more before I started to become satisfied.
Lightening the sky and darkening my figures just a touch did the trick for my eye and arrived at mood I really liked.
Final.
As you can see, my goal is always to research and plan a drawing so that I know all the ins and outs (and what-have-yous), but when it comes to painting I like to leave it a little more open. I'll tinker. I'll mess with it. Whenever I can spare the luxury, I'll take my time to find the piece and enjoy the trip.
---
Oh, Muddy Colors, how I've enjoyed this series! Once again a monstrous thank you to Justin and Dan for inviting me to fill in. You can expect your regular Gerard posts from now on, though I may be popping back in from time to time.

As before, you can always see more of my work over at corygodbey.com, or find me over on Twitter / Instagram / Facebook. 

One last note: Earlier this month I set ablaze my yearly Fire Sale. If you're interested you can discover all sorts of treasures on my shop before they burn up.