By Arnie Fenner


I've known Daren Bader for a number of years and was excited to see that his long-gestating epic graphic novel, Tribes of Kai had been completed and found a home with Flesk Publications. The time seemed right to pick Daren's brain a bit and he graciously agreed to an interview.
AF: Tribes of Kai seems to have been in the works for quite some time. Didn't it get its start as a feature in the Frank Frazetta Fantasy Illustrated magazine in 1999? 
DB: Yes it did. My friend and writer, Lance Haunrogue, and I came up with the story back in the mid nineties just as something to have fun with. After Lance and I got about 10 pages into it, we decided to really see if we could make it happen, thinking about Heavy Metal magazine as the goal. And then when the Frank Frazetta Fantasy Illustrated magazine was announced, we knew that would be the perfect place to have it published, what with my obvious love of Frazetta's work!




A couple years after it was published, both Lance and I felt the whole thing should be reworked, refined, and extended, both in the story and the art, so we decided to move forward without any real deadline in mind to see where it could lead.
AF:

 Can you briefly describe what the story is about?

 
DB: 

It's a story set on a primitive planet called Kai, where tribes of cat-centaurs coexist, similar to Native American tribes before colonization. The balance of their peaceful existence is thrown off because of small changes in their ecosystem, and the lead character is forced to examine the choices he has made. 
At its core, the story is really about self evaluation and the consequences of one's actions.




On the surface, its about big cats fighting big lizards…!
AF: What was your inspiration–or perhaps some of your influences–for
Tribes of Kai? 
DB: 

The initial inspiration was really wanting to create a primitive world filled with interesting creatures and environments. Something that would be fun for me to paint panel after panel. 
As far as the end product was concerned, we were inspired by some of the beautiful French graphic novels we'd seen over the years. The quality of both the artwork and the production of those books, which are done over a year instead of a month like the US comic market demands, was a benchmark we wanted to strive for. And of course, books like James Gurney's Dinotopia, Journey to the Ice Age by Rien Poortvliet, and Expedition by Wayne Barlowe were always pushing us to not settle for mediocre. 
With regard to artistic influences, obviously there is the Frazetta influence, mixed with a healthy dose of Claire Wendling, James Gurney, William Stout, Paul Bonner, the list goes on. Outside of the fantasy genre, I'm also a big fan of classic landscape and wildlife artists like Bob Kuhn, Robert Bateman, Thomas Moran, Frank Tenny-Johnson, and those schools. 
AF: You've collaborated with Lance HaunRogue on this graphic novel: did you
find the process rewarding or challenging? 
DB: 

The collaboration was much more rewarding than challenging (finding the time was the challenging part!). Lance and I have been friends for many years, and that made the process very smooth. We have lots of respect for each other's ideas, as well. He is the writer of this story without question, yet he always listened to and considered my editorial ideas. And likewise, I would give his artistic editorial ideas all consideration as well. We would discuss everything and inevitably we would both end up saying "Yeah! That's exactly how it should be" regardless of who came up with what. Without a doubt, this book is truly a collaboration between Lance and I.
AF:

 You're an art director for Rockstar Games with a full day of projects plus you have family responsibilities: how did you find the time to work on your book?
DB: 

This was truly the biggest hurdle to overcome with this project. I've been able to balance a small freelance illustration career with my day job at Rockstar over the years by not taking on too much freelance work, but this book required more focus. At one point a couple years ago I looked at the number of pages I was completing a year vs the number of pages in the book, and realized at that pace I was going to be 72 when I finished! Of course, that was unacceptable, so I quit taking on other freelance work and concentrated solely on the book during my "freelance time," which is basically late night and early morning hours during the weekend.
AF:

 

 Why did you decide to go the KickStarter route with Tribes of Kai?
DB: When Lance and I took this project to John Fleskes of Flesk Publications, things just fell into place. We had all discussed how useful KickStarter can be as a promotional tool, so it seemed like the natural thing to do. Plus, it gave us the ability to upgrade and to to add cool bonus items to the project, such as the Pridelands book which will showcase the original artwork that appeared in Frazetta Fantasy Illustrated for the first time without text.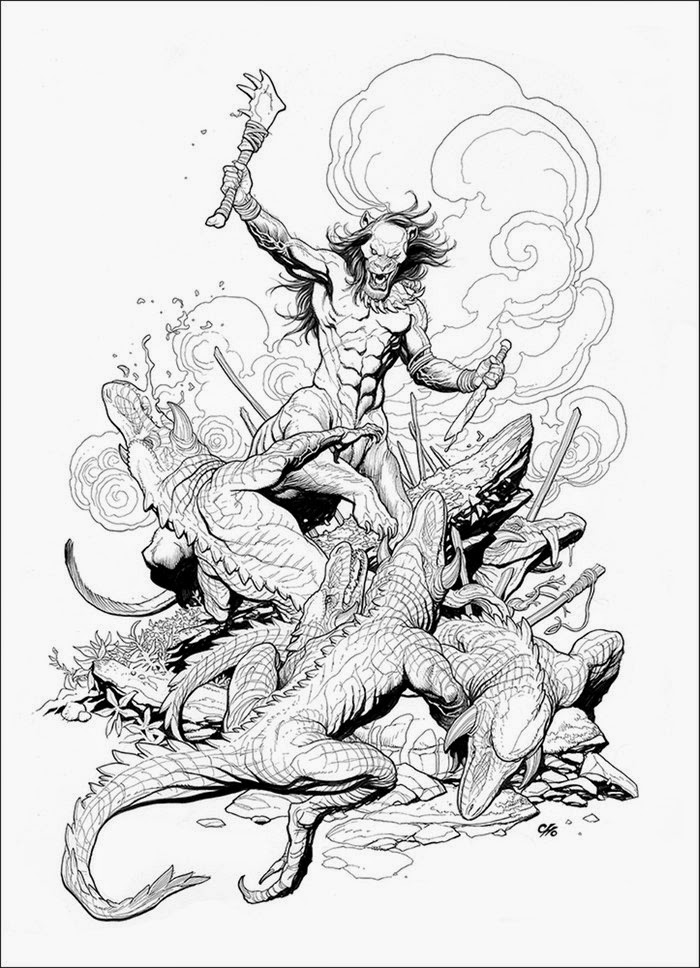 AF: You have some special "extras" planned for the book, including work by
other artists: could you describe some of the bonus features? 
DB: 

Both the deluxe and the trade edition will include a large gallery of pin up pieces by some incredibly talented people I'm lucky enough to call friends. From big guns like Frank Cho, Justin Sweet, and Boris Vallejo and Julie Bell, to concept artists and coworkers at Rockstar San Diego like David Hong, Hethe Srodawa, and Raul Cabrales. And that's just to name a few! The original list I came up with for the gallery section of the book was easily three times as long as we could allow space for.
Along with this gallery, the deluxe book will also include an extra section with some of my concept sketches and drawings done over the years for this project. We're also going to upgrade the cover to a cloth with onlaid art print and embossed titles. We're pulling out all the stops!
AF:

 Is this book the first in a series with long-term plans or do you see it as a one-and-done and you'll be moving on to other projects?

 
DB: Lance and I certainly have stories we'd like to tell within the world of Kai, but we also have other illustrated book ideas we've toyed around with as well. We'll have to see what the public reaction is to Tribes of Kai before we make our next step, but my hope is to dig deeper into Kai and bring more of the world to life.
Thanks to Daren for taking the time to answer these questions. The KickStarter campaign is winding down, but there's still time to jump in and get some of the premiums being offered just by click here.