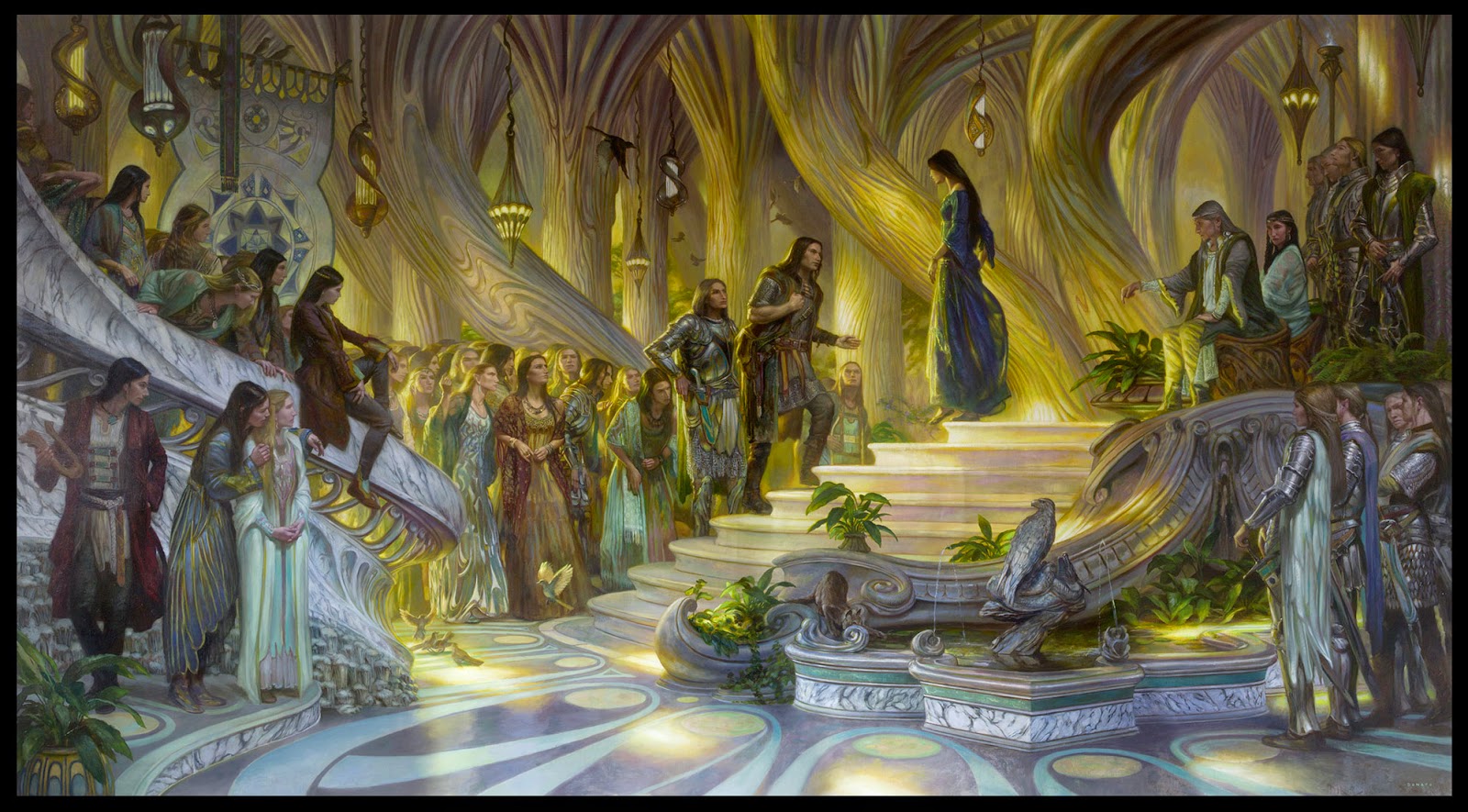 Beren and Luthien in the Court of Thingol and Melian
110″ x 60″
Oil on Linen
With the painting of Beren and Luthien in the Court of Thingol and Melian now completely covered in structural detail, I now am entering into the final phases of repainting/correcting/color balancing the entire work. I equate this aspect of painting similar to what must be accomplished while directing an orchestra. To ask all the musicians to play their best would result in a cacophonous assault on the senses as each performed their favorite notes and in such a manner which called attention to their unique skill and instruments special qualities, all at the same time, all unaware of the style of their adjacent performer, and all at discordant volume levels.
Rather what is required for a symphony to be enjoyed by all, is that the musicians in a large orchestra must work in harmony with each other, taking turns and gracefully accept the chances to stand out and moments to suppress their instruments into near silence. The compression and expansion of information is a style I enjoy in my music and therefore reflects my preferred organization of elements within my art!
What I have after a first pass is the orchestra all paying fairly well together, but not in total harmony. It is this phase of managing a large canvas that I enjoy so much – glazing over swaths of figures, repainting a face here and there, recoloring a dress, adding color to a shadow, suppressing details here while pulling out more there. It is the difference between accepting the work because you could get all the pieces to fit and comparing that to the integrity of the final work as the various elements compliment each other and coalesce towards a grander, unified message greater than the sum of the individual parts.
I hope to have the final image to share with you all on this project in a few weeks hence.