Lady of Mermaid Inn
Since my posts on Muddy Colors and EveryDayOriginal.com happen to fall on the same day this month, I thought I'd post a bit about my painting and show some progression images. (thanks to Dan Dos Santos for the suggestion!) This painting is oil on board, 5×7", and is titled Lady of Mermaid Inn.
I had recently read a bit about haunted pubs and inns in the UK, and came across the ghosts of Mermaid Inn in Rye, and this painting came soon after. She appeared earlier in some marks on the surface, and I was inspired to continue with some new abstract marks in the atmosphere, as if she appears to be emerging from the atmosphere, just as a ghost might appear… Below is a bit about how the image came about…
The painting was initially started a while back, and it was one I've had hanging around my studio. I tend to work that way a lot. I have many abstract starts around me in my studio, and different images tend to form in the surrounding paintings in a way much like we see forms in the clouds. On any given day, one painting in its abstract state may speak to me more than another.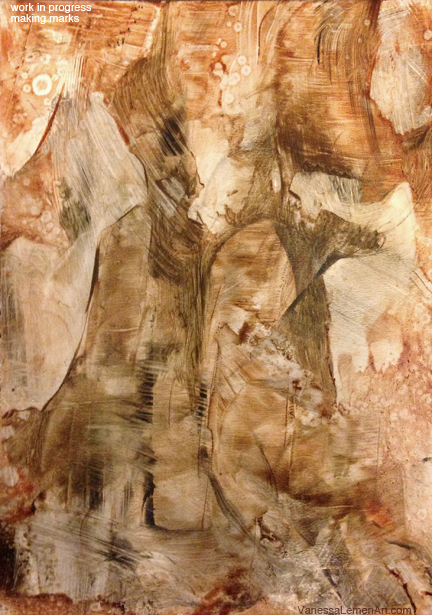 The initial marks made on the surface
This painting had been sitting out in its abstract state for a little while, and I had at one point taken it over to my easel to develop two figures that I saw in the marks one day. I didn't quite like the posture of the figures that I brought forward from the marks, but I liked the painting enough to give it some more hang time and thought I may spend more time with it possibly in the future, so I kept it in that state after having scratched it out a bit with some sand paper.
Finding forms in the marks
As it turned out, my day to post on Every Day Original was coming up, and since the paintings I post on EDO are smaller works, and this was a nice small sized painting (5×7"), I decided to revisit it. As I mentioned above, I had just recently read about haunted inns, and this must've been in the back of my mind when I started to paint this painting. I hadn't intended to erase one figure altogether, but as I made some abstract marks to cover the figure on the right, I decided I liked what was there enough to continue with just the one figure. Also, I saw a face and head tilt in the remaining figure that appealed to me more – the head was tilted back, which made the jawline about where the eyes were. This seemed to flow much better. And the ghost type figure was subconsciously developing…
Changing it up! (a bit different from the previous state)
I had a lot of fun adding some abstract marks for the background. The painting was dry enough underneath that I could add some dark tones with a bit of linseed oil on top of the painting and carve back out with a spatula, splattering a fine spray of turp as well for texture. I wanted to give the painting a feel of outdoor light, as if walking through a patch of trees and seeing a figure in the light and shadows, but as abstract shapes, so as to be interpreted in many other forms as well.
Added some abstracts in the environment
As the painting was in the final stages, I added a bit more glow and color on the outer edges of the hair.  Also, I felt like the face and figure were a bit too cartoony and had too much contrast in some areas which didn't lead to a proper ghost-type feel, so I spent a bit more time on the face and figure to knock back the darks and blur some edges to keep the appearance of the figure moving in and out of the environment.
Near-finished
This last stage is where it felt right, to me, as an all-over image – in mood, composition, color and lighting. It's a free-form process so, to me, when working in this way, it's finished when it feels right.  This painting will be posted and available for purchase here: EveryDayOriginal.com – Lady of Mermaid Inn, today at 10:00am – (2/27/2016).
The painting in its finished state