This summer at Legendeer in Alberta, Canada I had the pleasure of meeting Loic Zimmerman, who is very well known for his illustration and concept art career, but was at Legendeer specifically to speak about his move to working in photography and filmmaking. I found it fascinating to see how his eye for illustration translated into film. I found it even more interesting that he did a documentary about the painter Jeremy Mann, because it was a painter's eye, turned to filmmaking, making a film about a painter. I was very excited to watch it, and after seeing it, I definitely wanted to talk to Loic about the process, and bring it here to the Muddy Colors audience.
You can read Loic's very interesting answers below without having seen the film, but it's absolutely a better idea to go watch the documentary and then come back. It's not only a fascinating look into the painting life, but also a fabulous shot in the arm of artistic inspiration. I don't even paint and I was itching to play with some paint after watching Jeremy and his rollers. The textures!
As a black friday special, Loic was kind enough to discount the download to $4 (usually $5) to the first 50 Muddy Colors readers who buy the film and use the promo code "muddycolors" here: A Solitary Mann
Now, whether you've watched the film or not, on to the questions!
Q: Loic, you're known for your illustration, especially your concept art work. What about film (both still and moving) attracted you? Do you feel like you have the same vision across mediums, or was the shift from brush to lens a complete restart?
Film was probably the thing I loved most after illustration but for some strange reason I lost track over time and fell down into the rabbit hole. Or maybe it was purely technical. It was easier to grab a pen and a sheet of paper and draw, than to figure out how this whole movie madness worked. The technical evolution of digital cinematography changed a lot of things for people like me. It's something that Francis Ford Copolla saw coming 30 years ago. I feel close to this little fat girl in Ohio he was talking about…
I really enjoyed my years in illustration, concept, 3D, but after the publication of my art book a few years ago i lost the mojo for it and felt totally empty. I realized that that was it. Getting back into photography only made it more obvious, I wanted to shoot, more and more.
The same rules apply for most artistic medias. Composition is king. Rhythm is everything. you can take what you know and apply it to the next media you choose to communicate with. It's not like switching from MMA to Violin.
Q: What came first, the decision to document an artist, and then picking Jeremy Mann—or was it knowing Jeremy Mann that inspired you to do a documentary?
I thought I'd listen to the masters, Herzog, Deakins… They all swear by Documentary as the best school to learn the craft of film-making so I went in that direction. I shot a documentary on William Wray a few years back. Painting being a subject that I was familiar enough with, I thought that I could have an interesting angle on the subject.
I met Jeremy during a Massive Black workshop and took a picture that he liked a lot. A year later we met again, in Portugal this time, where he saw a screening of Gamma-Wray. He liked it enough that we started to discuss the possibility of working on a film together.
In January 2014 I was flying to Oakland to shoot A Solitary Mann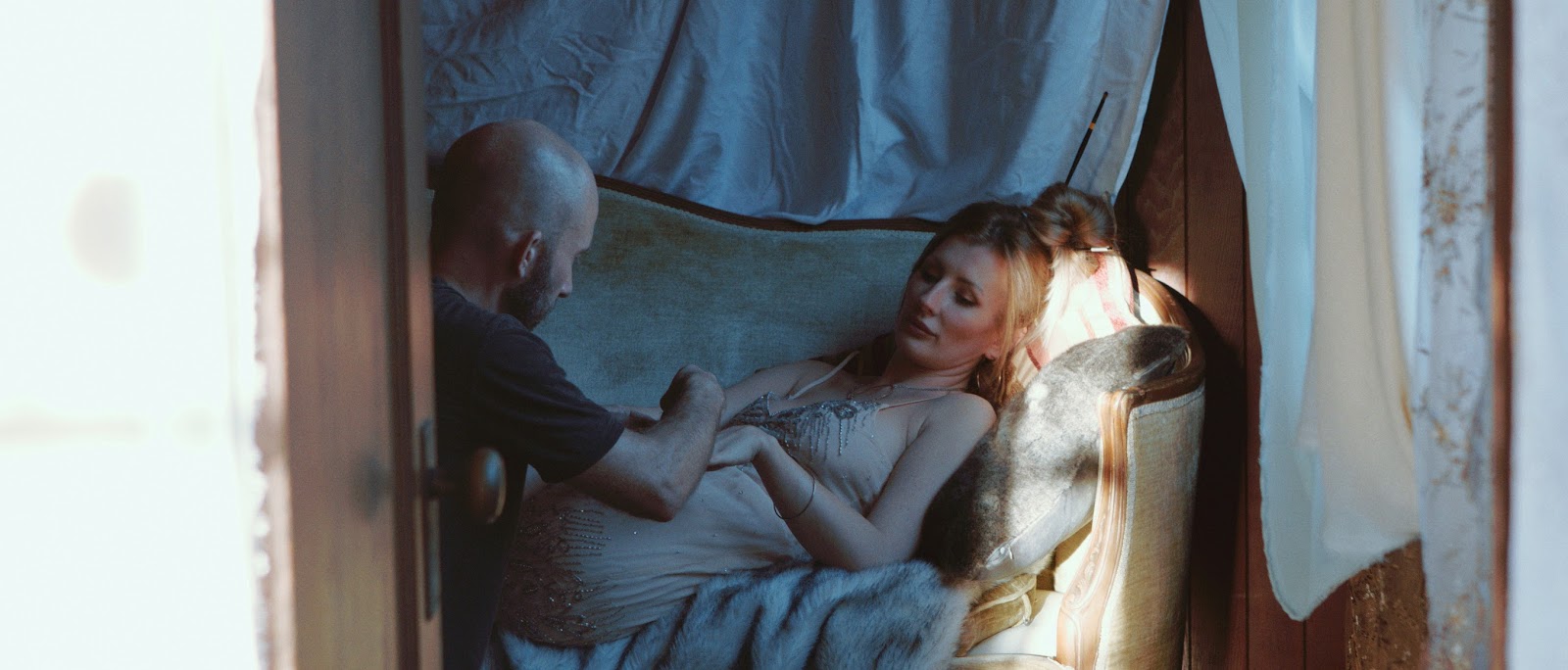 Q: The cinema vérité approach, without narration, works very well here. You show the answers to questions an interviewer would ask without having to actually ask them. Mann's answers seem natural, and throughout the film it really feels like we are sneaking a look into his life, with minimal intrusion. For example, you get so much of his process, without him having to explain it in a tutorial mode. How much of that feeling is how it was shot, versus edited out? Was he going about his day trying to ignore you as much as possible, or did you guys have a rough outline of what was going to happen per scene and follow it?
Films such as Pollock (by and with Ed Harris), Van Gogh (Piallat), Vincent and Theo (Robert Altman), Basquiat (Julian Schnabel)… inspired me to try a fresh take on the documentary genre. I wanted to film something real, non-rehearsed, not staged, but with a strong cinematic approach. Years of street photography definitely helped me in this process.
And luckily the house was a perfect set for this to happen too, with plenty of rooms to choose from, lots of textures (Victorian wallpapers, wooden floors, laces, curtains, paintings, photos everywhere, clothes, accessories).
Neither Jeremy or myself wanted to make a tutorial video. Jeremy was actually hoping for something closer to what I did for the band Dirty Beaches with Time Washes Everything Away, a 15min video I shot in Lisbon. We wanted this "fly on the wall" approach.
I had one evening to familiarize with the place and ask all the questions I could think of to Jeremy. Prior to that we had a series of email exchanges in order to make sure we'd make the most out of this tight schedule.
The deal was, if the camera is on my shoulder, I'm not here and we don't talk.
Obviously this is not entirely true, I am in the room, I am somewhat disturbing the process, but eventually, it became more natural. Because we started shooting with something Jeremy had done in front of an audience before (the blocking of a cityscape), it gave him a bit of time to familiarize with my presence, and ultimately, he started to act as if I wasn't here at all, leaving the room to go grab a snack, or take a breather and pet his cat. Each time I would be around, filming.
The one concession he had to make was to listen to music through his headphones so I could capture the sound generated by the painting process. That was probably the main difference with his usual routine.
After a few hours of shooting, I would usually go back to my computer and backup the data, fix myself a snack and go back to shooting. Having lunch together would break this idea that I wasn't here. I had to stay out of the equation as long as possible. Around 8 or 9 pm we'd finally go out to pick something to eat or sit at a restaurant, and finally talk. I'd do more coverage of the house at night after that, then we'd open another bottle of wine and the interview session would start, comfortably sitting at a table, with an audio recorder between us.
The same way there was no eye contact with me while I was filming, I couldn't interrupt either by suddenly being a vocal presence. So we would have a discussion, and i'd bring Jeremy to a place where he was speaking about a topic rather than replying to a question, although he actually was. I ended up with hours of material and a couple of headaches.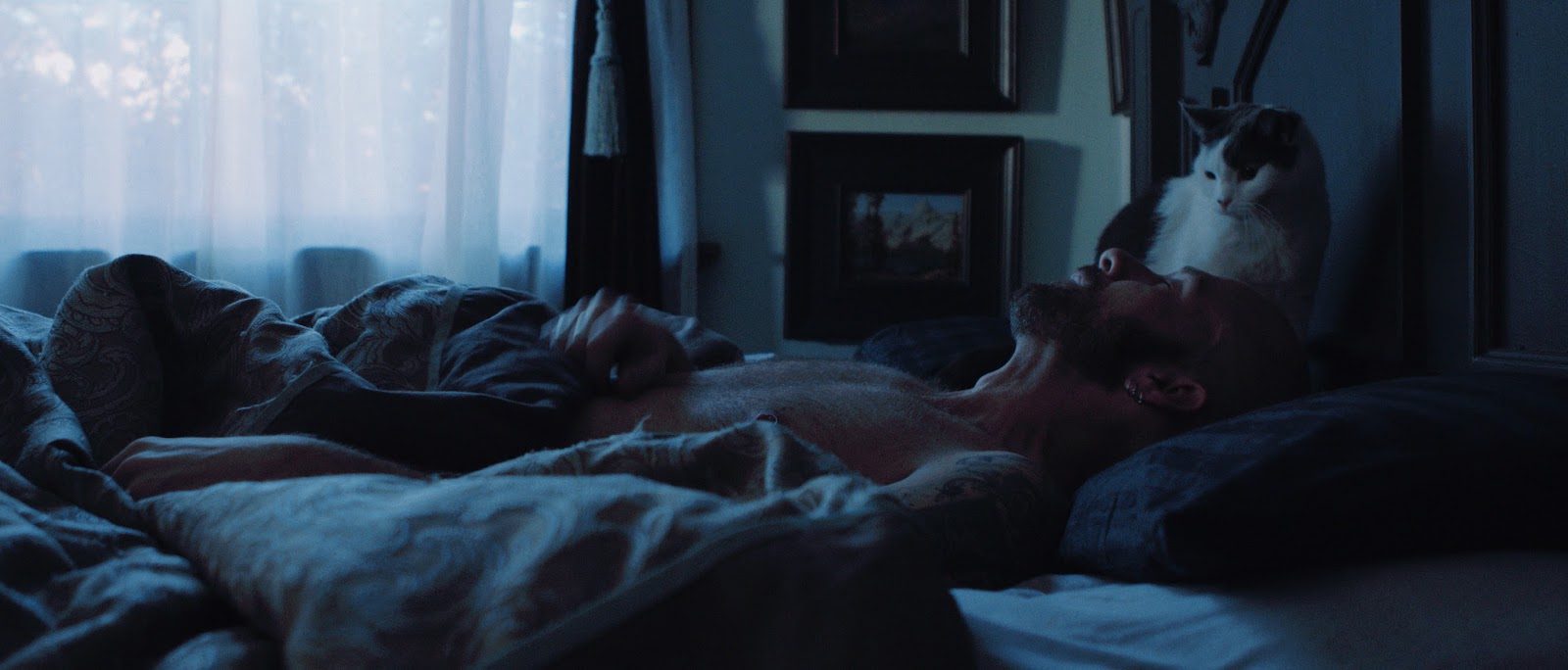 Q: I was very conscious of parallels when Jeremy was talking about how much work he puts into getting the setup of the reference photos right. His photography sets the tone for his paintings, but it also feels like it set the tone for the whole documentary. How much of the darkness, the color toning, the lighting, was purposefully designed to mimic his paintings? (Or is his house just really that dark?)
Jeremy's house is a major component of his work. That's his stage, and it became mine. It was pretty dark to begin with (which is why I rented a camera that could manage low light situations), but I also graded the hell out of my footages.
The film started to mimic the paintings. It just happened organically. It wasn't premeditated. It just made sense. I wanted to create an immersive experience for the audience and it felt like the right way to do it.
Q: "A Solitary Mann" is a great title because of the play of words, but it also seems to be a nod to the theme Mann talks about a few times throughout the film, about people thinking he has a more glamorous life, or that most of his life is him alone at home with his cat. Do you feel like showing that loneliness of creating art was a theme you set out to reveal, or did it evolve naturally from following the subject? Do you feel like documentaries need to make an overarching statement, or is it enough to just show the subject as they are without drawing conclusions?
So many times I've heard the question: "how do you find the right balance between life and work" ? In my twenties I was often criticized for being the guy who stays behind his computer working on some weird shit all night instead of going out. It's a sacrifice that you have to make if you really want to progress in your craft. Back then I often felt bad about doing this. I didn't have anyone around me willing to do the same. I met those people later in my life, people like Jeremy, or Alex Zhang Hungtai (musician)…
This film is here to make people feel better about their own journey, and, at times, their own isolation. Jeremy is one of the hardest working man I've ever met and I wanted the film to focus on that. Of course he sees people, gets out, takes some time off, travels. You could make a bunch of different films about him. I wanted mine to address this particular topic : dedication. I had the title written down before I started shooting. A lot of documentaries are scripted. This one wasn't. But it is true that the angle chosen and the editing are very much about me talking through Jeremy in a sense.
Q: Certainly the film is a collaboration between subject and filmmaker, but the music and the design have a great impact on the mood and richness of the film. How did you work with these other collaborators? Were they involved throughout the process or were they passed the finished film to work on top of?
I worked with Kevin Curtin before (sound-mix &score), but up until A Solitary Mann, it was mostly to improve the poor audio of my projects. For this film, I wanted a score. Music is a very important source of inspiration for Jeremy. He listens to a wide range of things when he paints, but rather than using his own selection, I wanted to have something specifically composed for the film. Like a reflection of the mood and the moment.
I sat down with Kevin and explained what I was after. I gave him a few references of styles.
A few weeks later Kevin came to me with a bunch of random tracks and ideas. I started to play with those, place them on my edit, cut them, combine them. I did a very rough maquettes and gave him a temp edit. From there Kevin started working his magic.
The tricky part was to avoid falling into "music", for say, as I didn't want the film to feel like a music video. They had to be ambient tracks. I sat with him on several occasions to dial things up. It was an interesting and challenging process.
[soundcloud url="https://api.soundcloud.com/playlists/203865562″ params="auto_play=false&hide_related=false&show_comments=true&show_user=true&show_reposts=false&visual=true" width="100%" height="450″ iframe="true" /]
As a concept artist, and as an art director these days, I get to work on a little chunk of something bigger. Those films I make are my opportunity to be involved into each and every parts of the process. It's tough, and it's exciting. It's about finding the right balance so that the people you work with don't feel too contrived, yet get what you want, or need (it's not always the same actually).
Another friend came in later on, after the film festivals run. I had to let go three of the songs used in the film for licensing reasons. So Alex Horn composed a few new tracks to replace them. It was another challenge, as I was attached (married some might say) to those original songs. He did a wonderful job, and Kevin mixed them back into the final version of the film.
Regardong the opening title, I wanted something simple but with a built in story. I mimicked Jeremy's technique, using animated masks in After Fx. I asked him if he could send me a few marks made with his rollers. A day later I had 15 of them in high-res in my dropbox.
The font of the film was designed by Julien Alday. He went to the "Musée de l'Imprimerie de Montreal" (that's closed since) and worked with a letterpress and some old wooden types . It was a clever touch ; the feeling is very similar to some of the marks from Jeremy.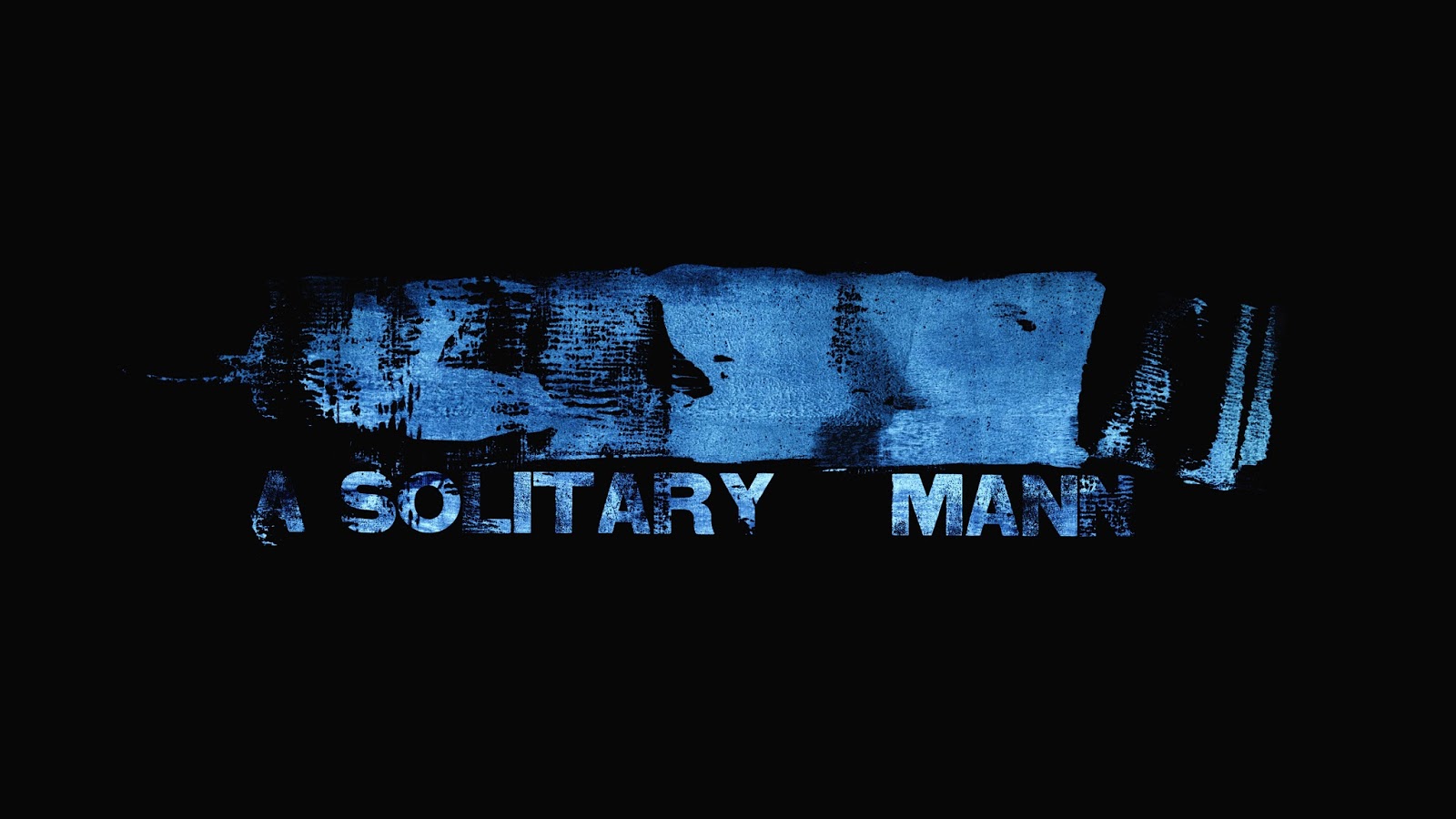 I learned a lot, working on this film.
You would think that shooting is the toughest part but looking back, it was the easiest by far. The months that followed were much more demanding. I was a tough process, but the reward was worth it : the film festivals, the Premiere in San Francisco, and the Q&A's that followed … I got such wonderful response and feedback that it gave me the fuel to jump onto the next projects.
I found a medium that I really love. It takes me into places I never thought I'd see. It allows me to collaborate with people I want to spend time with.
And I made a new friend!
---
Thanks to Loic for answering all the questions and for the discount code!