I've been trying to figure a way to boil down a post to celebrate Allen Spiegel's life, what he meant to me and so many others in his decades long career as an art enabler, agent, mentor and friend. It's never easy, and always reductive. So I'm going eschew the standard protocol and list all his history of accomplishments, which are so many and voluminous as to hold an article all unto itself, and instead just keep it personal. because Allen was intrinsic to my entire work career and art life, all the way up to the moment when he passed on this Summer.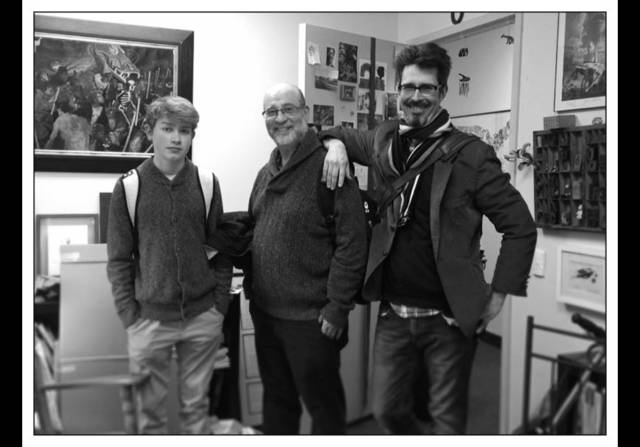 I'm going to be plagued by things I should have included but forgot or didn't, they're just so many stories so much to share, there's no way this tribute could be anything but a disappointment. But I'll try.

I knew who Allen Spiegel was long before I ever got to meet him at San Diego Comic Con back in 1994 or 95… He was the agnate and manager of my comic book superheroes, somehow holding nearly all of them in his stable save for one or two. He represented Dave McKean, Jon J Muth, George Pratt, Kent Williams, Jeffery Catherine Jones, Greg Spalenka, Jamie Tolagson, Thom And, Phil Hale, Scott Morse, on and on and on… Allen guided aided and helped hundreds of others and became so stitched into the fabric of the comics and illustration world to become as part of the works that came out of it as any of those who made them. I was just in the middle of my first major graphic novel series, SUDDEN GRAVITY through Caliber Comics, maybe about one or two issues in when he crossed over from California to NYC to visit me in my studio in Brooklyn. I was working as building caretaker for a massive old mansion on Prospect Park West, and lived with my wife and artists, Jen Smith on its third floor. We had turned the massive living room into a kind of studio apartment that gazed out onto the cascading hills of Brooklyn, slope downward towards the water's edge leaving a picture postcard view of lower Manhattan right before us like stood just to be seen by us alone. As a result we used the back two bedrooms, likewise huge and squared facing Prospect Park as our studios. Mine in the farthest back as I like to be. He wasn't a god of art- (in fact he was terrible at drawing as evinced by the little drawings he always scribbled on the letters and paychecks he'd send over), but he was the art gods' shepherd and I was being deeply blessed with a look from him. Whatever pomp and circumstance I applied to him vanished almost instantly. Allen was a warm and friendly bear of a man with a deeply generous spirit and we got on like a house on fire right away. It seems the people that have meant the most in my life, the chosen family that has been so essential to me always come that way, every last one. He could see my potential and my need for help. That was one of his many gifts. I was eager and a little star struck but somehow managed to remain open and hide my desperation for him to take me on as a client. He never liked to have more than a dozen or so, because he didn't feel like he could service more than that without it coming at the expense of others, so even being considered was a miracle. And there wasn't one moment I can recall after that where we became official except a few months later when he asked me to contribute something to his self published book, 108 Drawings that kent Williams was designing for him in time for the next Comiccon. We were already working on things by then, but somehow assuming my part in that pantheon was the affirmation I didn't know I needed. But seeing my name on the cover with these people… these guys that had literally excited me into comics in the first place… looking at it now as I type this I can still fell the echoes of those goosebumps. Finding myself standing in his booth at SDCC next to those guys just shooting the shit and sharing artwork and war stories will warm me for the rest of my life.
Being a latter member of that tight knit community of genius creatives… there really aren't words to describe what that can mean to an artist and writer. My whole life feeling like a lonesome nomad in a world that didn't connect with me, Violent Cases, Moonshadow, Blood, Cages and Wolverine were like beacons from some far off planet promising hope out there away from the crushing confines of suburban Houston. To find myself among them, and joined with them remains a gift I will never be able to repay fully, nor understand int he scope of life altering things that can happen to you.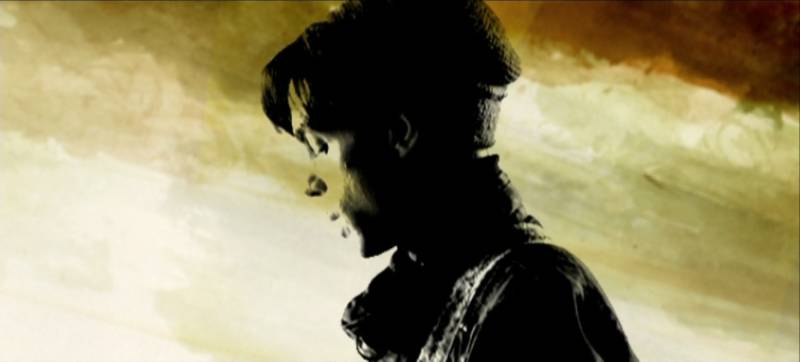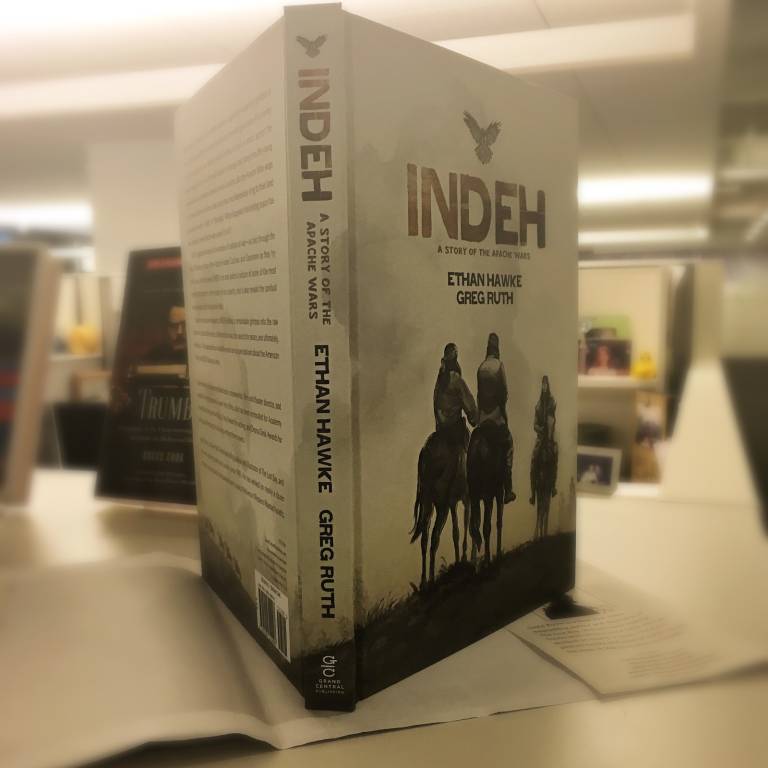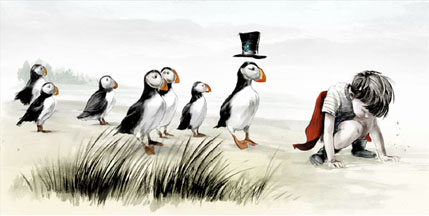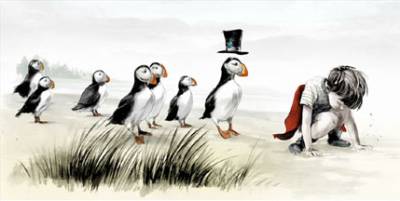 When Dark Horse had asked me to come in to take on CONA, to help Cary Nord keep up with the relentless schedule of a monthly book by filling in alternative months when needed, Conan's childhood story leading up to the his first mention from the Battle at Venarium, it was Spiegel who managed to help me navigate that first hard career decision… and a few years later he helped me thread the treacherous needle and turn down an insane generous and potentially humongous job drawing and adapting HAMILTON to the graphic novel medium. Though both had entirely different results, the counsel he offered always came from the best and same original taproot: feed what your heart hunters for. If I had turned down Conan I'd have likely lost my first major foothold in the comics industry, and like as not would have never met Ethan who saw Born on the Battlefield as  an inspiration to reach out and see if I was interested in working with him on INDEH. If I had said yes to Hamilton, Meadowlark would have never happened…. again with Ethan, and another feather in the cap of a creative partnership and deep and abiding friendship that has spanned almost two decades already now. Allen was always my lodestone, and while we didn't;t agree on everything- he was a deep prompted comics guy first and foremost and I was merely a latter day interloper who saw more excitement in children's picture books, film posters and LPs. But you always knew exactly where you stood with him. He was the most honest guy I ever met, and he was family. The best kind of family- chosen family.
Spiegel made sure to cover rent when I was broke, and advance payments numerous of times to help me pay bills when checks ran late. He helped me grieve through family tragedies and crises, celebrate our victories and was my longest running partner in this weird art life I had chosen. I shudder to imagine where I'd be now without him having been there. My life would have missed half its color, lost half or more of it's special moments and interactions. Once when he rolled up on us at the booth at SDCC, I was standing next to Kent talking about some guy who had pushed copy of Conan under the stall in the restroom for a signature, and he had his urinal tales of intrusive fan stories to counter. Muth and McKean were there too and I guess we were all lined up like a couple of chorus line dancers because he just started cracking up when he saw us there like we were. I got to be there because of him, to share art and drinks and stories with my heroes because he let me into that tent. He was the greatest partner and advisor I could have ever hoped for. Even when I bunked with him at the hotel room for Comics and had to sleep in the bathtub in a failed attempt to escape his snoring, a source of our biggest fight in decades, and hardly an actual fight… it was lovely. Allen loved to tackle and combat, and being in the tent with that facing out managed to navigate some serious major difficulties in the years to come that I don't think I could have handled at all without him. When my book, EDENTOWN,  was cancelled at Vertigo as part of a vendetta against a recently fired editor I was working with, my rage was supernova large, and while we couldn't save the book from that petty  guillotine, he managed to finagle all the rights back to the book. It was always about relationships, he taught me. Never follow companies, but people, and whenever you can avoid it, never burn bridges. He'd befriend new interns and assistants knowing that one day they would be editors and department executives down the road. He taught me the long game always wins over the short. Everything I can now handle and achieve professionally was because he let me learn from all the stuff he had to do to advocate, champion, and wrest payment from withholding clients, and he made friends with nearly all of them along the way.
Allen had a talent for being able to relate to whatever you were and saw things from your perspective without losing his own. Even when I would insist he push for something he wasn't sure made sense for me, if it was clear I wouldn't relent, he found a way to handle it and make more of it than I ever expected. He calmed my silliness and tantrums and naive hopes, honed my abilities and taught me how to read contracts, spot the gremlins they always contained, and follow people never places when it came to building a career meant to span a lifetime. I could write this article for weeks and still not recount all the insane traps we cleverer our way out of together, ridiculous adventures in hotels across the country and cons and meetings that would make your hair curl. He introduced me to giants of the industry I can now call friends, and was a friend to me at some of my darkest times. We shared our lives and I am still having a hard time reckoning with that fact of a world without him also in it. I think it's because to me he is still here, all around me. As I sit now in my studio writing this, I can't pass my eye over a single square inch that doesn't;t hold, shelves or feature art and books he helped me create. I literally shudder to imagine what my life and career would have been like without him- it's completely inconceivable, but I do know all the work I have been honored to be a part of wouldn't have happened without him. I would have never gotten to meet and work with Brenda Bowen, or David Saylor, or Charlie Kochman without him. The projects even I crafted myself, completely less than what they were because of him. Simply non existent were it me alone. I know so many other creatives who have had those careers on their own, struggling to be in this world without a literal knight in shining armor that Allen was for me, and for so many of us in his family of creatives he helped, steered, sheltered and loved. I love him as much as I have ever loved anyone, and I will miss him every day that goes forward.
Spiegel let me steal into Olympus and party with the gods inside. I am still there with now, the music turned up as we all dance together. As a man once said about Beethoven Allen didn't die, but became art. He's all around me here and now and I can hear his voice, telling me how proud he is, how wonderful it is to talk and to spend time together. I can't say goodbye to someone who will never leave me anymore than I can un stir the milk out of my coffee. Je lives bright and silly and cantankerous in each of us he touched and shared with, and we are his legacy. I cannot be more honored nor more proud of that gift. I could live ten more lives and never receive one greater than that.