A few years ago, I posted a piece on the varied landscape of my client base and how I shorthand what I do into "book covers and Magic cards" even if that's only a portion of the full scope. I thought I'd revisit this today and compare recent examples from six different avenues: Comics, Editorial, Gallery Work, Gaming, Private Commissions, and Publishing (book covers). Of course, these selections are anecdotal, but I tried to pick examples that I felt represent my experience overall
Comic Covers
Project
: Joe Golem cover for Dark Horse Comics
Turnaround
: Typically about 3-4 weeks
Client relationship
: I've been working with Dark Horse for about 5 years now, probably about 40-50 covers in that time for several different editors
Rights bought
: Work for hire
Brief given
: Though it varies by editor, Dark Horse tends to often just provide me a script and let me pitch ideas which leaves me plenty of creative freedom. I'll sometimes ask guidance on what story beats to lean on. This particular cover was a collected volume so I just had to give an overall sense of the tone that also touched on some kind of story specific imagery
Sketch notes: My initial take was two directions. One was a montage of our hero backed by flames, a lonely abandoned row home, and the indication of rats filling the dark sky. The second was at the suggestion of the editor to see our hero (in his Golem form) with a statue of an angle standing over him. The montage sketch recycled a pose from an unused sketch of an earlier issue and, in the end, the editor decided to just go back to that original unused sketch (just Joe and the rats, far right)
Final notes: I don't often get much in the way of final revisions with these, and that was the case here. Smooth approval, everyone is happy!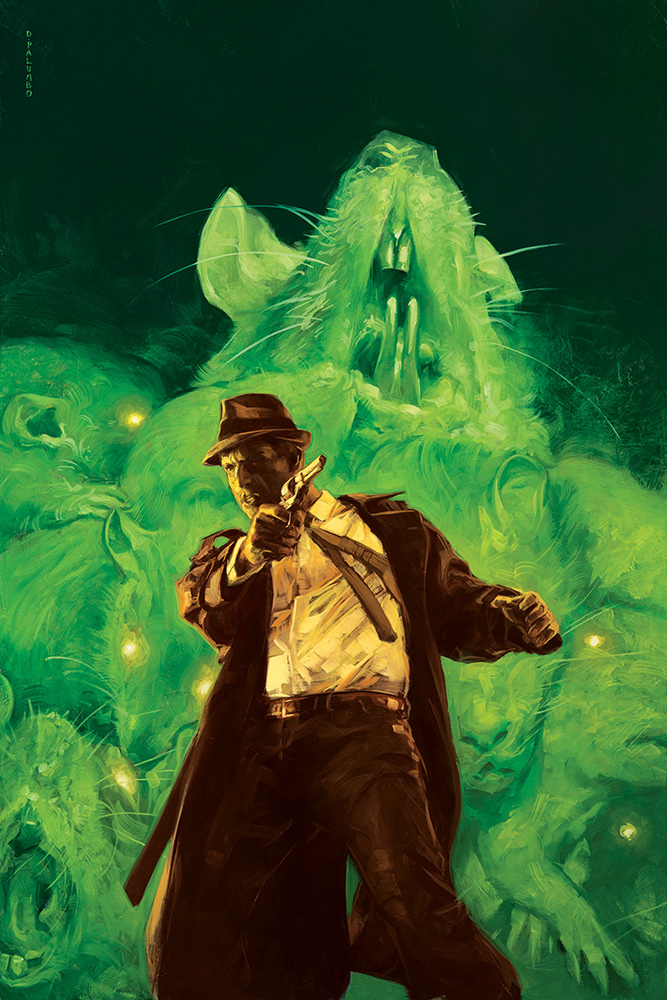 Editorial
Project
: 2-page interior spread and a quarter page spot for Texas Monthly
Turnaround
: Typically 1-2 weeks (my most recent piece for them was three days, brief to final)
Client relationship
: I've done about half a dozen jobs for Texas Monthly
Rights bought
: 1
st
North American
Brief given
: These paintings were to illustrate a non-fiction excerpt from a book about the first Spaniards to arrive in Texas. The AD sends over the story and usually some rough indication of what the tone or concept might be. The pace in editorial is so fast, there isn't usually much fussing over little details. I generally feel a lot of trust is given over to me to do my job without interference.
Sketch notes: because of the short turnarounds, I tend to still do editorial sketches in digital. I had a very clear idea for the main spread and that sailed through no problem. For the quarter spot, I wanted to see a shot of the Spaniards established further south (which ties in later in the story) but it was rejected because that part of the story did not take place in Texas. It was replaced with a scene of Karankawa finding some shipwrecked Spaniards. My first pass at this could have been wrongly interpreted to suggested there had been a battle between the two, but the second pass was approved.
Final notes: Again, with the fast pace of editorial, my experience is that clients don't tend to have many revisions. Texas Monthly does usually have a note or two and in this case it was just some simple color adjustments
Gallery Work  (not a "commercial art genre", but it is essentially turning art into commerce)

Project: a piece for a two man show at Rehs Contemporary
Turnaround: I spent about a year preparing a few dozen pieces for this show, with the most intense focus being the final two to three months
Client relationship: I've been working with Rehs for four years
Rights bought: none
Brief given: none, though there is an understanding as to the general theme and scope of the show
Sketch notes: no sketches presented
Final notes: none
Additional notes: Working in a gallery is so different from commissioned work, I hesitated to include it. The reason that I did is because it is a facet of my career and income. And it's worth comparing as well. The one thing that particularly should be called out is that, along with all of this freedom, there is also no guarantee of compensation. I've taken part in several group shows with various galleries in recent years that produced no sales. With a long term gallery relationship, however, the gallery holds an inventory of your work and should be always actively promoting it to their buyers. Sales will, if all goes as it should, occur at openings as well as between shows. Several times, I've had gaps in my commission invoices covered by gallery sales on older work.
Gaming
Project: Magic: the Gathering
Turnaround: six weeks
Client relationship: My oldest steady client. I'm just shy of my 10th anniversary working on Magic
Rights bought: Work for hire
Brief given: Artists are sent a style guide, which is a tome of artwork and notes used to help keep you on brand for the specific setting. The actual brief will describe in fairly detailed terms the scene to be painted as well as some notes on overall tone and focus. Card functions and in-game effects are rarely if ever given in the assignments.
Sketch notes: minimal, just a note on clarity of some details. This is typical for me: notes that don't require any revisions to the sketch, just to keep in mind for moving forward
Final notes: none, a clean approval. Again, this is usually my experience with MtG
Additional notes: As a traditional painter, it's also worth mention that there is a dedicated collector community for MtG art. The actual assignments don't pay as much as some other clients on this list, but the aftermarket makes up for it
Private Commissions
Project: original piece for a private collector
Turnaround: usually pretty open ended, though I aim to keep things inside 3-4 months
Client relationship: This piece was for a collector who I had no prior relationship to. We did communicate quite a bit during the commission though
Rights bought: none
Brief given: The collector had originally wanted a piece that was already sold, which then opened the conversation to creating a new piece with a similar theme
Sketch notes: I first sent over rough thumbnails to close in on the concept, and then the full sketch once I felt confident we were on the same page. Some suggestions were made based on the sketch that helped guide us in to the final
Final notes: none, everyone is happy!
Additional notes: I think the most nerve wracking type of job for me is a private commission. When working with a normal client, you have to satisfy their needs of course, but it's business first and foremost. The AD might not even really like my work for all I know, they just know it's right for the product and that is the primary concern. Creating a piece for an individual to own and love feels like a very different kind of responsibility to me. You have to connect with your client at a very personal level
Publishing (book covers)
Project: Book three of the Binti trilogy for Tor Books
Turnaround: Generally about two months
Rights bought: reproduction in hardcover, paperback, audiobook, ebook
Brief given: Publisher to publisher, this varies greatly. Some have a very specific idea, others just send a manuscript. The Binti books were of that open ended manuscript variety, which means I tended to present quite a few ideas in some cases before we found the right one.
Sketch notes: An initial round of thumbnails were sent to fix the focus of the piece. From there, three fleshed out sketches were created. One of those was then taken further with notes to recompose some details before finally being approved to move ahead to final.
Final notes: I usually expect some notes on a cover and this piece followed that trend. Minor details for the most part though: clean up a shape here, tone down a value there.
Bonus round: AdvertisingI wanted to also say a quick word about advertising, though I honestly don't feel I've done enough of it to speak with as much confidence as the above subjects.  I've done two projects this year that fall under the advertising umbrella and virtually nothing about them was the same except that they both paid better than any other clients for comparable hours.  Typically, advertising has strong budgets but can be extremely micromanaging on details.  If any category of illustration might reduce you to a pair of hands, it's advertising.  Turnarounds are usually pretty fast as well, despite that some jobs can also be fairly complex.  You're frequently dealing with a team of people, who in turn are dealing with another team of people, so there are a lot of cooks in the kitchen.  Bottom line, hard work but good money.  I've only ever had ad jobs come to me through my rep.
Any experiences in other illustration avenues (children's books, freelance concept art, etc.) that you'd like to add?  Please leave a comment!