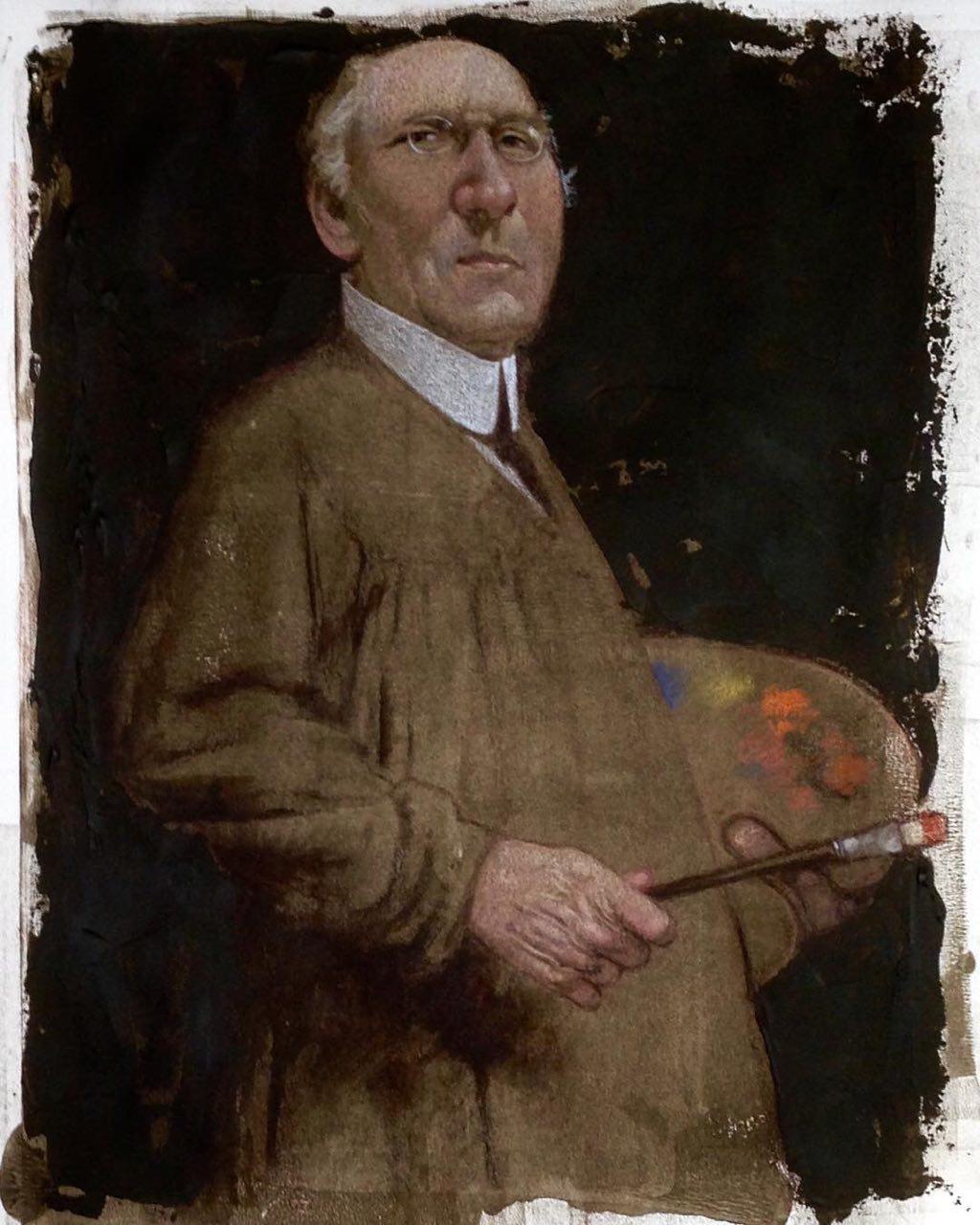 Anthony Moorman and Woodrow J. Hinton III—the writer/director/producer team responsible for the wonderful artist-focused film Making It—have just released a new documentary, C.F. Payne: An American Illustrator, and I'm happy to say that their second movie is pretty wonderful, too.
There are many legends, many Big Names, in the world of contemporary illustration…and Chris Payne is most definitely, unquestionably, one of those giants.
He began his freelance career in 1980 and quickly became renowned for his professionalism, wry humor, astute observations, and, above all else, the uniform excellence of his work. 

Throughout the course of his storied career he has painted covers for 

Time Magazine

, 

Readers Digest

(for whom he produced a long-running 

bacover

 feature titled "Our America")

, 

Sports Illustrated

, 

The New York Times Book Review 

and 

Sunday Magazine

, 

MAD Magazine

, 

der Spiegel

, 

U.S. News and World Report

, 

The Atlantic Monthly

, 

Texas Monthly

, 

Boys Life and numerous others. Chris has been commissioned to paint countless politicians, authors and entertainers; his brief satirical series, "This Day in Rock History" for Rolling Stone, cheerfully poked fun at various rock icons ("The Birth of Gene Simmons" is my personal favorite). So far Chris has illustrated ten children's picture  books, including The Remarkable Farkle McBride

 and 

Micawber

, written by 
John 
Lithgow, and Mousetronaut, written by astronaut Mark Kelly. He has produced advertising for a wide variety of clients (orange juice, anyone?) and painted stamps featuring portraits of famous singers for the U.S. Postal Service.
Chris is an instructor at the Columbus College of Art and Design as well as at Kansas City's Illustration Academy (whenever he's in town Cathy and I sneak in the backdoor to spend a few minutes with him). He also guest lectures at art schools and workshops around the country; beloved by students, Chris' teaching is focused on helping people not only improve their craft, but in establishing and maintaining their careers as artists. 
Chris' work has been exhibited at The Cincinnati Art Museum, The National Portrait Gallery, The Norman Rockwell Museum, The Society of Illustrators Museum of American Illustration, The Selby Gallery at Ringling College of Art and Design and numerous college and university galleries.
Success has never gone to Chris' head, though. He is 
genuinely modest, regardless of all the honors and accolades—and that comes through clearly in this documentary. It's the act of creating, an embrace of his Midwestern work ethic, that he cares about, not the trappings of celebrity. (Okay, he cares a lot about baseball, too, and that love is an important aspect of the movie, too.) 
Instead of including a parade of peers expressing their respect and admiration, the film features his family talking about life with a husband and father who just happens to be an artist—coupled with Chris' unassuming observations and reflections, of course.
At one point he tells a story about quarters and a MacDonald's Happy Meal that is, on the one hand pretty funny, but on the other incredibly sobering. Artists fresh in their careers should take note. Woody says, "Tony felt very strongly and sold me on the idea of being a fly on the wall in Chris' studio and making sure the film represented who Chris really is: a humble guy who is shy when it comes to praise or awards."
C.F. Payne: An American Illustrator runs an hour and thirty-eight minutes and is now available for purchase via Vimeo for the absurdly low price of $4.99. The doc itself is an hour long and the remaining time is devoted to a pair of drawing & painting demos: students and working artists alike will benefit by watching Chris' process. For a taste of what to expect, watch the trailer below and then I suggest you hurry over to the site to get a copy for yourself. (And, psst, as a freebie on their Vimeo store front there are five additional videos.)
[youtube=https://www.youtube.com/watch?v=X8QeMFmA6DQ&w=320&h=266]