Walking Through the Landscape of Faerie is the fantastic, new collection of art and poetry by Charles Vess.
Published by Faerie Magazine, Walking Through the Landscape of Faerie is a lush, 108-page compilation of fantasy illustrations and writing from celebrated artist Charles Vess, with an introduction from Charles de Lint and additional poetry from Neil Gaiman, Ursula K. le Guin, Gregory Maguire, Alice Hoffman, Delia Sherman, Terri Windling, Jane Yolen, Theodora Goss, Ari Berk, John Matthews, and more!
---
This new book is something of a follow up and companion volume to Vess' outstanding 2009 art book, Drawing Down the Moon. The main difference with this collection being, primarily, an art book with poetry and stories.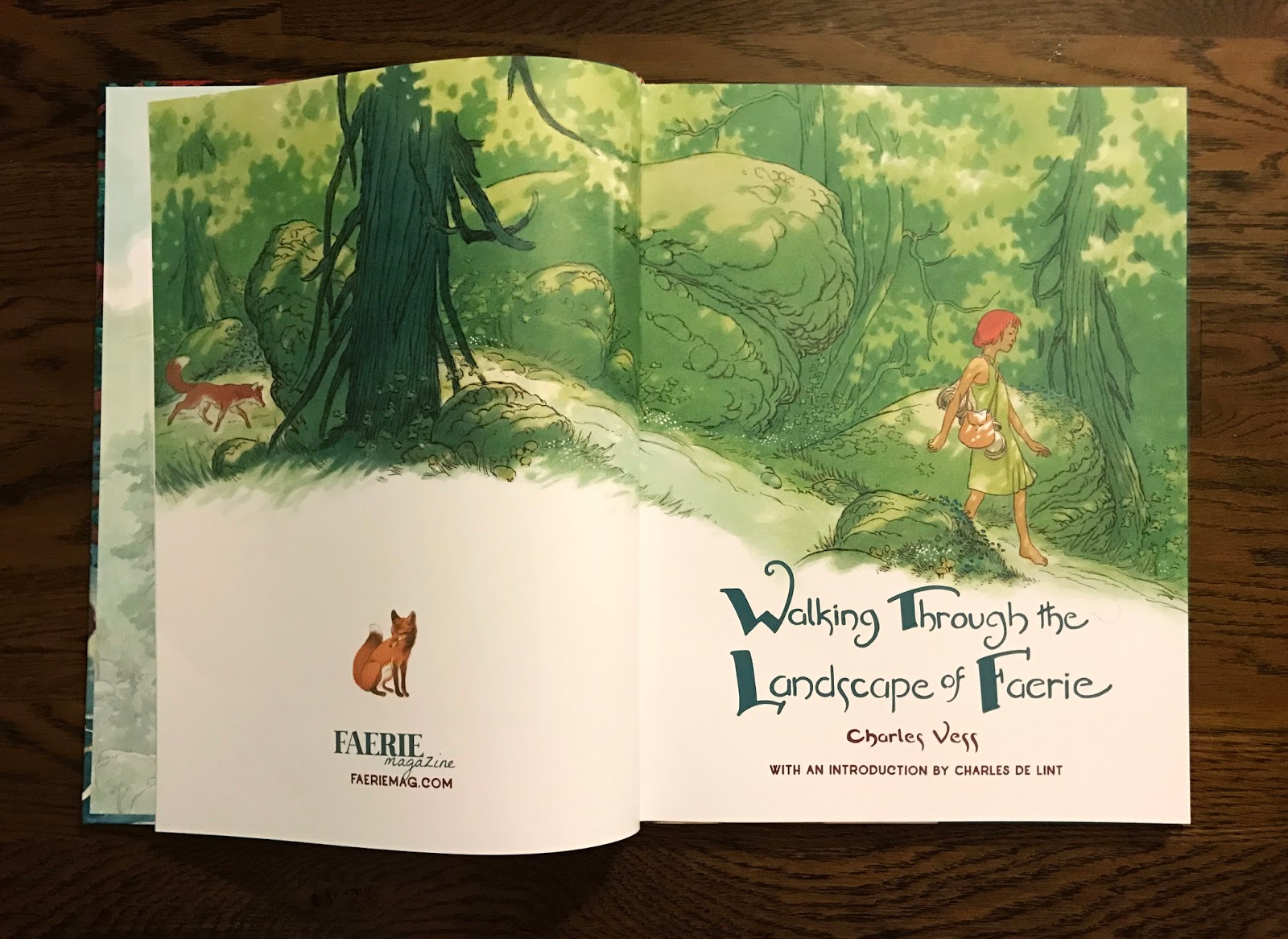 I could try to sell you on just how good this new book is but why not me let simply quote Charles de Lint from the introduction. He's got a much more and better-er way with words than I do, doesn't he?
"It's been said that the poet's job is to make us see the familiar through new eyes, directing our attention to things we might not consider or no longer pay attention to to because we've seen them so often we forget the impact they can have.
I might argue that's the job of all art. 

The verses, quotations, and paintings presented here do just that, sometimes in tandem, sometimes giving us different perspectives. There are rich details to savor, wisdom to ponder, and plenty of whimsy to make us smile."
A major feature of the book is a recreation (and dare I say improvement?) of the 150 ft. poetic mural that Charles painted for his solo exhibition last summer at the William King Museum in Virginia.
You can see my original Muddy Colors post about the show (including photos of this massive mural) here!
Again, from the foreword, Charles de Lint:
"It depicts the journey into the dark wood, the confrontations with blind beggars, giants, witches, and dragons. You can see them as metaphors for the challenges we meet every day in our lives. Or you can absorb them as simple adventures, the way a child might, and let their lessons seep down into your soul the way that all good stories do."
The publisher, Faerie Magazine, filmed a little tour of the 108 page book as well!
---
One housekeeping note: 
If you need a little more Muddy Colors in your day consider following us on Twitter and Instagram!  We're nearing 11, 000 followers on Instagram and, personally, I'm pretty dang pleased about that fact. You can find us, @muddycolors, on both platforms!