Next month will feature a new painting of mine for an EveryDayOriginal.com auction.  This is a chance to share something  new with the audiences which browse through that site on a daily basis.
I was entering the second phases of oils on a hand portrait of Aragorn for just such occasion, but my course has now dramatically shifted!
True to the namesake of the auction, I walk with my daughters to the subway station here in Brooklyn every morning to see them off to school.  I actually make two trips as their start times at two different High Schools are staggered, and although he depart from the same station, Naomi goes deeper into Brooklyn to Midwood HS and Cecilia heads off to Manhattan to LaGuardia HS of the Arts.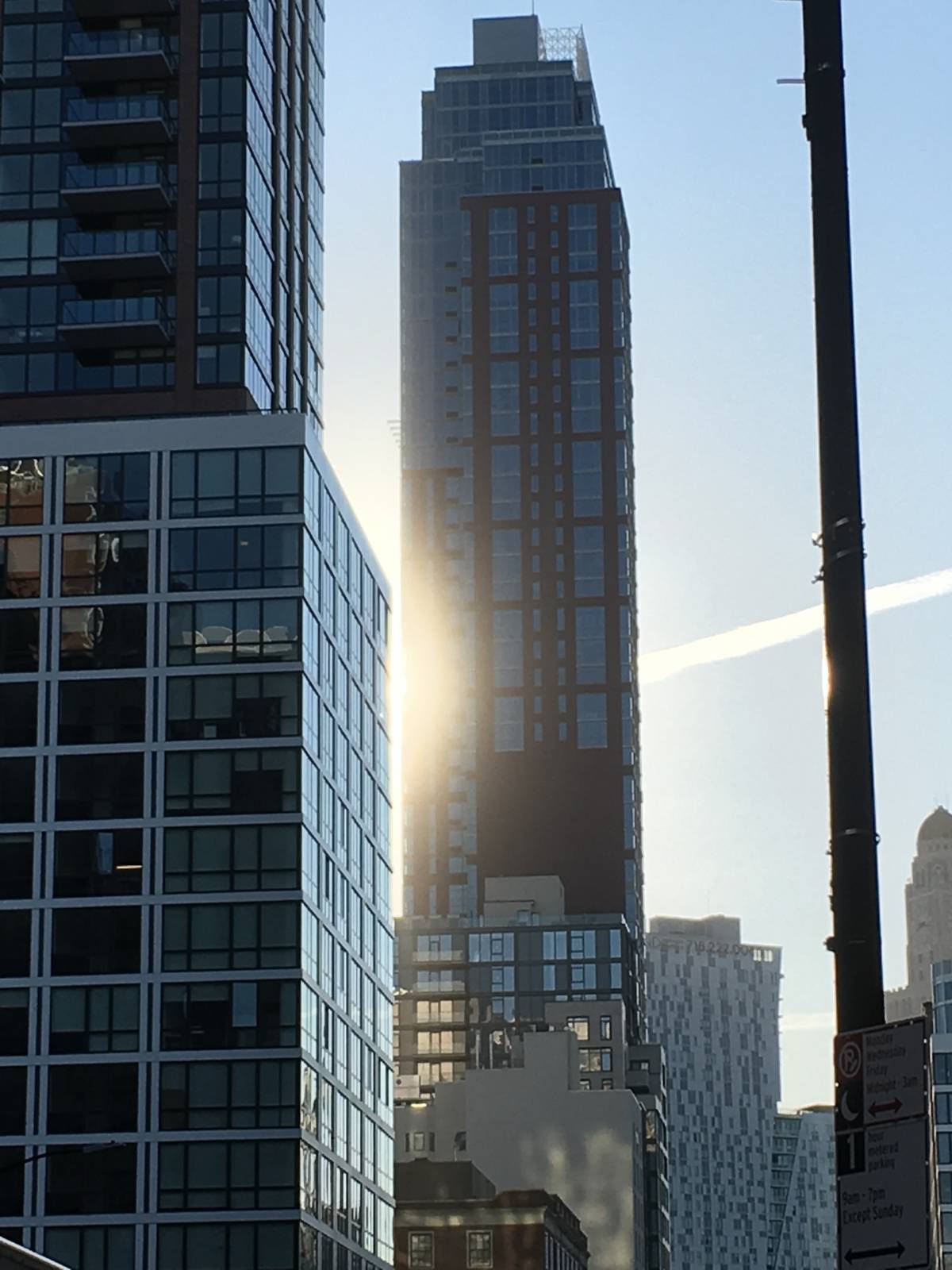 These walks have  less and less to do with safety, and more about chance to have some one-on-one dialog with teenagers who's hang time with their parents is greatly diminishing.  In addition to the dialog, we see some interesting things on the way to the Station, from Venus and a Crescent Moon hanging low in the sky, to a brilliant orange sunrise, to flattened rats thin as a piece of cardboard, to over 12 new buildings within eyesight under construction – 25 to 70 stories tall!  Brooklyn is a-hoppin'.
While I am looking up, I am also looking down – at all those textures in the street.  rusty grates, eroded sidewalk crossings, and the manhole covers.  Which brings me to the reason for this post.
Just this past Friday I was mentioning to Cecilia that I was going to be using her in another of my robot paintings, a concept I had drawn up for a different EveryDayOriginal drawing a month back.  On my way back home, my mind was wondering with robots and my eye got caught a nice reflection on a manhole cover. Bam.
Immediately I had another painting in mind, and one that featured Cecilia!
I knew this needed to be my next EveryDayOriginal, and on Monday I began the drawing for this painting.  I broke tradition and was able to use my phone to record a little of the drawing process in chalk.  A bit crude, but at least it is something- no Scott Fischer Productions here!
For those who may stop by my Open Studio this coming Saturday, May 19th, I'll have this image in progress on the drafting table!  You just need to get by the Green Dragon lurking in front of our Brownstone…(after 10+ years in the making, she is starting to look the part!)
Donato Arts Open Studio
Saturday May 19, 2018
10 am – 6pm
Spring is here and we will once again open up the studio to visitor
s and the public on
Satu
rda
y 
May 19th from 10 am – 6pm.  No RSVP required.
Populating the studio are numerous projects, both recently finished and still in progress, including commissions from Magic:The Gathering and book illustrations f
or the fort
h coming li
mited edition version of Uprooted by fellow Brooklynite and author Naomi Novik, due out later this year from Grim Oak Press!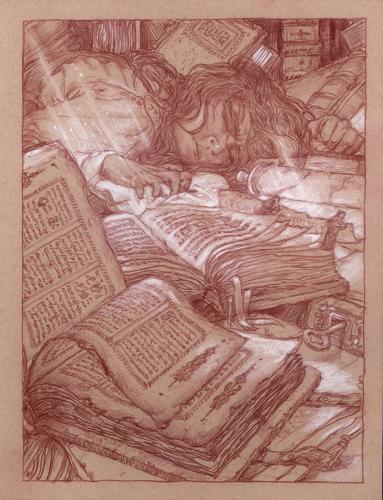 Uprooted, Chapter 9 Illustration
Serra Angel, Dominaria Expansion, Magic:The Gathering
Other featured works on display will be new oil paintings interpreting Phillip K. Dick's novel, Do Androids Dream of Electric Sheep (below, right), executed as a private commission, and the growing cast in the Empathetic Robot series, Prometheus, A.I. and Radiation. A third robot work which hit the the drafting board this week, Reach, is in progress and will be offered on EveryDayOriginal.com in June.  Here's a chance for visitors to catch a sneak preview!
A handful of personal projects spanning A Song of Ice and Fire, Astronauts, and continued adventures in !Dungeons & Dragons will dot the walls. This is the  opportunity to view an unparalleled count of collected works spanning all phases of my painting career, from oil paintings to finished and preliminary drawings reaching back over two decades on my work for book covers to game cards.
Included will be the inspirational Joan of Arc (above) and the very first cover commission from Tor Books for a reissue of  The Time Machine by H.G. Wells, the beginning of my professional career.
What is becoming a near permanent homage to J.R.R. Tolkien, two exhibition rooms will be filled with drawings and 
paintings inspired by Middle-earth. From Gandalf and the Balrog on Zirak-zigil to the epic Fellowship in Hollin (above) to the recently reworked Lunch with William, Tom and Bert, to over a dozen drawings on paper, these showcase my continued explorations in this rich and dynamic world.
Rounding off the offerings are works from the 2015 A Song of Ice and Fire Calendar for George R.R. Martin, the cover of The Hobbit graphic novel, and board game art for Stratego. Two large format portfolios of drawings will be made available for those who wish to peruse the insightful and detailed process taken to achieve the realism executed in the oil paintings.

Special discounts on giclee prints, books, DVDs,
drawings, and oil paintings will be offered.
Visitors will also have the chance to enter Donato's Drawing Drawing where a lottery is held for an original drawing.
Light refreshments and snacks provided. 
Donato