"The Shiflett Brothers are to sculpting what Frank Frazetta is to painting." —John Howe
I've expressed my love for fantasy sculptors/sculpture on Muddy Colors in the past and Brandon and Jarrod Shiflett got a call-out way back then. They began working together, well, probably since childhood, but "officially" in the mid-1990s by sculpting artist macquettes for the Playstation video game, Oddworld: Abe's Odysee, and over the years have combined their skills to create a singular artistic voice (in much the same way, I think, like the Dillons did). And it's interesting to note that they "sketch" in clay, sculpting ideas and comps rather than putting them down on paper first ("That would be like doing something twice," Brandon once said). The brothers have taught sculpting classes for Gnomon, have created both commercial and Fine Art works, and have achieved an international following for their 3D interpretations of comic book, fantasy, film—and their own!—characters. Some of the collectors of their art include Peter Jackson, Weta's Sir Richard Taylor, and Robert Rodriguez.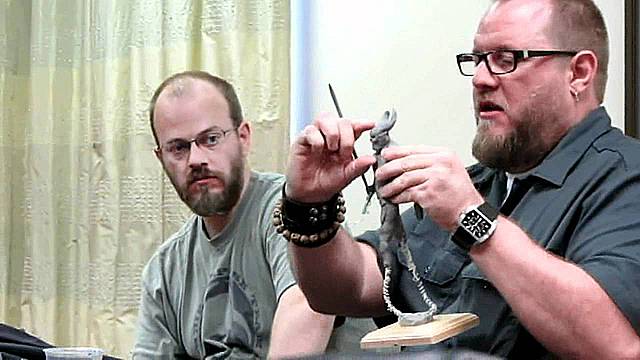 In recent years they've been hosting an increasingly popular Facebook page, Shiflett Brothers' Sculpting Forum, and it has become a daily go-to site for both creatives and fans of all things dimensional. As if that weren't enough, now they've started sharing a series of video studio tours & tutorials with some of the most exciting sculptors in the business. Thus far they've featured Tom Kuebler, Virginie Ropars, Aris Kolokontes, Jordu Schell, Simon "Spiderzero" Lee, and—shown here, to give you all a taste of what to expect—Forest Rogers.
Insightful and inspirational, these videos—as well as everything else Brandon and Jarrod have up their sleeves—add tremendously to the scope of our community. If you're as fascinated as I am with the process—and the personalities of the creatives—I strongly suggest following them on Facebook and bookmarking the Shiflett Bros.' YouTube channel. I think you'll be glad you did,