Above left: "Egyptian Queen" (Eerie #23). Above right: "Jaguar God #2", both by Frank Frazetta. Details from both are below,
People buy original art for any number of reasons; for some it's simply decoration, for others it's a personal connection (to an interest or time or person or place). Some are satisfied with a single work while others can seem like obsessed hoarders. Some buy art as an investment while others do it as an expression of ego or perceived status. For me—and I believe for many others—the reason to buy an original painting or drawing (or any art, really), is because it speaks to you, because you love it. After all, you'll be living with it. The actual value ideally should be in the passion you feel when you look at it, not in what it might (emphasis on "might") one day be worth in dollars, pounds, or yen.
Besides, as I've written before, art is a terrible investment…except, of course, when it isn't. There are, with the rarest of exceptions, no sure things and the art market (and prices) fluctuates at the drop of a hat; it can be extremely difficult to predict when something that's hot today will suddenly not be tomorrow. The game, for those that choose to play it, is to know which is which and what is what at any particular time and to realize that the "rules" (and there's nothing carved in stone, in all honesty) are constantly changing, often on a whim. At a recent Heritage auction Frank Frazetta's 1969 cover to Eerie magazine sold for a record-setting $5,400,000 (which included the buyer's premium)—which I think gives Frank the spots of 1, 2, 3, and 4 for top prices paid for fantasy art. On the other hand, his 1995 cover for Jaguar God #2 failed to meet its reserve price of $500,000 (though it did sell for an undisclosed sum afterward)—which means, no, not everything Frazetta painted is now worth $5 million smackers. And truth be told, unless they go back on the block in the near future we'll probably never know if these were savvy investments or frivolous purchases by the rich—but I hope whomever the buyers are will love the paintings as much as the Frazetta fans do.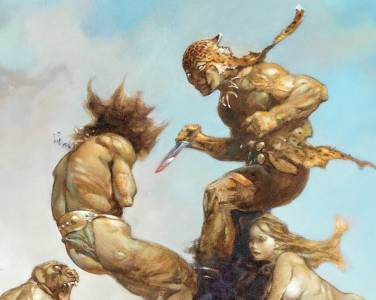 Anyway, when I was young I never thought I'd own any original art except my own (and I'm not a big fan of me): paintings were for "wealthy people" and I definitely wasn't one. But over the years, Cathy and I have purchased art when we've felt flush and, though it's not a huge collection (especially when compared to the jaw-dropping holdings of Joe Siclari and Edie Stern, Doug and Deb Ellis, Greg and Amanda Spatz, or Robert K. Wiener), we love each and every piece.
So if we can afford something from time to time, it's obvious that you don't have to spend $5m to own an original and there are a multitude of ways and places to make purchases. Whether searching for a vintage "grail" piece that has special meaning or discovering something new and buying directly from the artists or from a gallery or dealer or at a convention or auction—and don't forget Every Day Original—purchasing art is enjoyable and is relatively easy (most of the time). Finding something you love…now that's the hard part. Today I'm going to show a few pieces (some that are or most likely will be pretty pricey) currently on the block or at various galleries, but I definitely encourage you to go out and hunt for something that will make your heart beat a little faster. The search is definitely part of the fun of collecting.
Profiles in History is holding a second auction of director Frank Darabont's collection. Along with film props and memorabilia there's a nice selection of originals, including a number of works by the late Bernie Wrightson. Their catalog is available as a PDF at their website.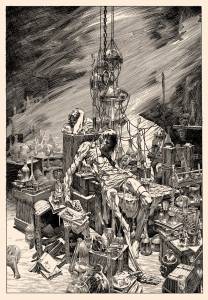 Above: "Sometimes on the very brink of certainty, I failed…" one of Bernie Wrightson's masterful 1980 illustrations for Frankenstein. Pencil & ink on board, 15″x20″.
Above:"Counsel to a Minion," one of Wrightson's mixed media paintings that were part of a poster series published by Christopher Enterprises in the mid-1970s.
Above:Alex Ross' pencil & gouache cover painting for Justice #5.
Heritage Auctions is selling part of Glynn and Suzanne Crain's extensive collection. The auction takes place August 13-14 in Dallas, but you can always bid online for anything that strikes your fancy.
Above:Paul Lehr's acrylic painting that was used as the cover of Infinite Worlds by Vincent Di Fate.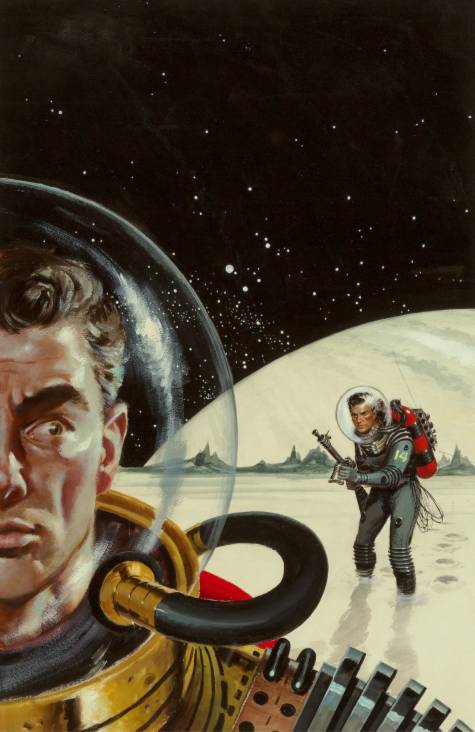 Above:Ed Valigusky's acrylic painting that was used as the cover for The Snows of Ganymede by Poul Anderson.
Above:Cover for the April, 1955 issue of Astounding Science Fiction by Frank Kelly Freas. Acrylic on board.
"Voices of Spring" is Annie Stegg Gerard's new show at the Haven Gallery and, as you can always expect from Annie, it positively luminous. Everything will on display until July 21.
Annie's art, left to right:"From Moonlit Rafters" (oil, 11″x14″), "Caliadne, the Naiad" (oil, 16″x20″), and "Legore" (oil, 11″x14″).
The "Visions of Graces" show at the Roq la Rue Gallery features a brace of moody and evocative paintings by Laurie Lee Brom, Kari-Lise Alexander, and Syd Bee. The show runs through July 7.
"Return." Oil on linen, 16″x20″, by Laurie Lee Brom.
"The Seeker." Oil on panel, 10″x20″, by Kari-Lise Alexander.
"The Sodden Hearts." Oil on wood, 16″x20″, by Syd Bee.
This is just a taste, the tip of the proverbial iceberg, of some of the wonderful art available: there are any number of opportunities to find something you love to add to your wall waiting "out there." All you have to do is look. Happy hunting!