Well, this is my last post here on Muddy Colors for the year, and what a year it's been. I thought I'd share some new work that I haven't shown here yet, and a little bit about each painting. Much of this past year has been a blur, but I've been working on new work all the while. I've shared some of the paintings done this year already here, and I'm excited to share some more here in this post today ..and some new work I can't share just yet. This year, I've had some amazing news in the same months as I've witnessed the toughest of moments. I've done quite a bit of roller coaster riding in terms of emotions, and a lot of hibernating while working. To all of those who replied to my last post here on Muddy Colors with comments, or reached out in messages, texts, phone calls, and good talks in person, I'm eternally grateful and my heart is full from your support. It means so much to me. Thank you and much love.
The following paintings were painted in the latter part of this year, in a relatively short amount of time, in preparation for a show in which they would all be exhibiting together. The descriptions I share are in hindsight, as I'm now able to process things a bit better than while being in the mix of it.
________________________________
The Sprite Who Pierced The Darkness, oil on panel, 20×10″
This painting (as most of these in this post) was done in a short window of time. I don't have a lot of progression shots of these because they were done wet-into-wet and I was moving quickly from one stage to another not really taking the time to photograph or record progressions, unlike in other articles I've shared about layering in stages over the top of dry underpaintings. Otherwise, the lay-in was with a cheap bristle brush, then softened with a mop, carving out large marks with a (kitchen) spatula, and indicating the figure with my fingertips. I loved the way the knees were formed in the indications alone, and that's how the rest of the figure was determined. While I should say that I don't necessarily want to be the advocate of painting with your fingers (just be smart and wash your hands often), they do make really great painting tools as well, and in this case, they are what I used to to carve out the figure in this painting. I think I may have used a small sable for the detail areas, but mostly used my fingers here to paint the figure.
I found this to be an interesting comparison, too, of one of my first paintings of the year (on left, "Sail Through The Changing") to one of the last paintings I painted this year (on right, The Sprite Who Pierced The Darkness). Both were painted in times of uncertainty, but for different reasons. One (left) was painted just before the death of my dad, and the other (right) was painted a couple of months ago in a sleep-deprived flurry spawned by a snowballing of many things including months of sleepless nights. When I look at them side-by-side, it's like the light flew off of the first painting's grasp and onto the canvas of the second. This (second) one was in some ways a lifesaver for me. It brought me light in a time of darkness. I should mention, though, that it came from that darkness, and without that darkness, I'm not sure that light would've appeared as brilliant to me.
________________________________
Wrath Of The Tempest, oil on panel, 16×12″
Over the course of the year, I'd participated in a few group shows, and had the opportunity to make some work that allowed me to channel some darker imagery that I had stored up. In the time I worked on this painting, I was also working on 6 paintings for an illustration job, all of which were darker in subjectmatter than possibly what most people are used to seeing from me. (That work will be coming out in about a year from now). Those 6 paintings did have an influence on some of the work I was doing simultaneously, like this one (as well as The Acquisition Of The Sun in this post here). Also, there was news of a couple of devastating hurricanes that I remember had happened around this time, and I have no doubt that the news of those hurricanes had an influence on this painting.
________________________________
The Visitor, oil on panel, 10×8″
At some point along the way this year, I stopped trying to change the abstract marks from being something that may seem darker or unsettling. I can see clearly in my own work when I've tried to guide the marks into a different direction than what they'd initially unfolded as. It usually happens when I'm too influenced by outside sources of some kind. And it usually shows itself as an inclination to (over-)describe things instead of allowing for interpretation. Not to be confused with rendering for the sake of tightening or polishing, though. I do that in all of my paintings, mixed in with the abstract marks, and that rendering type of painting is so great for meditation as well. There are times when that's what I crave most to do in a painting, and other times, I'd like to let go and not sit still as much. This painting is a good example of the latter. But also, it shows an allowing for the visual to show itself and not to wreck it and find something else in order to suppress what I didn't want to see or want others to see. I do this, though I don't talk about it much, and I'm making this an area of focus in my new upcoming work. With the discovery happening in the marks as well as in the understanding of why I choose to push things back in favor of other content. I'm really looking forward to digging deeper into what that is all about. I am aware of some of the reasons, and I've already been exploring it, but I'll leave it at that for the time being.
________________________________
Stella, oil on panel, 12×9″
I saw this abstract start as nebula and celestial in form, so that's where the title comes from. This painting is another testament for something coming from darkness but not necessarily dark in and of itself (like The Sprite..). There will definitely be more exploration in how this theme of balance of dark and light seem to come into play in my work as well as in my method of creating and existing in that realm while I'm creating. Much of what I've already been doing, I think, touches on this, but I've never really seen my images as dark. I've been told that some of my work is perceived that way, and I'd always found that interesting. I can see it when it's pointed out to me, but it's not my intention as I'm creating the images. Not that this painting is one of those. Not at all. But it was painted in a pretty dark period of my year/life, and so appeared to me as perhaps even more brilliant than if I'd painted it in a point in time that was not shrouded by darkness. However, it most likely would not have been painted had it been a different time or had I been in a different state.
"When it is dark enough, you can see the stars." ~Ralph Waldo Emerson
________________________________
Lost For Words, oil on panel, 10×10″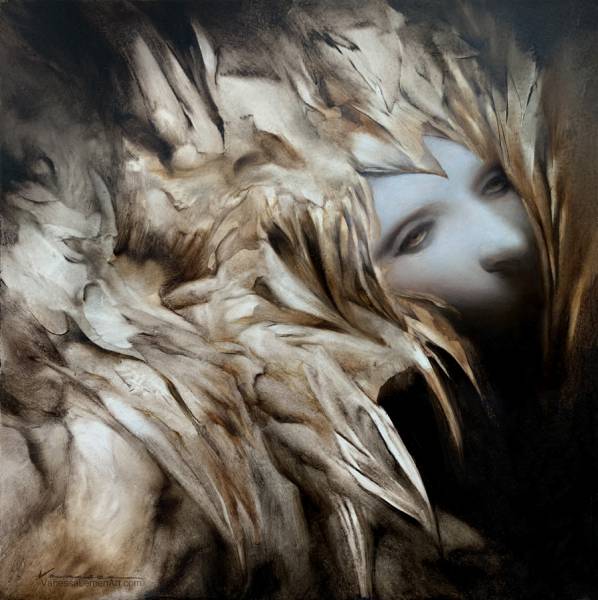 When I was in the finishing stage of this painting, I'd been thinking of how I'd describe it in words or how I'd phrase the title. I tend to write out lists of words and phrases as I'm in the midst of painting, but in this case, I couldn't narrow it down. There are a few things going on here that, if I focused on just one aspect of it, it might lose the overall intention (which is the combination of those things). In the midst of painting and all else, I had stumbled upon a phrase from a T. S. Eliot poem while finishing this up – a stumble completely unrelated to this painting, but timely, and clearly not coincidental – and felt that it describes this painting quite well.
"Words strain,
Crack and sometimes break, under the burden,
Under the tension, slip, slide, perish,
Decay with imprecision, will not stay in place,
Will not stay still.."
________________________________
Daphine, oil on panel, 10×10″
This painting was done at the same time as Lost For Words. I made marks on these two panels on the same night, and focused on painting the two simultaneously. My intention with these two was just to try to make some different kinds of marks and use the time working on them as a "break" from the illustration work I was doing, to loosen up and play a bit while hoping to move quickly on finishing them for a couple different shows that were coming up. Both were painted wet-into-wet as well as utilizing pick-out (as I most often do) with spatulas, mops and splatters and drips of mineral spirits. In both, I saw a lot of natural elements, bones and feathers, and even rust or decay. And, as in many of my recent portrait-type paintings, the character is wearing these elements as a headdress to demonstrate the significance and worth of her experiences and/or accomplishments thus far on her journey.
________________________________
Together In Our Memory Pods, oil on panel, 8×10″
I've always found it fascinating how we can recall a moment as if it's happening just as clearly as when it did happen. We can just reach into our personal internal hard drive, hit play, and view it almost as if we are there again. This happens to me a lot while I'm painting. It's a subconscious meditation on experiences that end up manifesting themselves onto the surface a lot of times as well. They're a combination of memories (not usually just one memory but many), involving many moving parts and many people unrelated to each other, and those memories may have spanned over decades. So this is sort of what that thought evolved into. It's a reflection on our subconscious decision to recall certain memories and turns it into a conscious decision. Both are our own doing, but the latter would be more like a pod we can enter into while in our waking state and be with someone for a time being, possibly someone who is distant but close in our hearts, or someone who is no longer physically on this earth.
________________________________
Return To The Vortex, oil on panel, 20×16″
When I was unpacking these paintings at the show venue, I had this overwhelming feeling that I hadn't accomplished anything this year. I felt as if it was evident that when put to the task of needing to get several new pieces done in a short amount of time, I had failed miserably. It was a case of fatigue, shoddy nerves and overwhelm, I suppose, plus I had not seen these pieces as a whole yet, but only as fragments. I had quite literally sent them off fragmented and unframed, shipping the frames wired and ready to hang, but without the paintings in some cases, packing the smaller pieces,unframed, later in my luggage, with the intention of framing them when I arrived. I felt that everything I was doing at that time represented bits and pieces of things that were "on the tip of my tongue" but that I wasn't able to articulate what I wanted to or needed to say correctly. I was all over the place. A return to the vortex was definitely needed.
I share this in case anyone else needs to be reminded (it's been an overwhelming year for so many) :
What I discovered once I'd hung them and they were all together, is that of course they had meaning and purpose, and it was important for me to have done them, but maybe in an entirely different way than I had in my mind of how it would be. When I had the chance to experience them again all together there, I could feel this and know what that meant. All of them, in a sense, were a return to the vortex for me. A reminder of the understanding that life is a mix of light and dark and everything else, and we find our balance among it all. In the case of my experiences this year, I had wanted to be able to show to myself that I had pushed through to the other side, but there is no evidence of that because there is no other side when it comes to some of the things I'd experienced. It was not a pushing through that I needed to do, but an enduring, an absorption and an acceptance. These new things that have happened, as seemingly impossible and difficult as they may be to encapsulate in the images I paint, are now elements of myself, alterations of my being, and will show themselves in my new work moving forward from here..just because they just will. Just as everything else has always done.
A bit about a vortex…
A vortex is a powerful and transformational energy center – we can go to nature in an area where there are intersections of natural electromagnetic earth energy. I see my painting as more of a metaphor for this – for a return within to recharge, realign, and be still, confidently and peacefully, within the chaos. By definition, a vortex is a spinning mass of substance such as air, water, or fire in which the circular motion holds a lot of energy. I didn't have a conscious decision to paint this or to depict that in an image, but I can't help but read this painting as a clear depiction of just that, so clearly, subconsciously I did. It encapsulates this vortex both in the scientific and in the spiritual sense. The vortex has definitely shown itself in my previous work as well, and I bet it will again.
Well, thank you for reading this long post. Happy Holidays, however you spend it or celebrate it. And Happy New Year. Let's make this next year the best year yet.