Getting to work as an artist, either part-time or full-time has been one of the great joys of my life. I haven't always been able to do exactly what I want to do though. I have worked at video game companies as an art director and concept artist, as a full-time illustrator and consultant to some game companies and now find myself narrowing down what I want to spend my time doing. I don't think I would be happy going back to full-time work somewhere. While it brings some security and benefits, I have found that I have been more secure working for myself. It's a lot of work, but every day is a new opportunity to reach my goals and not someone else's.
Why am I bringing this up? Because I have had more time to paint my own paintings lately and that is when I am happiest as an artist.
Justin Gerard talks a lot about passion projects. A few years ago we were at the same event in SLC and he was talking about his projects and I realized that I hadn't done something for myself in… I couldn't remember the last time. I told him and he said, "Oh man, I think that would kill me!" It got me thinking, "Hey, I don't want to die of not working on personal projects" so I decided I needed to carve out space to work on some passion projects.
That's when I did this painting: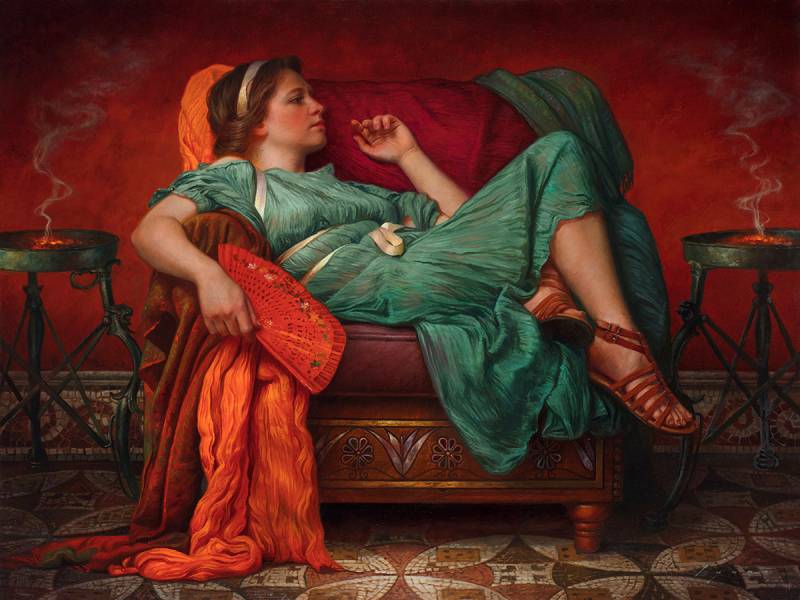 After the Dance, 12″x16″ oil on wood panel
It was a love letter to Tadema, Godward, Leighton, Waterhouse, and Cabanel. It was also part of a larger series of paintings I wanted to do that used classical imagery to comment on the decline of realism as a viable fine art form and it's a resurgence. The "dance" referred to in the title of the painting is the Belle Epoque when art and architecture were at their height in France and England, at least to my tastes. The woman is resting, ready to dance again. I have been grateful for my illustration career where I have been able to paint in a manner that I love, but also I am excited to see doors opening for realism in the broader market.
Ophelia 12″x16″ oil on panel
Taking that first step has led me closer to a goal I didn't know I needed. Each painting I do for myself makes me realize how important personal work truly is. I love doing work for Magic: the Gathering and for Brandon Sanderson, but I love doing that work, even more, when it is punctuated with my own projects!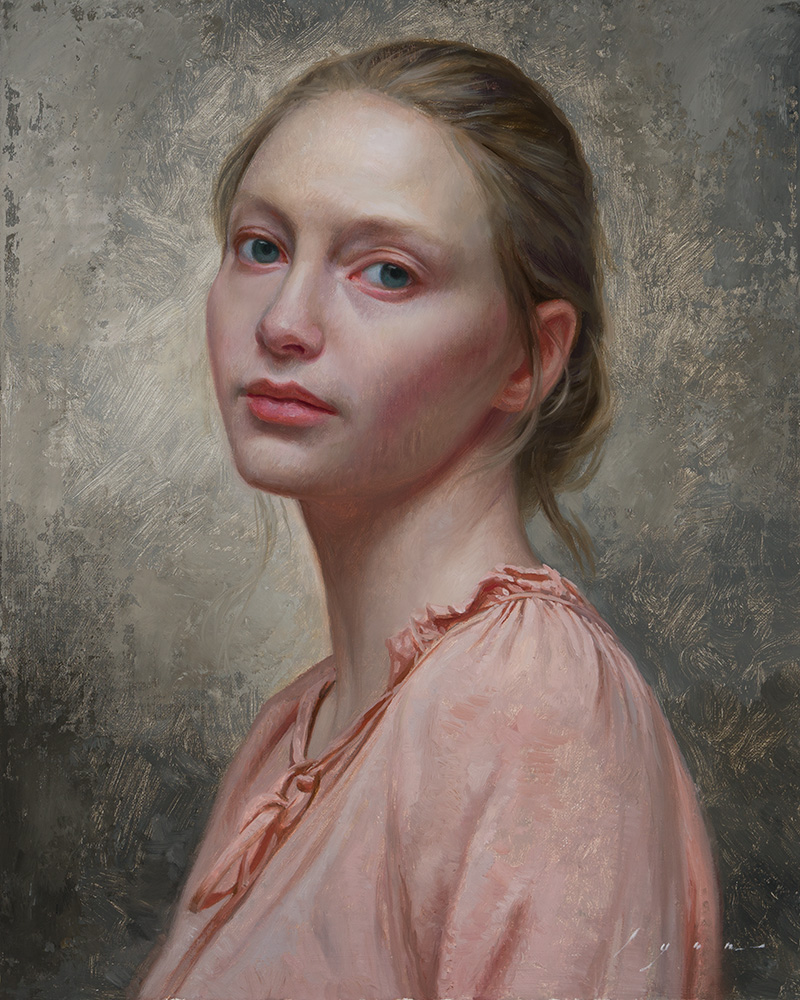 Sonja in Grey 8″x10″ oil on panel
It has also let me open up some new opportunities for income, which means more time to work on personal projects. It's a virtuous cycle! I have started a Patreon and Gumroad page and also have been able to turn my personal works into prints, posters, and other merchandise, some of which fall outside of the contracts for my commercial illustration work.
I have also been able to use the works to enter contests without restriction (and been fortunate to win a few awards along the way). That has helped open other doors too.
The Return of Flora 16″x20″ oil on panel
I feel like after years of working in games and doing illustration work, I am starting to find my voice. I wish I had sat at that table with Justin Gerard years earlier and felt his passion and encouragement to just start! I don't know if I would have been ready though. I don't want to invent regret and would rather assume that my feet are not only running as fast as they can but down the path they need to be on.
Cassandra's Lament 36″ round oil on wood panel with 22k gold leafing
Creating my own works has given me more latitude when using them for teaching opportunities. I have made instructional videos for my Patreon and Gumroad pages here are a few recent additions. Fair warning, I am linking to several of my pages where I sell products. But it's part of my broader purpose in this article to show how starting on my own projects as created new opportunities to branch out and provide an income.
Cassandra's Lament instructional video
Mother of Stars instructional video
It also inadvertently led me to start creating reference packs. I found that when I did my photoshoots for my personal works, I had lots of photos that I wasn't using and decided to give it a go. It isn't much more work than just doing a photoshoot for myself and I have found that there is a real desire for well lit and well-photographed reference. Here are some that I have made recently:
McKenna in Motion reference pack
The Bonnie Knight reference Pack
The Moonlit Faerie Reference Pack
Alaina the Mermaid Reference Pack
Doing these has opened my mind up to fun possibilities of trying to do a pack based on smoke, fire, steam, and, water or animal horns and wings or flowers and plants. Things that I have needed in the past and had to track down and photograph. Each time I have made a new pack, I have found something that has inspired a new painting that was unplanned, but very welcome.
The photoshoot with McKenna (McKenna in Motion) provided me with the reference to do my most recent painting of Circe. It was initially inspired by the book of the same name, Circe, by Madeline Miller. It's a fantastic book and the Audible version is wonderful. It's read by Perdita Weeks who has one of the best voices for narration. If I could I would hire her to come and read me all my art books while I paint! Here is my painting:
Circe 10″20″ oil on linen on ACM panel
This painting will be headed to the Haven Gallery this week.
Back to my original point. Painting my passion projects has helped me unlock the door to my happy place artistically and created new opportunities for growth and independence. It has also enhanced my contract work and made me love the challenges and opportunities it presents even more. Don't get me wrong though, this is still a challenging career path we have all chosen and wherever you are along that path, it will be demanding and hard work. But that is one of the things I love most about it.
Do you have something you need to do but haven't yet found the time to start? What is it that got you into art in the first place? I remember looking at an Ingres painting when I was 6 years old and feeling something stir in my mind and heart. I was in awe that someone could create something so refined and beautiful. My next moment was at 10 when I was playing Dungeons and Dragons and looking through a monster manual and realized that the artists doing the drawings for the books, drawings of creatures and characters, and they were getting paid to do so. I wanted to do that! I suppose it is fitting that my passions are classical art and fantasy art! I encourage you to find the time, even if it's 10 minutes at first to get started on your "I must do this" project. Get started!
As artists, I believe now more than ever it is critical to find what truly drives us and empassions our minds to create. Once you start I believe you will also find new paths that open in front of you and begin your own virtuous cycle!
Howard Lyon