I don't know how many of you know of the website Underpaintings.com but I wanted to give it a signal boost. It has been around since 2006 and was started and run by Matthew Innis. He is as passionate as anyone I know when it comes to art, art education, and adding to the well-being of the art community. You will quickly come to feel that passion in the articles and writing on the site.
The site self-describes as follows: "Underpaintings Magazine is an online periodical that celebrates excellence in Representational Art – Past Present and Future." What's not to love about that?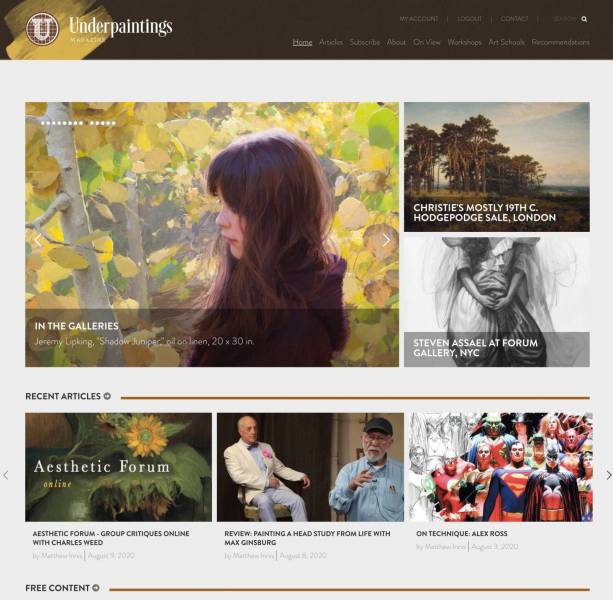 When Underpaintings started, it was free, but it soon became clear that in order to keep it going and at the quality that Matthew wanted it to be, he would need to charge for the site. It is $24 a year ($2 a month) and worth every penny! I find regular inspiration and awareness of news in the art world whenever I visit. It has over 1450 articles! A HUGE amount of work for one person to write and assemble, especially at the level of quality it represents. I have been a subscriber for several years and am always glad to renew.
The site is broken up into 8 pages: Home – Articles – Subscribe – About – On View – Workshops – Art Schools – Recommendations.
The Home page gives an overview of the site with links to recent featured and past articles as well as news and some free content.
Articles is where you can dip into the archives and browse through everything, or use some tags to filter your browsing. This page is gold! I love the "At Auction" articles especially to get nice high-resolution scans of the images on display. I often hunt down the auction sites, but Matthew is much more on top of it than I am and keeps me updated on all the treasures out there.
Subscribe is where you can sign up and About is of course where you can read about how the site came to be and a bit about Matthew's past.
On View is a great page too where you can see current and upcoming shows. Both in museums and galleries.
Looking for a good workshop or want to advertise yours? The Workshops is a great page to find the right workshop for you or let a very focused audience know about your own!
The Recommendations page has links to some wonderful books and products. I have many of them and would trust Matthew's recommendations.
We get nice things by supporting them and Underpaintings Magazine is a very nice thing! I hope that if you can afford $2 a month that you will support the site and increase the potential of an already wonderful resource! I truly can't imagine you will regret it. We are used to getting things for free on the internet (I speak for myself) but some things are worth paying for. I don't get anything from the site for recommending it, other than the joy of spreading the news of something worthy and knowing that I might help in some small way.
Matthew is also handsomely bearded and bald and that has to count for something too… at least in my book! 🙂