I'm buried in deadlines this month (which in Book Publishing is called "Sales Conference" where we have to present all the covers for a whole season to our sales team) so I'm writing a quick column with a large point towards a fabulous podcast I've been enjoying and was just on as a guest.
Nina Tara is a fellow book designer and very good friend, and she has spent the past few years getting her education and starting a career in Art Psychotherapy (as they call it in the UK — in the US we tend to shorten it to "Art Therapy"). Now as you know if you've been following my columns here, I'm deeply fascinated and personally invested in learning as much as possible about how Art and Artists are affected by mental health. While much of the field of Art Therapy is often using the medium of artmaking to help folks that are not professional artists, both she & I are just as interested in how the research in the filed also applies to those of us that identify as artists, and how Art Therapy techniques can also help us in their lives and professions. Her therapy site and work, Courageous Art Therapy, is based in the UK, but podcasts are universal, especially in quarantine, and hers is a gem.
Before we sat down and recorded our episode I caught up on a bunch of the past ones, and I obviously had a favorite in the double episode with Iain McCaig — not just because I love his work and could listen to him talk all day, but because the episodes centered on what Iain calls "Soul Sketchbooks" – and sketchbooks, journals, and diaries are very close to my heart. Definitely give these two a listen: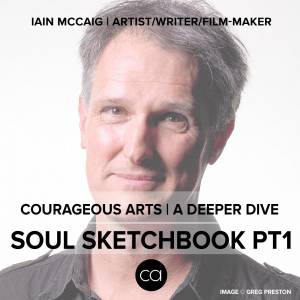 If you like, after Iain, you can check out the wonderful rambling conversation Nina & I had (for over and hour!) talking all about the artist's subconscious, how mental health impacts professional creative folks, and a ton of good inspirational quotes we both love:
Nina has had some great guests, who deal with topics such as using art to help get through issues like addiction, and infertility. An early episode I really loved was all about something most of us struggle with at least some of the time, Imposter Syndrome:
You can also subscribe to the Courageous Arts: A Deeper Dive podcast on Apple podcasts & all the usual networks & in all the places you listen to podcasts. But you should also follow on twitter and/or instagram, where Nina shares great inspirational quotes and art prompts specifically aimed at taking mental health breaks, like this Blackout Poetry exercise she recently posted, and instructions on doing Suitcase Meditations. And there's also workshops online. I wholeheartedly recommend the blackout poetry exercise, I've done it before, but Nina & I are planning another fun session soon, and it's great for a few friends to do with a google hangout or zoom open.
Enjoy the episodes, and you'll be reminded that creating for a living is a hard thing, and we have to remember to set aside time and space for creating just for us that isn't subject to deadlines and feedback and approvals and paychecks. You need to fill the well, or else you overdrain it.