Above: A key frame painting for Walt Disney's Sleeping Beauty by Eyvind Earle
The subject of "style" is a common one among artists. We're all an amalgam of tastes, experiences, and influences as we look for ways to express ourselves; beginning artists often often imitate the work of others they admire (including their teachers) but eventually with time, focus, and perseverance they combine their influences and begin to create with a new voice, a vision, that is uniquely their own.
So in considering style today, I thought sharing these videos about Eyvind Earle (and, yeah, along with some cool key art), certainly one of the most distinctive artists in animation history, would be appropriate and enjoyable.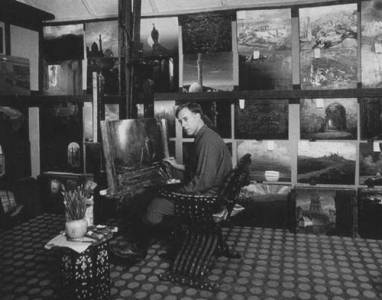 Born in 1916 in New York to Charlotte and Ferdinand Earle, Eyvind was trained to be an artist almost from the beginning. His father had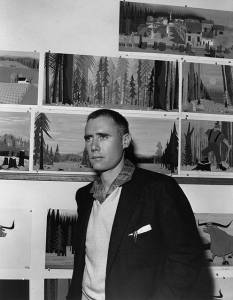 studied painting with Bouguereau and Whistler and had a career in the early days of Hollywood, painting mattes, "art effects," and titles for silent films including Ben Hur. Following a bought of polio which left Eyvind's face partially paralyzed, his parents divorced and, according to one biography, Ferdinand kidnapped his son when he was 10, first taking him to Mexico City, then on trips around Europe. Once abroad, Ferdinand gave Eyvind a choice: to read 50 pages from a book or paint a picture–daily. Eyvind chose to create art, and the two would sit side-by-side each day and paint the same subject. "He never explained anything," Earle recalled years later. "I would always finish long before he did, so I would simply stand and watch him for hours." By the age of 14, Eyvind had his first art exhibition in Ascain, a small town in the south of France. "I really had very little talent," he said, "but at the time, I was quite conceited. Everybody said 'ooh' and 'ah,' because no other kid had done hundreds of paintings." Shortly after, Eyvind used their shopping money to buy a train ticket to Paris and ran away from Ferdinand. With the help of his half-brother, Harold, he returned to the U.S. and eventually reunited with his mother in Hollywood. But that wasn't the end of his journey as an artist: far from it. He continued to grow and challenge himself and explored new opportunities. Eyvind painted for galleries, created hundreds of greeting cards, and in 1951 joined the Walt Disney Studios as a background painter and concept artist (becoming a legend for his unforgettable work on, you guessed it, Sleeping Beauty)—before eventually returning to his Fine Art career. Eyvind's mastery of simplified, flowing shapes combined with vibrant color defined his style, whether he was creating animation backgrounds or California landscapes. Earle's is really a pretty fascinating story and, beyond these videos, I encourage everyone to visit the family's website to learn more. [Above left: Ferdinand Earle. Above right: Eyvind Earle at the Disney Studio, circa 1951.]
And, because they're cool, a few more paintings for Sleeping Beauty.