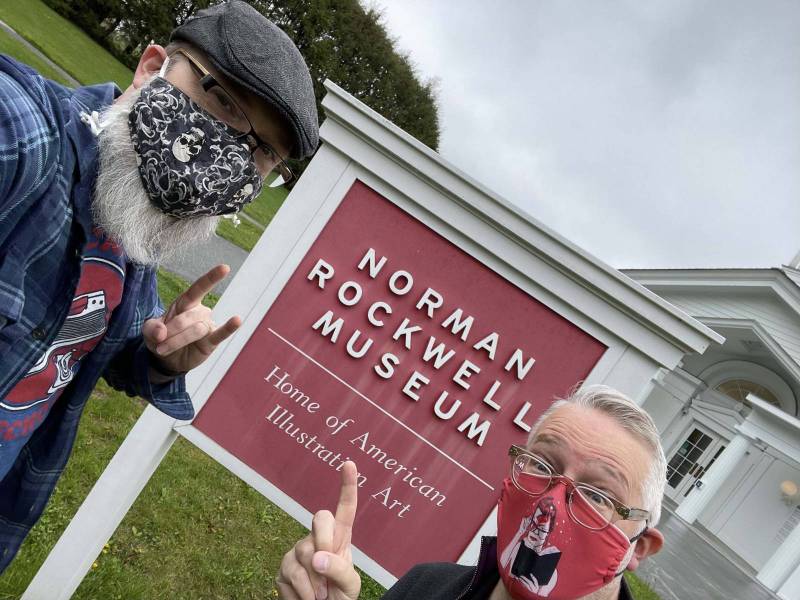 This week I had my first art-roadtrip since the pandemic started. And who better than with my art-pal, Dungeon Master, and brother-from-another-mother, Tony Diterlizzi.
We were delivering our art for the upcoming, highly anticipated 'Enchanted' exhibition. (Which was suppose to happen last year, but well, you know… Pandemic.) https://www.nrm.org/2020/03/enchanted-a-history-of-fantasy-illustration/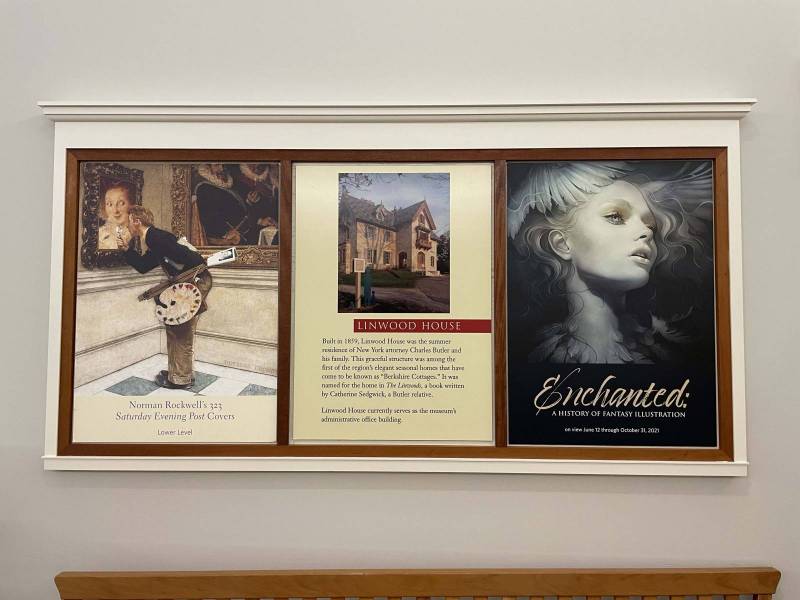 This exhibit… the list of artists… I mean woah:
Jules Joseph Lefebvre, William-Adolphe Bouguereau, Willem van Mieris, Richard Doyle, Gustave Doré, Palmer Cox, Arthur Rackham, Maxfield Parrish, Jessie Willcox Smith, Joseph Clement Coll, N.C. Wyeth, Willy Pogany, Howard Pyle, J. Allen St. John, Hannes Bok, Dean Cornwell, Virgil Finlay, Hal Foster, Frank Frazetta, Kelly Freas, Roy Krenkel, Wayne Barlowe, Julie Bell, Thomas Blackshear, Brom, Kinuko Craft, Tony DiTerlizzi, Terry & Rachel Dodson, Jeff Easley, Bob Eggleton, Larry Elmore, Scott Fischer, Brian Froud, Donato Giancola, Gary Gianni, James Gurney, Scott Gustafson, Greg Hildebrandt, Jeff Jones, Gregory Manchess, Iain McCaig, Mike Mignola, Jean-Baptiste Monge, David Trampier, Boris Vallejo, Charles Vess, James Warhola, Michael Whelan, Allen Williams, Mark Zug, Scott Brundage, Wesley Burt, Bastien Lecouffe-Deharme, Nico Delort, Anna Dittmann, Justin Gerard, Cory Godbey, Piotr Jabłoński, Tyler Jacobson, Yoann Lossel, Victo Ngai, Karla Ortiz, Anthony Palumbo, David Palumbo, Alessandra Pisano, Annie Stegg Gerard, Eric Velhagen, and many more.
The caliber of peers and legends is a little staggering. Many of my fellow Muddy Colors contributors are on that list, so that will be an epic reunion. But I am also hanging with Parish, Bouguereau, Frazetta and Wyeth- what!
This is extra special to me because when I first started my career in the 1990's, I lived near the museum, and I would go there all the time. We had a membership. And I would just drool over the Rockwells. I learned so damn much from seeing those paintings in person and it had a big influence on the artist I would become. But this visit was extra special, because I was able to go behind the scenes!
The mastermind behind this show, is the awesome Jesse Kowalski, Curator of Exhibitions at the NRM. Here hard at work laying out the exhibition virtually!
And what really blew my mind was they took us through the 'vault of rediculous awesomeness' to deliver the paintings. So many Rockwells on racks, his bicycles on the wall (No kidding.) and of course, we got a preview of the other art already in for the Enchanted exhibition! (It is gonna blow your mind folks! Get there!) I felt like Indiana Jones when they were storing the Arc of the Covenant in that warehouse. Such treasures to behold.
I wanted the piece I show to be really special, so Jesse let me create a new painting for the event. A perfect opportunity to paint a dig ole Dragon! I call it 'Betta Dragon', because you know, it is based on a Betta fish, lol. (More on this painting in a future post. But I did do a 7 part Vlog on it, which you can catch on my Instagram. )
Here Tony and I are delivering the goods.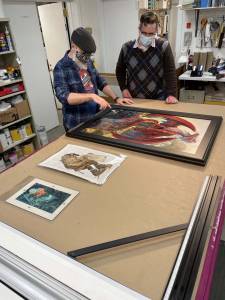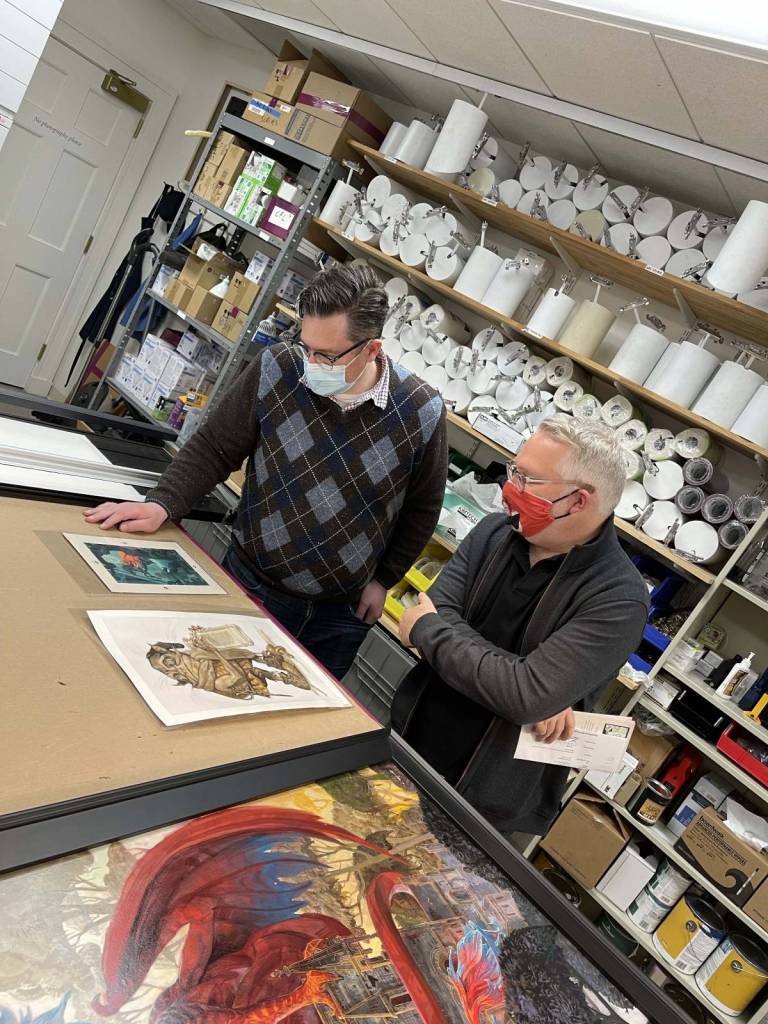 Tony, in adition to lending his own sweet painting- has a bit of an art collection himself, and loaned the museum this fantastic cover. It is cover for Lloyd Alexander's 'Book of Three' by JEAN-LEON HUENS. What a piece! Been thinking about it ever since and I shoud do a post about Huens for Muddy. But the gist of that post will be, "Hey you detail addicts, (you know who you are). You can put as much friggin detail as you want into your paintings- so long as your value-game is on point!"
But maybe the sweetest treat of the day, was that the museum was closed to the public when we were there, and they gave Tony and I free reign of the place! No peeking over shoulders and worrying you were taking too much time looking at a painting because of the people piled up behind you. Tony and I got as drunk as we wanted on Rockwell that day. And it was bliss!
Time for the photo dump! Drink in the texture folks. Roll around in the composition. Bathe in the tonal mastery.
What a day! Thanks for the fieldtrip Tony, and the Hospitality Jesse! I will leave you with this one Muddy Colors, which echos how I am feeling today: Loaded with inspiration, lookin at a blank page, with a mountain of work to do this month! But I should be finishing up just about the day the Enchanted exhibition opens in June!