It has been a while since I have posted a behind-the-scenes for one of my Magic: the Gathering paintings. I have had a couple come out recently, so here goes! This painting was for an alternate art version of the card that is printed "borderless". It's always fun to get a commission like that because you get to do a vertical painting instead of the more common horizontal format for Magic. Here is what the card looks like:
To start off I needed to work out the sketch. I worked digitally for this one:
And then threw some color on the sketch:
Once the sketch was approved (the art director for this card was the excellent Cynthia Sheppard), I started to build out and create references using Blender and also a photo shoot with a friend of mine. Here is what I created in Blender. I find it useful to build out some forms and then I use photographs of landscapes to help me fill in the details from nature.
Here is the comp put together with the 3D, the model from the photoshoot, and also some digital painting for the uniform. I also flipped the little Goblin on the left to help unify the dynamic of the group of figures moving in concert.
And here is the final painting! It is a 12×16″ oil painting on wood panel.
No painting is finished without a great frame and I went to my favorite source for frames, Masterworks Frames based out of Orem, Utah and asked them to make this frame for me. I love the tabernacle-style frames!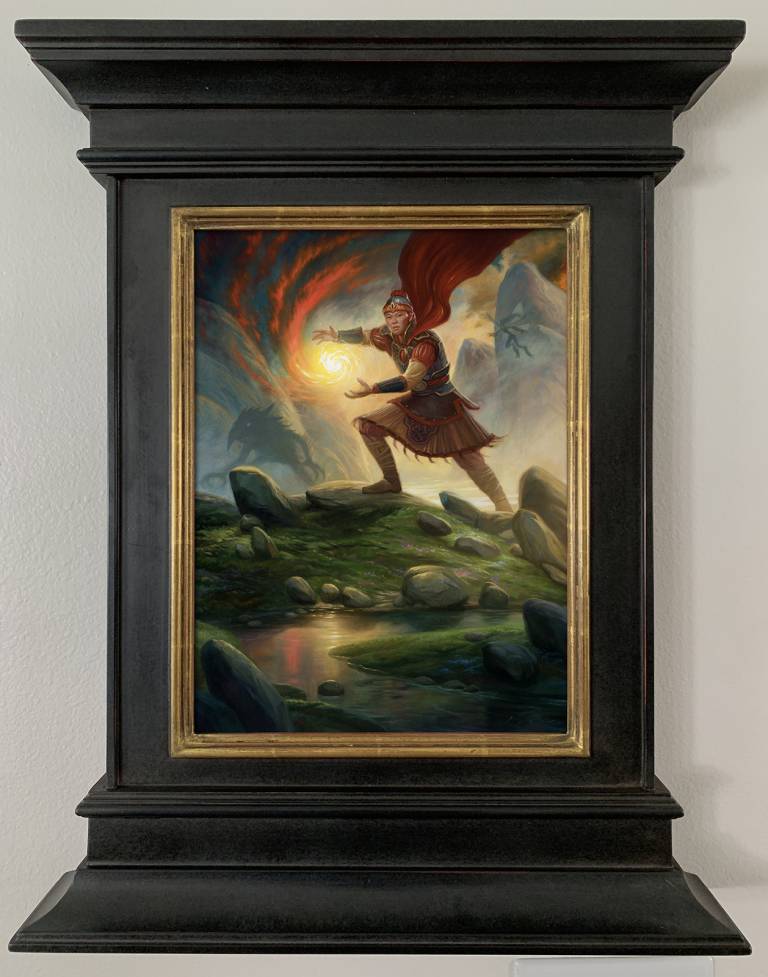 I also made a little video of the painting from start to finish. You can see it on my Instagram page here
Thank you for taking a look at my process and I hope that you found it beneficial!
Sincerely,
Howard