-By Dave Seeley
About a decade ago, I realized that I needed to up my photography game, because my process had become indelibly tied to it, and the practice of shooting myself and my patient family was aging out. So I launched in to upgrading my equipment and knowledge base and began hiring models. If you want a deep dive into the mechanics of that learning curve, stay tuned here for an upcoming session with how-to and Q & A, but that's not what I want to talk about today. What I didn't anticipate in that initiative was the photography taking on a life of its own, and evolving into a focus that eventually came back to infuse and inform my professional and personal work in fundamental ways. So much for the "plan."
At the outset, I'd shoot what I needed for a given assignment brief, then shoot another couple of hours with genre illustration concepts to use in future samples or assignments. At the end of 2014, I had a major 30 image book illustration project cancelled, and according to plan, I used that time, and my trove of genre photos to make new paintings for my 2015 art monograph The Art of Dave Seeley.
Because professional models bring their own experiences with them as collaborators, they taught me so much. Glamour and ART nudes poses were often in their repertoire and several wanted me to shoot picks for their own portfolios. Over time, I became fascinated with making beautiful photos in those genres and would make time within shoots to work on them. I'd learn from models and then push them in to unfamiliar territories and they'd often be delighted with the results. That set up a conducive and collaborative mood where great things happened. Eventually, I hired specific models just to make photos in ongoing personal series, despite a lack of clear intended purpose.
I'd learned a lot about artificial flash lighting in order to have complete control over rendering my subjects, but then discovered a fascination with its ability to freeze motion, and that expanded the way I thought about posing. I loved when figures were mid-jump and weightless, so I developed a series of leaping figures. They had an etherial "Transcendent" quality that enchanted me.
In 2015, I went to New York for the "Infra:REAL – The Art of Imaginative Realism" show at the Jonathan Levin Gallery, and gathered in a bar with friends after the show. An artist friend had me show my Transcendent photo series via iPad to his friend, who offered to introduce me to a well known photography gallery, but I balked at that notion. While I love photography, my primary passion is painting, and I'd envisioned their final versions as paintings. Ideally, I'd love a show that exhibited both photos AND the paintings that evolved from them. For me, the abstract mark making happening in a painting is what gives it its power. There is always a struggle in the making of those marks, so always some trepidation in the making, but my satisfaction comes when the paint marks coalesce into a pleasing illusion, and I know that the work is complete. I painted my first Transcendent piece for the 2016 "Inner Visions" show at Abend Gallery in Denver, Transcendent Lynne. I was happy with it, but it taught me that these paintings needed to be bigger!
Pat and Jeannie Wilshire had curated both Infra:Real, and Inner Visions. When they asked me to do a commission painting for their IX Arts show in 2021, I jumped at the chance to do my next Transcendent painting. The result was "The Prince and the Pond Witch," a breakthrough piece for me, incorporating my genre narrative roots.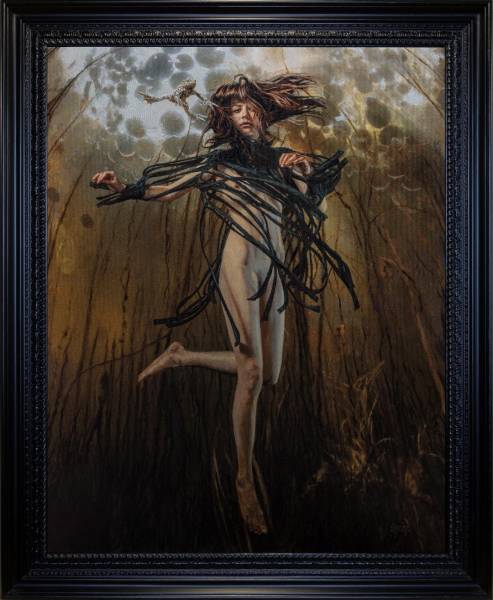 Through participation in the Inner Visions show and the IX Arts show, I was able to forge a relationship with the Abend Gallery, and have a solo exhibition with them that opened last week. It includes a series of paintings that derive from my journey in photography. I call the exhibition CHASING IMPERFECTION. I did a video virtual docent tour for the show that's included on the Abend exhibition page, and I've included a link below.
Ultimately, I think career paths are circuitous and even the best laid plans are apt to go sideways. In my case, I think luck played a significant role, but my advice is to follow your muse, even blindly at times, to see where she takes you, and to embrace the cross-fertilization of your pursuits.
Dave Seeley Solo Exhibition at Abend Gallery
https://www.abendgallery.com/show/abend-gallery-dave-seeley-solo-exhibition?fbclid=IwAR32p5YlOn66kDcJGx0us41AclAc5gtB5LPa0nYE9xHBaRwCellh2qR-tYw
The Art of Dave Seeley by Insight Editions
https://www.amazon.com/Art-Dave-Seeley/dp/1608874052/ref=sr_1_1?ie=UTF8&qid=1421644292&sr=8-1&keywords=art+of+dave+seeley
Follow Me on Facebook
https://www.facebook.com/profile.php?id=100009714761025
and Instagram
https://www.instagram.com/dave.seeley/