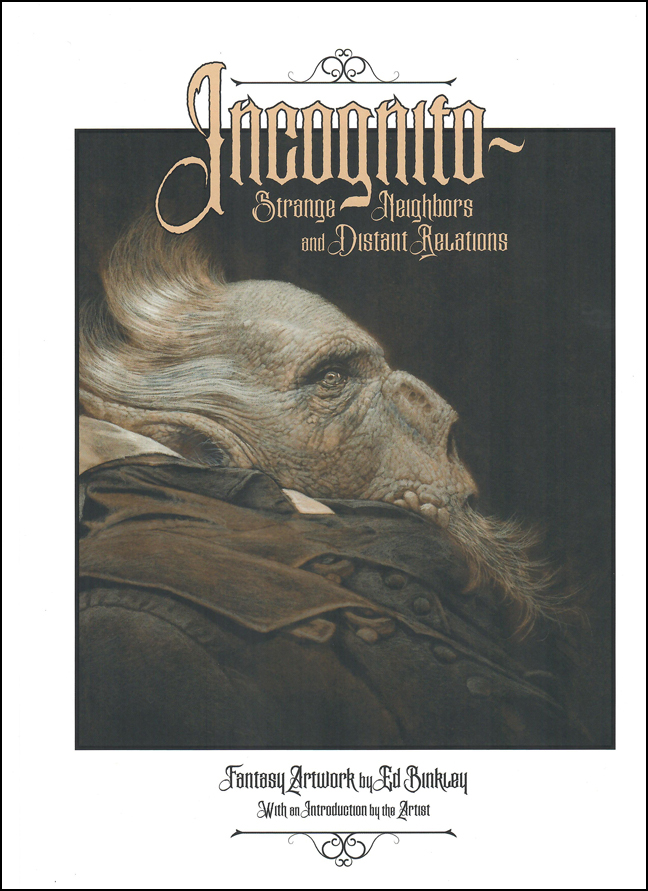 Edward Binkley has just released a collection of his ghoulishly whimsical colored pencil drawings, "Incognito—Strange Neighbors and Distant Relations"—and, as you might suspect, it's pretty wonderful.
Ed describes the softcover, perfect-bound collection as "84 pages and includes full images plus detail close-ups of thirty-five drawings from my 'Incognito' series—goblins, ghouls, vampires, and dragons hiding in our midst, with a 6-page introduction, and notes about the drawings. The outside cover is Soft-Touch coated for a velvet feel and to prevent fingerprinting. The inside title-page is autographed, and the book contains a brief bio and artist portrait (which should NOT be thought of as an additional goblin…)."
Ed's drawing skills are second to none and his sense of humor is on full display in this beautiful book. Copies are available from Ed's webstore for $35 each plus $7 handling & shipping in the 48 U.S. states (presumably a bit more for Hawaii and Alaska); shipping outside the U.S is $20. And, of course, visit his website for prints and more information:
https://www.edbinkley.com
And, if you'd like to learn much more about Ed (and see a big batch of additional art), he's interviewed in the second volume of our Spectrum Fantastic Art bookazine, currently available from Bud Plant, Stuart Ng, Dreamhaven Books, and Forbidden Planet NYC.