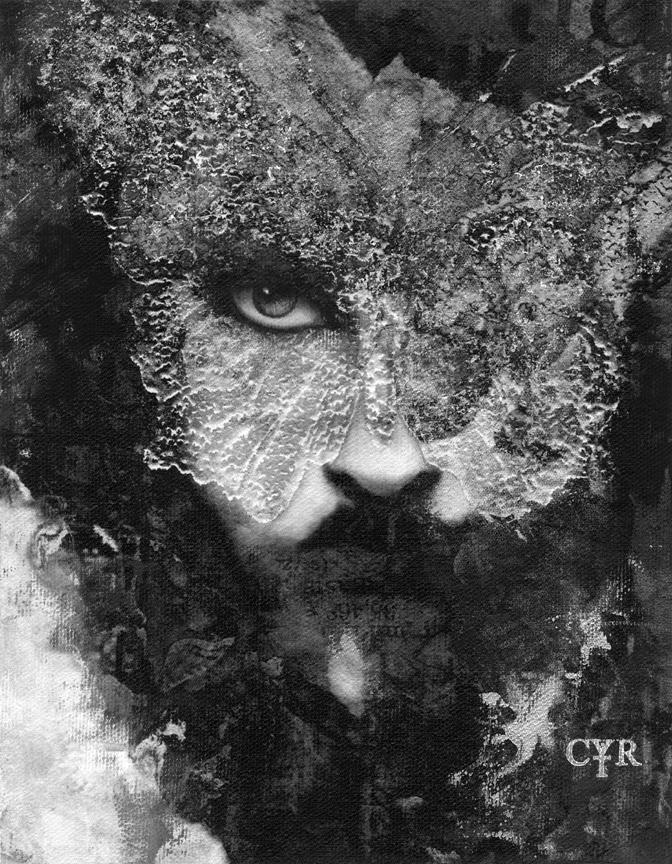 Just because you are working on a monochromatic piece in black and white does not mean that you should be limiting yourself to opening up a tube of black and white paint and mixing the tones from there. To get a sense of richness in tonality, you need to have warm and cool variations of black and white.
There are many forms of each color. There is a great article by Robert Gamblin on the various color as well as applications of white paint that may alter your choices. It is a must read. There is also another article that explains all the different blacks. They are BOTH highly informative.
In addition to a monochromatic palette, I always like to add a bit of sparkle, using silver and/or pewter as my metallic colors of choice. To add paint to the surface of the painting featured above, I used various brushes, a painting knife and a spray bottle to diffuse areas as well as debossing techniques to get an impression on the butterfly that was trapped in but a stencil.
For Revelation of Darkness (featured above), I built the piece up in graphite, ink and then acrylics (regular and metallic). After sealing the canvas surface with acrylic matte medium, I used iridescent medium using a dry-brush technique over the areas that I wanted to sparkle. You can also mix any acrylic paint with iridescent medium to give it a metallic look. In this particular piece, I chose to use it just as a glistening medium. By itself, it tends to have a shimmering, almost silvery appearance when it is dry over areas of color. The "broken" butterfly that is featured over the portrait was create using applications of this process.
The metallic color has an interesting symbolic history, with a dichotomy in metaphor and meaning. In mythology, silver is known to have mystic powers. On the other hand, the metal has also been associated with greed, corruption and moral degradation because of its use in monetary exchange. However, silver is most known to be symbolic of redemption, sort of the combination of both the good and bad elements.
In my painting entitled Revelation of Darkness, a broken, almost skeletal-looking, butterfly made of silver covers the face of the figure. Silver is used on the symbolic butterfly as the element of protection from evil forces. Here is the passage I wrote to go along with this painting:
"Lies and trickery disguise the truth, while distraction keeps the deception ongoing. Blinded by the mirage, I have allowed evil to enter. The spirit, a mere skeleton of itself—fragmented, torn and broken—yearns to fly back to its branch a butterfly." 
Much like dreams, my imaginative works take bits and pieces from reality and put them into another context. In the piece featured above, I am playing with two different vantage points: one is from the subject itself and the other is from the viewer or onlooker. The figure or subject looks at the viewer with only one eye, not able to have full clarity. There is lots of chaos, anagrammatic text and visual noise behind the figure. On the upper right side of the piece is the word no, an underlying plea of resistance of sorts.
Next time you are working monochromatically, give metallic paints a try!
I wanted to let you know about a new endeavor. I have a Patreon page called NAVIGATING THE LABYRINTH OF THE CREATIVE MIND.
On the site, I have a weekly podcast for artistic inspiration and motivation (Tues). I post weekly in a series called Work As Play (Thurs), where I share my mixed-media experiments and sketchbook work. I also have a weekly Sneak Peek post (Fri) where I share the process and techniques behind new projects I am working on. I also share all announcements (Wed) to new books, articles, exhibitions, etc.
In addition I have a monthly live zoom meetings (Sat), where I go over projects I am working on, covering concepts, techniques, etc. It is all recorded as well if you need to miss a session. The next session will also have an additional sketchbook social event! I also offer discounts and benefits to all patrons.
I LOVE the community of like-minded artists that I am building! Join me! Click on the link above to check out the site! Consider joining as a gift to yourself this holiday season!
Have a wonderful NEW YEAR everyone and I will see you on the flip side!