The art of Spectrum Grand Master Donato Giancola is the subject of a major exhibition currently at the Hunstsville Museum of Art in Huntsville, Alabama so of course I had to ask him about it.
—
AF: How did your show at the Huntsville Museum come about? Have you been planning it for a long time?
Donato: Nearly fifteen years ago Christopher Madkour, the director of the Huntsville Museum of Art, hosted my work at his then institution, The Southern Vermont Arts Center. We put on a modest exhibit then, showcasing my various paintings and illustrations, an all around successful show.
Presently, given the "pop" cultural connection with much of my commercial illustration work, from "Magic: The Gathering" to "Game of Thrones," "Dungeons & Dragons," to book illustration, Christopher thought it a great chance to bring a different kind of audience and focus to a show to the Huntsville Museum of Art.
As we worked on the exhibit, I leaned into the idea that we could provide educational insight into the choices and creative processes of being a contemporary illustrator—sketches, drawings, unfinished works. Included into this educational material are early works building a bridge to younger artists—drawings from 1st grade, "Dungeons & Dragons" maps from my teenage years, and superhero artworks from high school. My intent was to make the work more accessible to the layman and budding artist, pulling back the magic veil of so-called artistic "genius," and illuminating the methodical steps taken to solve pictorial projects.
AF: What can attendees expect to see? Are the works all from your own collection or have you borrowed pieces from collectors?
Donato: The selection of exhibited artworks range the entirety of my artistic life, starting with drawings copied from children's books in 1st grade to the most recently completed epic landscape of Middle-earth finished just a month before the show opened.
Nearly all the works are from our family collection, with a handful sourced from additional lenders. Thus while not quite what I would call a "career retrospective"—many of my best paintings are not here—the art displayed certainly showcases major milestones in my abilities as a painter.
I have been luckily enough to hold onto some favorites through the decades, thus you will be seeing a nice sampling of "the best of Donato" from all ages of my career.
AF: People endlessly argue about the perceived differences between illustration and fine art. You began your career as a commercial artist: has a museum exhibit always been one of your goals?
Donato: As a visual artist living in New York City my entire professional life, certainly a museum exhibit was high on the hit list of shows I would love to participate in. I visit museums constantly here in New York and whereever I travel. Thus it is with great honor that I get the chance to share my love of narrative art with a larger audience. The idea of connecting to inspired audiences is the reason I wanted to take the opportunity to educate any aspiring artists that may attend the show, in the hopes that someday they may be hanging in a museum or gallery celebrating their creative choices!
AF: Is there anything you hope attendees will learn about you—or about painting or the genre—by viewing your work?
Donato: One of the greatest issues surrounding commercial art is the idea that if there is any hint of collaboration or art direction, that the integrity of the art is fouled. I wish to dispel this biased assumption and show how these works are vested in deep passions, integrity, and empathy and hope that the attending audiences can experience them on that level, free of cultural, elitist tainting.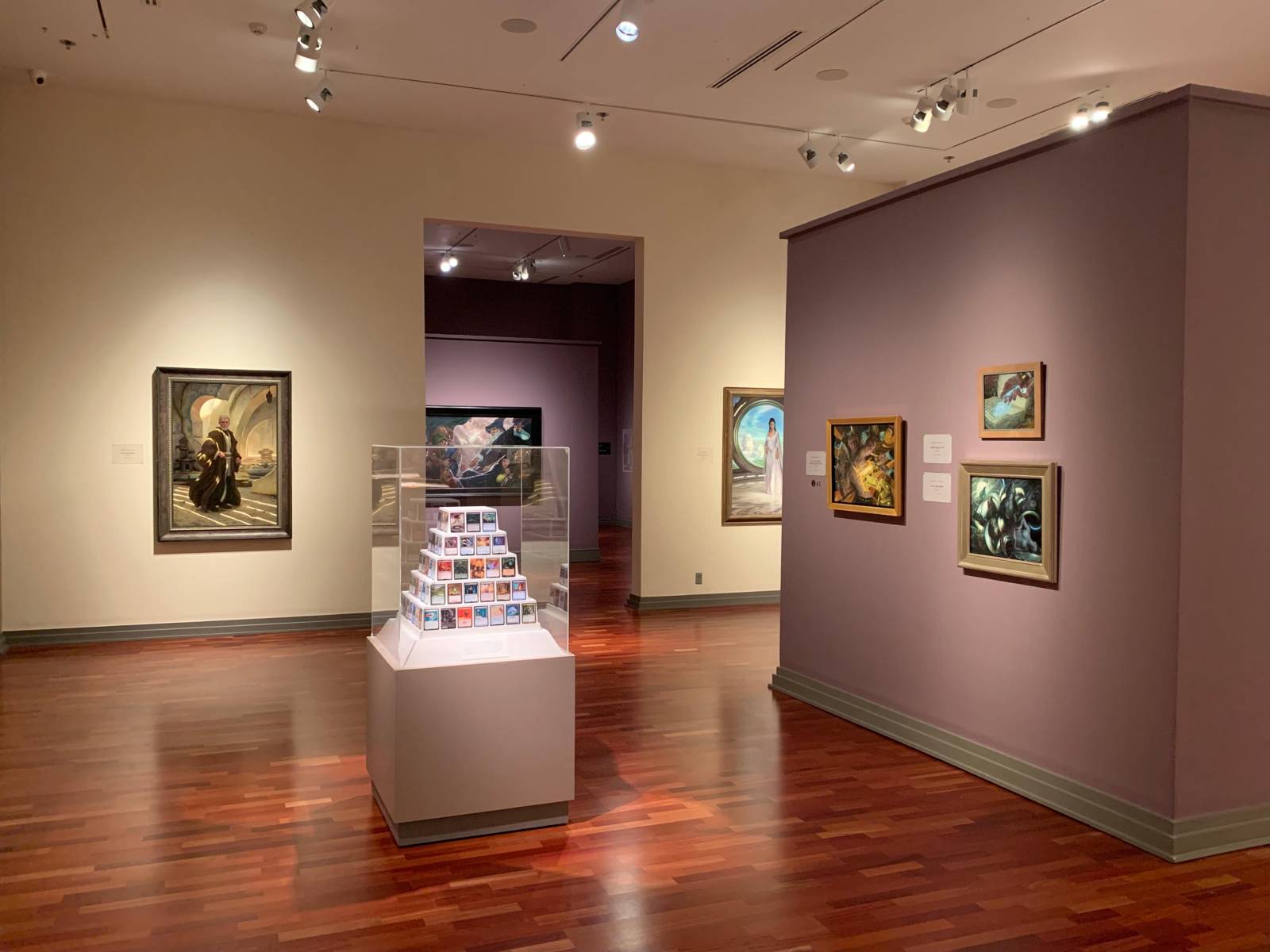 AF: Since everything you create is made with traditional media, what are your thoughts about the recent controversy about AI art? Are art careers under threat or is traditional painting in danger?
Donato: The impact of Artificial Intelligence-derived art, I believe, is underestimated.
The influences are only just now being feared and assessed—and some of these programs are only eight months in the public forum! Infants!
We will have to see how this evolves, not only for the creative art-producing communities, but how it reaches and affects the general public and their perceptions around "art." It's going to be ugly for a little while, the reality of the art environment is being critically restructured.
AF: In looking back at the art in the show, what are your feelings? Is there a piece—or pieces—that you might point to as a sort of symbol for what you want to be known for? Do you have feelings of accomplishment and satisfaction or do you see things you still want to explore and try?
Donato: It certainly is fun to comfortably reflect upon a thirty year career and point out the highlights and celebrate the accomplishments made with a show like this. So many wonderful successes and creative solutions to visual story telling. But I am forever humbled by the bottom scrapping work which did not make it into this exhibit! I think we, as artists and consumers, should be reminded that even talented creators have their weaknesses, and that these are the byproducts of taking chances. For it is only after we take numerous chances, wrapped deeply with the risk of failure, do you get the opportunity to cull a body of work and put on a show like this.
So, yes, I am very proud of every single work of art in this show, but none of them stand as a final feather in my cap artistically. I am still chasing that dream, that flicker of desire, which lies just around the next creative corner.
—
"Adventures in Imagination" is on exhibit until January 22, 2023. For more information visit:
https://hsvmuseum.org/adventures-in-imagination/
Learn much more about Donato at his official website: