In one way or another, all artists must bridge the gaps in their education on their own. The concept of a mentor text was introduced to me while attending a writing conference. Writers studied a favorite piece to guide them through their process, for technical advice and encouragement.
The Famous Artist Course has been on many of MC writers' recommended reading lists, yet few budding illustrators know about one of the most complete guides to art-making for illustrators. AI enthusiasts claim artists are keeping their secrets to themselves but we know that couldn't be more untrue. What makes the FAC such an exceptional mentor text is that it approaches everything with illustration in mind.
A Bit of History
The FAC was the brainchild of Albert Dorne and was founded in 1948. The FAC is a correspondence art course. After each lesson, throughout the four binders, a student could mail in their work and receive feedback. With Norman Rockwell as one of the founding members and the courses written by top illustrators of the time it's no surprise, it was a major success. Making millions of dollars, the course reached over 40,000 students. It goes to say, artists who do also teach.  

The 24 lessons are separated into four binders. Getting your hands on 4 original binders can be expensive and because of the binder, many copies that exist aren't complete. Luckily, free downloads are easily found on the web. My copies are somewhat fragile so I enjoy photocopying my favorite pages for topical on-the-desk reference and have some pages posted around the studio. All good things come to end, decades after the company went bankrupt, the archives were donated to the Norman Rockwell Museum (2014) which includes additional photos, correspondence, and process sketches that were on their way to the dumpster.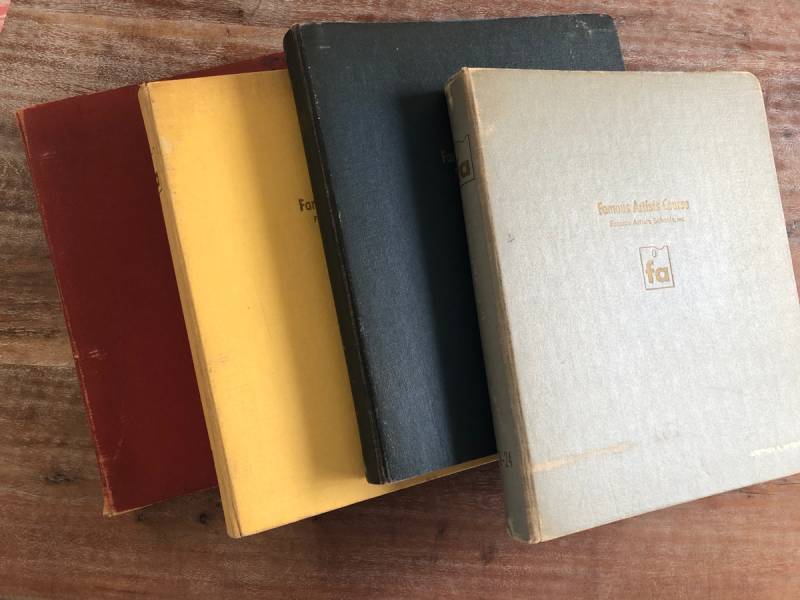 Inventive Mindset
I distinctly remember, in art school figure drawing, looking at the drawings of my classmates pinned up and I noticed a student tweaked the pose of the model. "Draw what you see," our teacher told us and I, a rule follower, drew the figure AS I SAW IT…. And with great disappointment. 
This inventive mindset is crucial to illustrators and I find it's missing from typical art fundamentals books and teaching. FAC shows how to draw from what you know and what you see. If you don't know, FAC will lay that out too  The detail FAC brings detail to every lesson that will give students the background they need to confidently invent and notice opportunities for invention!
The FAC doesn't dance around the topic of photography. Up close you can compare the images to the drawings to learn how the artist interprets the photo, most importantly, what details they are leaving out. Being able to manipulate figures or any form is a highly underrated skill for commercial illustrators. I can't help but stress the importance of invention, especially in the wake of AI technology.
Something for Teachers
The FAC is a great source for teachers who are looking for ideas or materials for detailed lessons. The 24 lessons make it easy to find answers to questions. Pouring over these books it struck me the way the lessons were ordered. You'll notice that the FAC presents figures in the first few lessons – which I think is the great illustrators way of saying, becoming a figure expert takes time to learn…. Get started right away! 
Color stumps every artist at one point or another. In FAC, color isn't introduced until after the lessons about value. So often we ask students to work in color before they know value. Composition isn't approached until after students can draw basic figures and animals. Composition is often taught with basic shapes at first but I've found students struggle to apply that knowledge to complex pictures with actual stuff. FAC addresses that.
Criticism
There's little I don't find helpful in the FAC however it is a reflection of the time. I don't know any artists who use zip-atone these days. Some technical advances in printing have made some concepts in the FAC less helpful. Today, there are more cogs in the wheel and illustrators are further away from the printing process for better or for worse and some illustrators' work exists only on screen.  
At first, sections on clothing may seem irrelevant to today's fashion but many of the fashions of this era include classic silhouettes that can be built upon. An entire lesson is devoted to "pretty girls." Though the idea makes me cringe, I'm reminded again of the application for this material. Today, figurative illustration appreciates more varied types of beauty but we haven't moved away from the idea that illustration is used to sell stuff. 
Approaching figures that look "appealing" is still an aspect of creating commercial work and those illustrators who have dated outfits and unappealing characters may struggle to find work. Would Coby Whitmore have been as successful if his faces didn't show an idealized beauty? Things to think about and challenge. 
Encouragement When You Need It
Norman Rockwell doesn't reach out of the book and tell you everything is going to be okay but if you look at the text closely you'll find encouragement and humor when you need it.
Throughout the book, and especially the last 17-24 lessons, you'll see what it's like to work with an art director, and surprisingly, it's not that much different than working as an illustrator today. The artists tell their frustrations with honest detail. Whether they describe troublesome revisions or a color study from hell, it's guaranteed working illustrators will relate and students will find themselves more prepared. 
Take the plunge into the FAC! Use it as an on-the-desk mentor. It's an artifact of history and American culture as well as a detailed education catered toward illustrators that leaves no stone unturned.