A few days ago I came back from a comic convention, named Strip Festival Breda, that has been held in the charming city of Breda, in the Netherlands.  I was attending this convention as a member of the Flesk Publications group of artists, alongside such notables as Gary Gianni, Mark Schultz, William Stout and Craig Elliott. This was my third convention in the last two years and it was certainly one of the most pleasant, refreshing and inspiring events I have ever attended. 
A section of the Flesk Publications booth. From right to left: Gary Gianni, Craig Elliott, John Fleskes, Mark Schultz and Guido de Bue.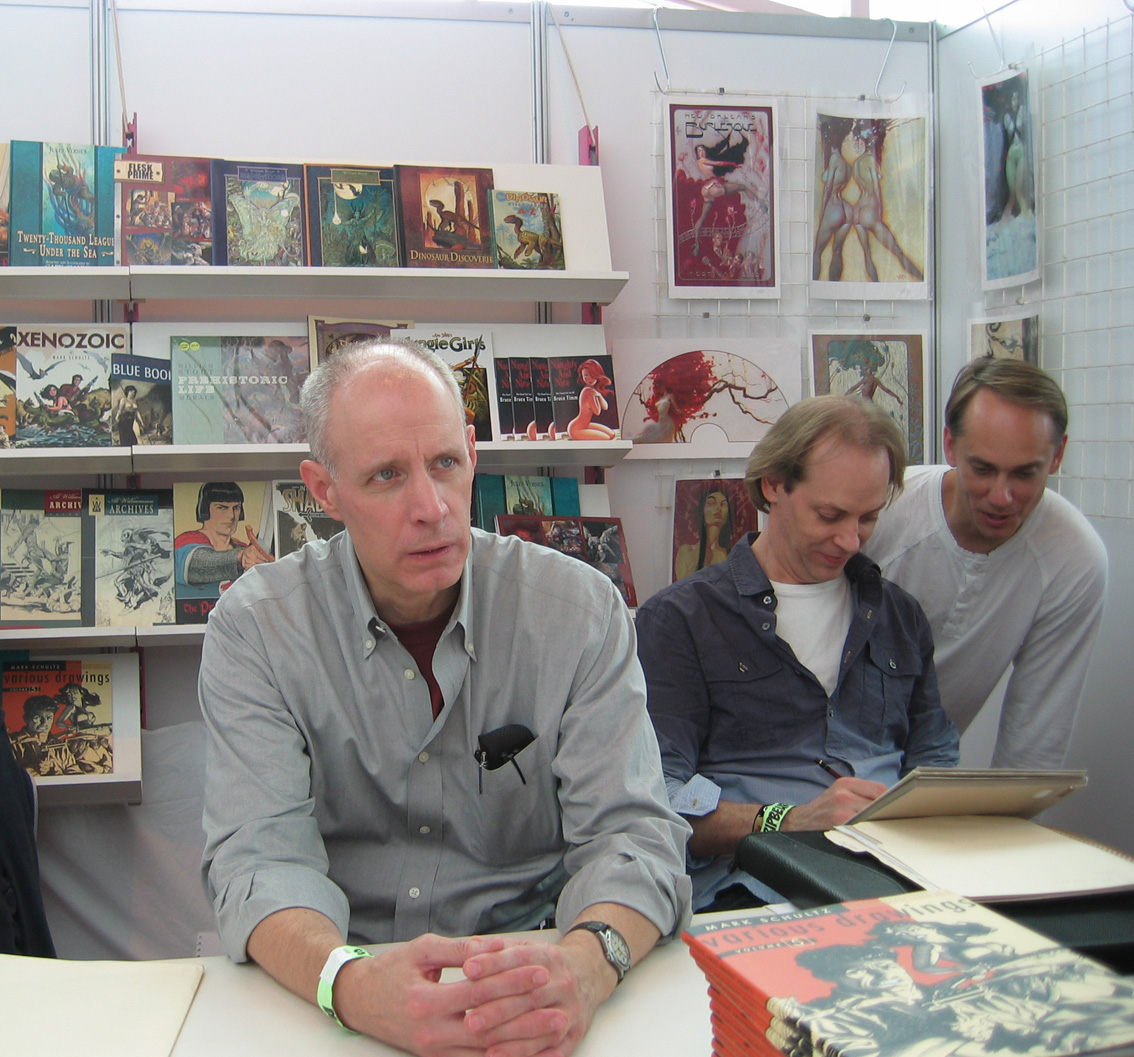 Mark Schultz talking to a fan. Craig Elliott and John Fleskes are behind him. It the background the collection of the Flesk books and Craig Elliott's prints.

The convention itself was very nice, the fans were numerous, some kind, some shy and some a little pushy. I was told that the main difference between the European and the US conventions is that, in Europe, the artist is expected to answer to (almost) all the fans' requests and to do the sketches for free, whilst the US artists often charge for the convention sketches. Being always eager to improve

 

and to learn new things and ways, and inspired by my US peers, I decided to apply this principle to my European fans. I did a little sketch if somebody bought a book, and I refused to do a sketch in the sketchbook of a fan if he/she did not want to buy a book. There was only one fan who wanted to pay for a more elaborate sketch. So, it was fun and I enjoyed it very much, in spite of the fact that I was very busy doing sketches for two days (just like the other four artists) in order to accommodate the wishes of my fans, and not to leave anyone without at least a quick sketch. As a consequence I did not get the chance to see the convention. However it was really great to be there, to see the fans, to talk to them, and to taste again that remarkable atmosphere of an art convention.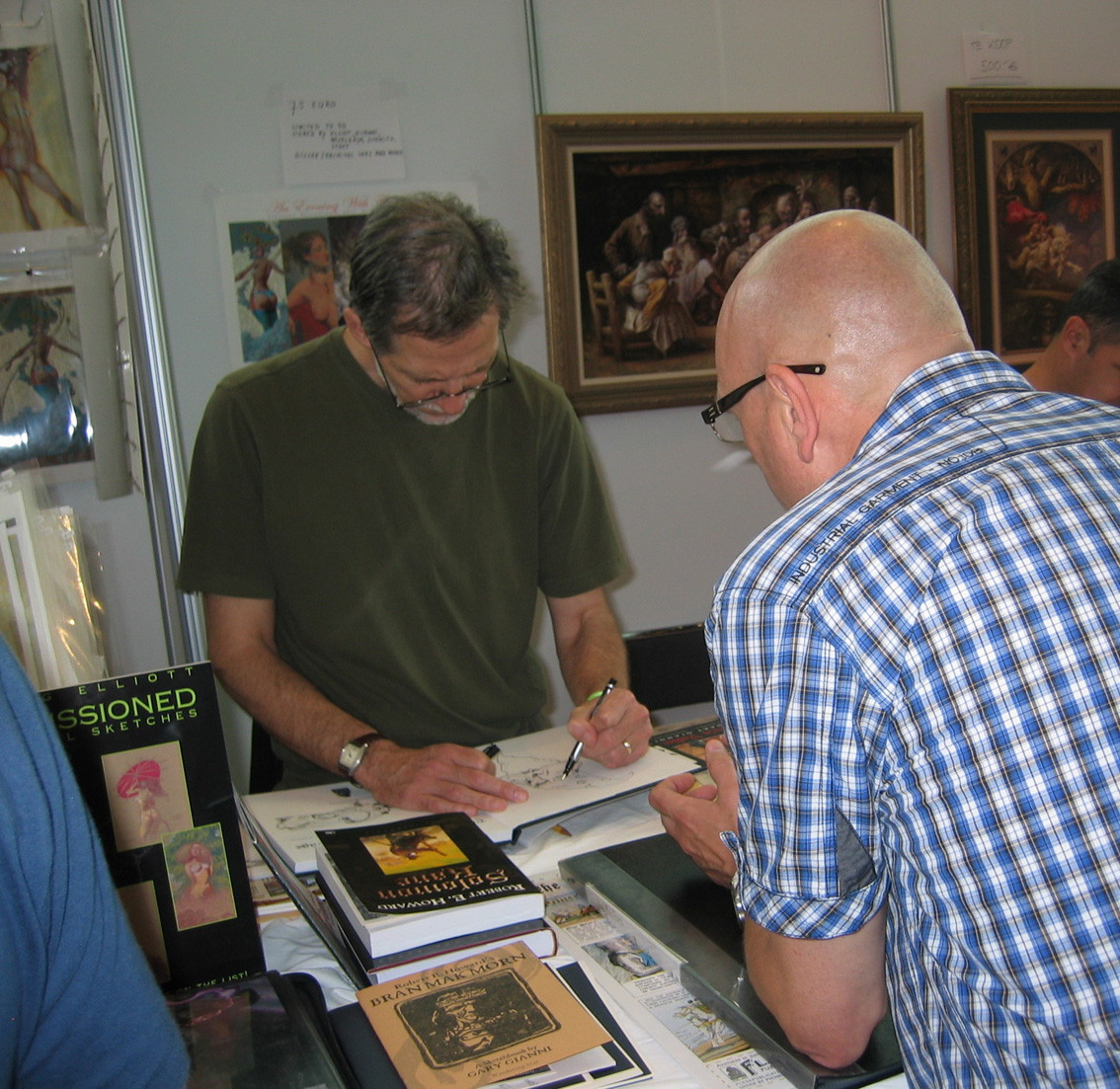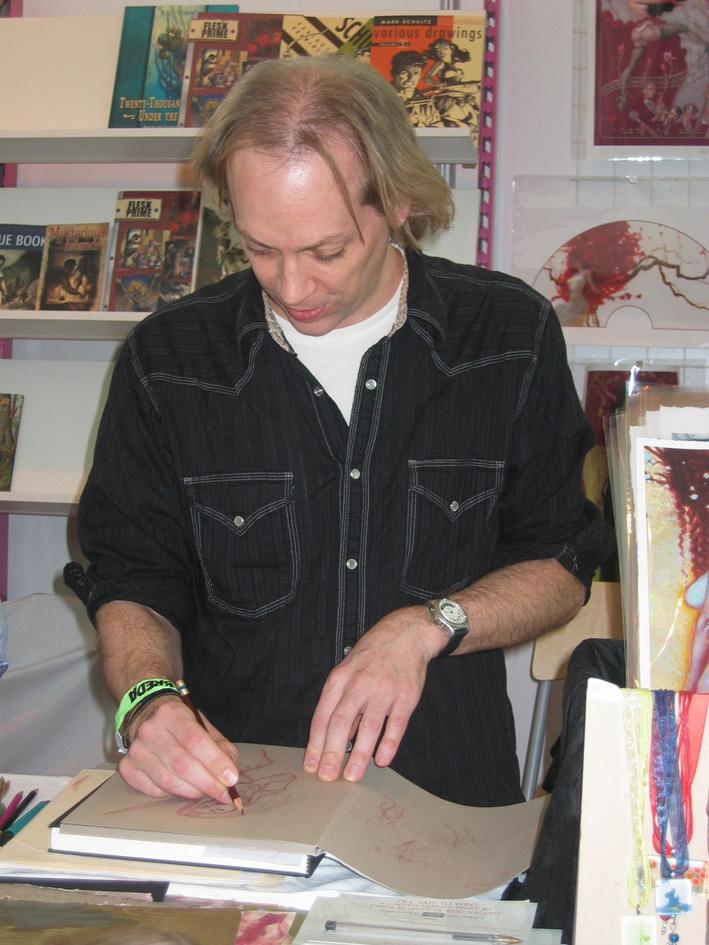 Craig Elliott doing one of his girl sketches.
But, for me, the best part of this event was the time I spent with these four fellow artists, talking to them during the show, or at the dinner table of one of the cozy Breda restaurants, or in the hotel lobby, or even better, in a café  while drinking a glass of good Belgian beer (mostly Leffe Blond, or Leffe Bruin !) and recuperating from a rather stressful day of much sketching and talking. The camaraderie and the friendship that I was fortunate to experience while with them, the wise lessons and the useful advises that I got from them (for these guys are true masters, each in their own field, and as such they are a huge source of precious knowledge and experience); all these things contributed to the creation of an unforgettable atmosphere. I have learned many important things just by listening to their stories and through observing them create their art. It was priceless!
Beside these four man blessed with various talents, and kind and generous personality, there were a few other persons that made this event possible. Firstly our publisher John Fleskes, ever sensitive and omnipresent, in the best possible way, who brought us together and made sure we felt comfortable and happy. His insights and his attentiveness have always impressed and inspired me. Needless to say, without him the Flesk team would not be able to come together and the Breda experience would probably never happen in our lives!
William Stout doing one of his zombie sketches.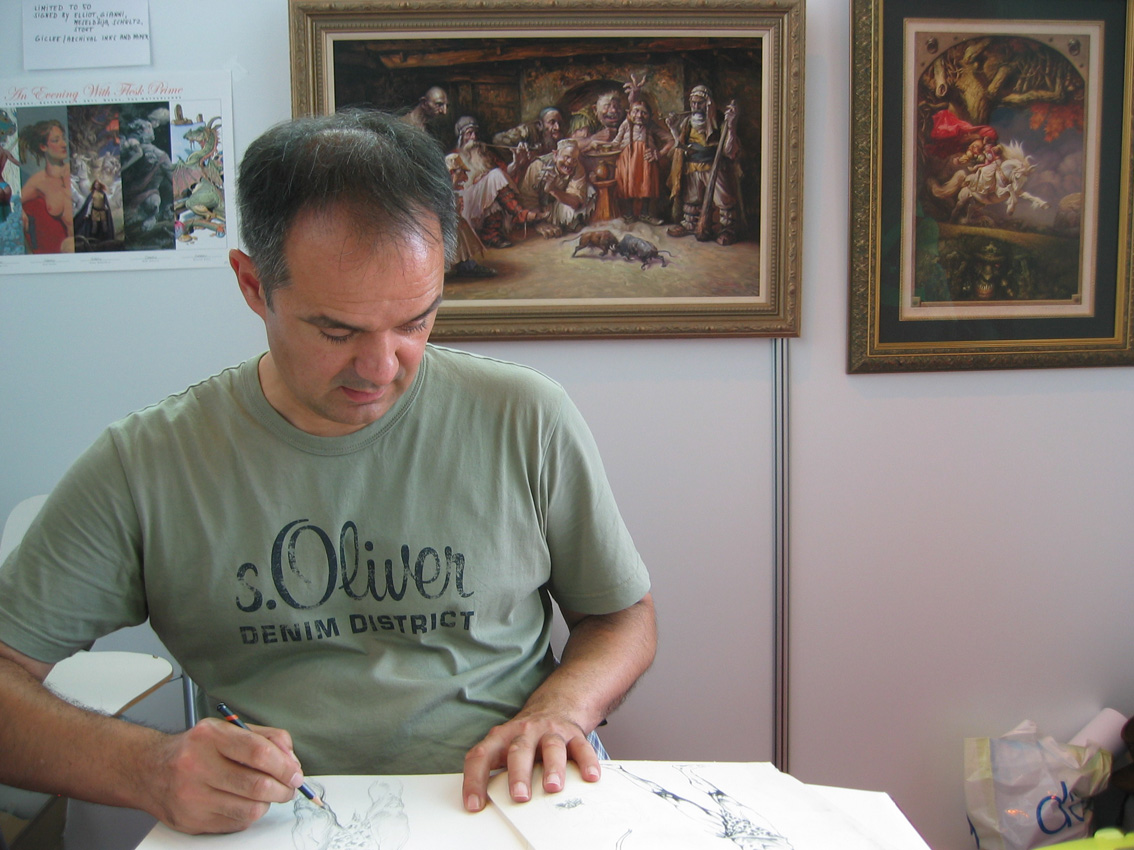 Me, doing a Tarzan drawing.
The Flesk Prime: Mark Schultz, Craig Elliott, Gary Gianni, Petar Meseldzija and William Stout.
And last, but not least, there are a few other individuals whose passion for art, dedication, perseverance, extreme generosity

 

and

 

hard work, made this extraordinary experience possible. In fact it was they who invited Flesk to attend the show, together with the artists, and organized our part of the event in a way that was impeccable and impressive. So, Mark Thelosen and Guido de Bue – Chapeau and Salut, guys!

 
Good friends: Mark Thelosen, Petar Meseldzija and John Fleskes.
William Stout
Craig Elliott
Gary Gianni
Mark Schultz
Petar Meseldzija
Well, you know, most of us artists spend much of our lives alone

 

in our studio, and when this kind of opportunity is presented to us, I think we should embrace it. Who else is able to understand and support us better than our "brothers in arms", especially when it seems that we "vibrate" on the similar, if not the same, wavelength together with them.
At the end, I guess you could conclude that one of the main points of this post is – in order to feel happy, content and inspired, you need a friend, a comrade, or a kind of professional soul mate. You need to share your passions with them. You need to enrich their lives, and to let them enrich yours.

 

I think this is a very important aspect of being an artist. We need each other in order to grow better and less crooked. We need each other's shadows, for when in the shadow, we will work (grow) harder

 

in order to get out of it.

 

My father always told me that when you want to plant a birch tree in your yard, you should plant three of them together, saying that it helps them grow better. I never found out whether this was really true or not, but I always liked that idea.