Coyote Studies. 2012.
Ink, blue pencil, and watercolor on bristol board, 11 × 17″.
If you've ever drawn a comic (or any large project, really) then you know the most fun part is doing preparatory sketches and studies for it. That's where the ideas happen — the rest is just execution. You need both, of course, but a solid foundation is key; it bestows purpose to each of the hundreds of hours needed to give true life to a project.
Pictured above is a page of studies for a new Daredevil villain, Coyote. He wasn't "brand new," as his powers stemmed from an existing villain, the Spot, but he was meant to be a sleeker, more menacing version of the classic Spider-Man foe. Furthermore, his powers and relationship to the Spot were not to be immediately apparent in the narrative, so I wanted his look to have subtle cues to his origin without revealing his true identity.
Daredevil #1, Page 4 (The Spot Attacks). 2011.
Ink(ed by Joe Rivera) on bristol board, 11 × 17″.
To accomplish this, I inverted the old costume: mostly black instead of mostly white, his portal spots dominating to the point where the negative white shapes became positive. This left me with a pinched triangle motif that I employed on the eyes, hands, and chest. Eventually, I treated the spots as giant discs that were draped over his body, peeling up to form sartorial embellishments.
Daredevil #19. 2012. Ink(ed by Joe Rivera) on Marvel board, 11 × 17.25″.
Step-by Step
As things turned out, I ended my exclusive contract with Marvel before drawing the 4-issue arc that featured the villain. Fortunately, I was still able to contribute covers, and the story, written by Mark Waid, was beautifully rendered by current Daredevil artist (and one-man factory) Chris Samnee.
Daredevil Character Sketches. 2011. Pencil on bristol board, 11 × 17″.
As for our eponymous hero, I didn't deviate much from the classic interpretation of the character, just added a few touches here and there to make him my own. In order to update his white cane, I elongated each section and added a crimson spare, 3 in total. The other major change was making the cane rotate into a square hook. (Part of me still wishes I had use the curved version, which makes less sense when it transforms, but looks more elegant. At the time, I didn't realize it worked like that in the earliest issues.)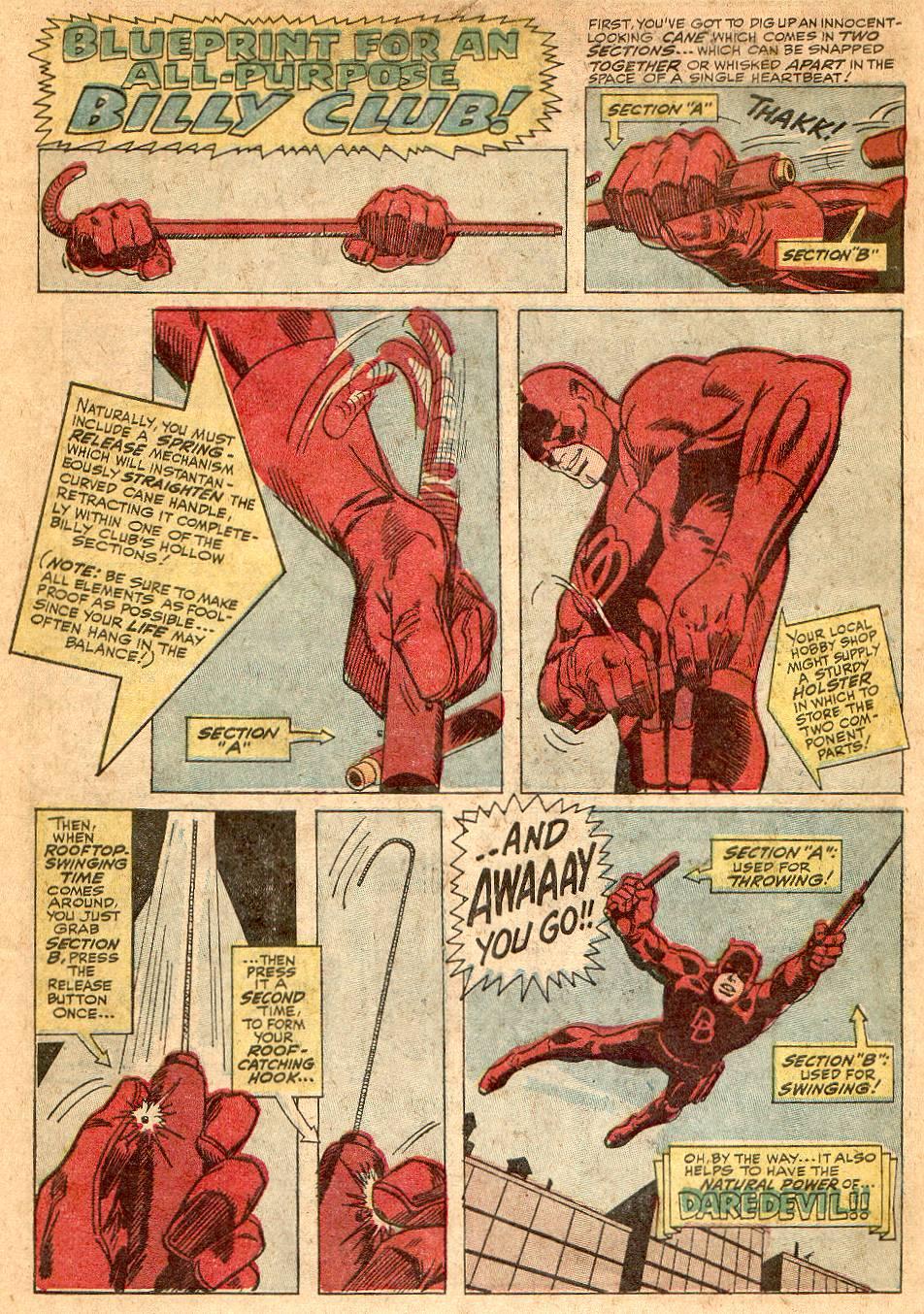 by Gene Colan (words by Stan Lee)
Daredevil #1 Cover. 2011. Gouache and acrylic on bristol board, 11 × 17″.
Time Lapse
I also changed his belt slightly, having it hang at an angle across his hips, alla Han Solo. I changed it yet again in later issues, extending the diagonal across his body for a more swashbuckling look (example below). Again, these were very subtle changes — I really just copied my predecessors: David Mazzucchelli, Wally Wood, and Gene Colan, among many, many others.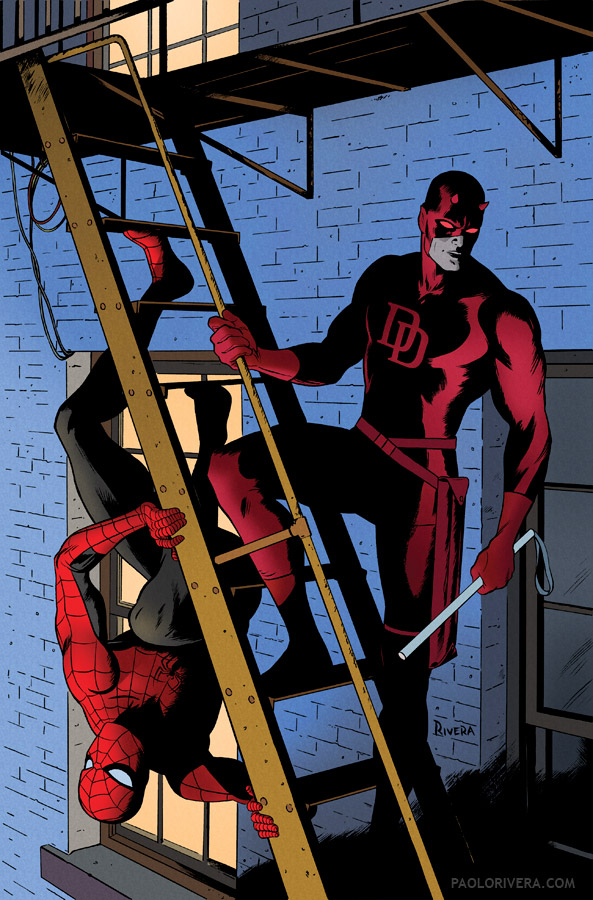 Daredevil #8 Cover. 2011. Ink(ed by Joe Rivera) on Marvel board, 11 × 17.25″.
Step-by-Step
Perhaps you've seen the latest set pics from The Amazing Spider-Man 2? I did some style guides for the movie earlier this year (used for marketing and licensing purposes, I presume) and was happy to see that they reverted to the classic look. I love complicated costumes with intricate details as much as anybody, but it's not until you draw these designs over and over again that you realize the power of simplicity. They're not just easier to draw — I find them more memorable.