"Driverless" 20 x 15″ acrylic on watercolor paper
I am interested in art as a means of living a life; not as a means of making a living."

~Robert Henri
This is my favorite quote about art.  I hope it becomes more apparent why by the end of this post.
Recently I've had the honor of having some paintings featured at the SCOPE Art Fair in Miami.  I've done a ton of articles and videos on technique and how I go about making an image.  Today, I'd like to talk about the content and inspiration behind this piece.
So I guess us guys will have to find another way to overcompensate for our penises.  Just for the record I think minivans are pretty amazing. 
But would a fleet of autonomous cars really be as efficient or convenient as owning your own personal car?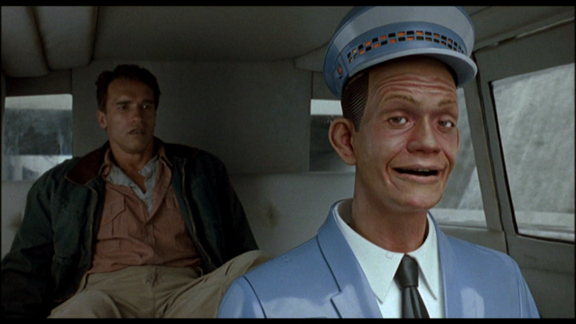 "Yeah, if you could take me to the chopper pronto that would be great.  Mmm k, thanks."
Let's be honest.  Somewhere deep down inside, you would miss this.
Something here that I think is worth noting, the 47% and 54% of jobs potentially lost to automation are very important numbers, in fact, a bit mind boggling.  But what I'm more curious about is this 25% unemployment during the Great Depression.  When might we potentially hit that number?  Would we see a mirror of what happened during the Great Depression?  In my mind by the time we hit half of the population being unemployed we've already arrived at the Thunderdome.  Not in the parking lot and walking to the Thunderdome, more like inside of the Thunderdome and hanging from a body harness.  You won't even need those tiny binoculars.  I know what you're thinking at this point, you're gonna bring your tiny binoculars just in case, cause seriously, you don't want to miss out.  I'm right there with ya, tiny binoculars, check.
So the question we should all be asking ourselves is "WHEN DO WE START SMASHING ALL THE MACHINES!?!".  And why would we smash all of the machines?  In order to save many of the jobs that we all love so dearly of course, jobs that pay fair wages, jobs that don't stress us to death, jobs that leave us with plenty of time to nurture our families and interpersonal relationships, or heaven forbid work on some personal art projects that have been on the back burner for years. 
Don't worry all you digital artists we'll save the art software for you.  But surely we can't have people running around without forcing them into some form of labor right?  So if we're not going to smash all the technology (sad face) what are some of our options?
In my previous post, Art and The Singularity, I didn't really go into possible solutions for this conundrum as much as I was describing the problem of technological unemployment and exponential growth in an economic system based on work for income.  Though, I had brought up the notion that society could choose to have a reduced work week, perhaps a 30 hour work week.  As a reminder, a 30 hour work week almost passed in 1933.
"What a relief!  Those 16 hour days were busting my yet to drop balls.  I can finally relax with a nice 14 hour day of work.  Ahhh, being a 5 year old is awesome."
I'm often asked why I choose to paint traditionally when my photoshop skills are off the chain.
I don't have an answer for this question.