For all of us Andrew Wyeth fanatics, and you know who you are, the holy temple, the mountain upon which his most enticing work in my view at least, can be found in his time at Kuerner Farm (aka Ring Farm). The most pervasive single location for all his work- over a thousand drawings and paintings, one third of his entire body of work at least, derived from his time at this extraordinarily haunting and beautiful place near Chadds Ford, Pennsylvania. Of all the Wyeth books I own, and I confess readily  that I own a few too many, it is the massive volume, WYETH AT KUERNERS that is among my most dog-eared, inky stained and lovingly abused of all the books I keep in the studio.
I came across the hardcover at a used book sale for about $5 and thought I had stolen it at that price, though now I find it can be had for a similar price nearly everywhere. Why this is I cannot begin to fathom except that perhaps it is not your usual monograph of seminal works we identify with Wyeth. It is a quintessential artist's art book. While Kuerner Farm was in fact the location for all of his controversial Helga paintings, there isn't but the slightest indication of her here. It is a kind of flowing visual journal of his time in the fields and old barns. Pages of the the same bucket over a stream mill basin, or rack of crows strung from a porch, and vast wide open landscapes feather by distant fence lines and barely reachable rooftops at the far edge of the horizon. It is a book that denotes not a single work, but is a collection of many works seen and meant to be seen as a single work altogether. Sketches, ink drawings, watercolors, swaths of mud scraped across the page, sometimes a single tiny nail and a loose thread in a vast field of paper.
I came across this book when I was in the middle of working on Freaks of the Heartland, and if you looks not too closely you will see its influence throughout that book. We had just moved up to an old
red 1700's cape house on Trouble Street in Cummington, Massachusetts. Between the reality outside the twelve over twelve windows of rolling hills and sugar maples, the breezeway connected barn filled with rusted old milk jugs, wagon wheels and flat squarish hand forged iron nails, cobblestones and moss, finding Wyeth's Kuerners book was like an affirmation for having decided to leave Brooklyn for this new place.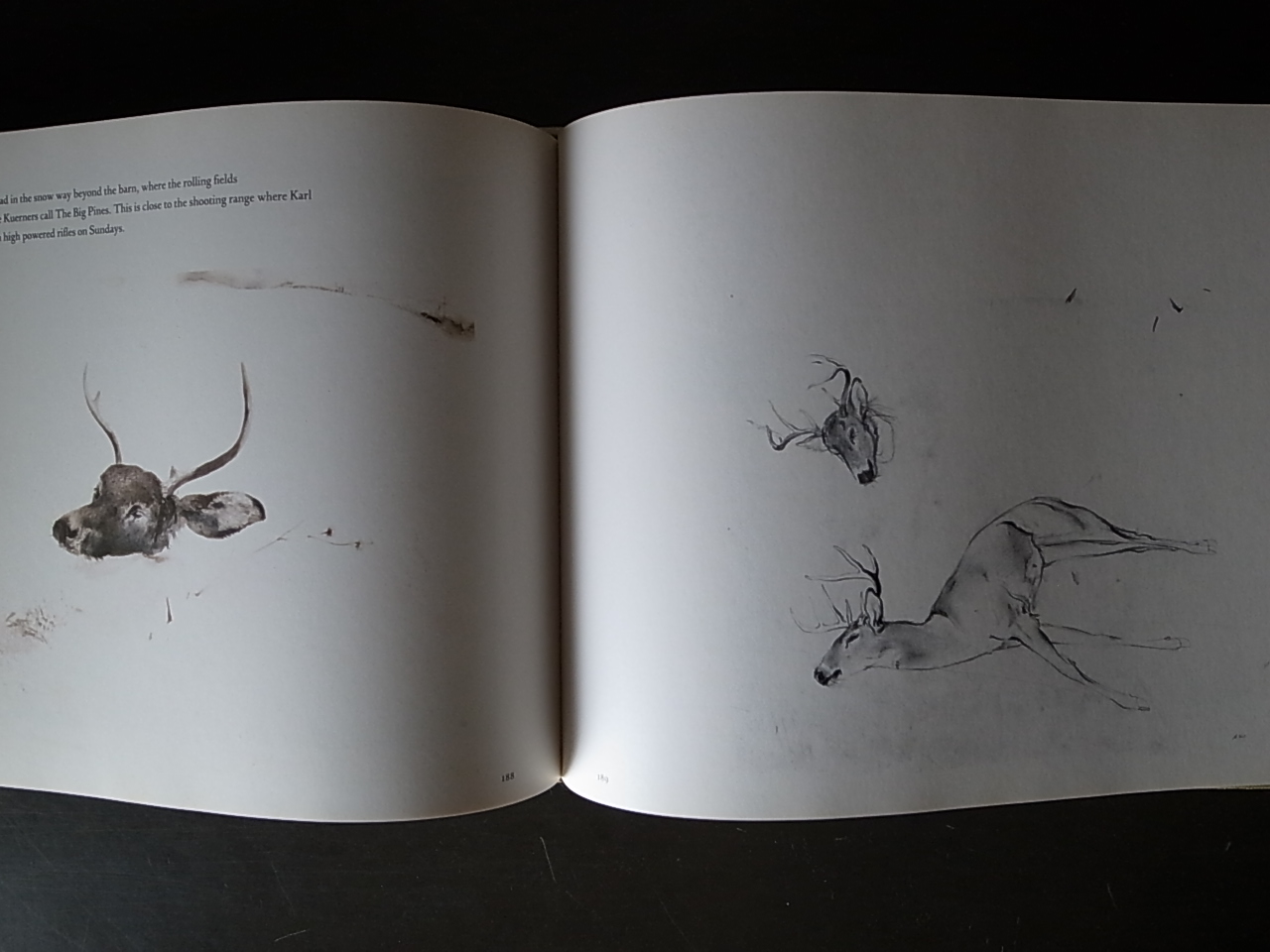 When I look back on it now, having delved back in just this morning, I am both reminded of the place and time of its discovery as well as the imminent and readily available value of the way the book is established and presented. For me one of the most compelling aspects of drawing is the selfsame rawness and immediacy contained within this heavy volume. The naked send of searching through
line, the free flowing experimental compositions, and explorations of light and form and place live best in the kind of drawings contained within. It is a celebration of that searching in paper form, both as fuel to encourage the reader to start mapping out his or her own landscapes, or simply to see the world, whatever locale they may find themselves in, in a new way down to its tiniest overlooked detail. It is like finding a sketchbook hidden in a floorboard like an intimate secret only you and he knows.
Wyeth at Kuerners remains for me one of the top ten most important art books I have ever had the fortune to bring home, and like most of the others on that list, is affectionately abused and overhead to the point of near collapse from use. A favorite old leather shoe near its final journeys but made more valuable for it in where they take you, and how. It's easy to track it down and come across it online and in brick and mortar stores, and I would encourage you to get a hold of a copy for yourself. Being able to see many of the originals at the Brandywine Museum made the accuracy of their printing a revelation. Being able to have the entire volume of thumbnails, trial drawings and sketches,  as vibrant evidence of the well won paths towards his most seminal and famous pieces is about as close to sitting next to him at his work as you could ever hope to get. There's something new to see and learn with each viewing.