by Cory Godbey
We all crave story, a narrative that will see us safely through the dark forest of our lives. We know that we will confront dragons there as well as evil witches, greedy kings and a very few kindly helpers. We know that if we can only win through to the other side of that wood then we will come to the tall, lean tower where our truth lies hidden.  
Art. Nature. Music. Reading. All help us along that twisting path.
Charles Vess, Into the Green, 2015.
Into the Green: The Art of Charles Vess
is a current exhibition at the
William King Museum
in Virginia. 
It's one that I haven't made it to yet (and time is fleeting, it's coming down on September 27th!) but I'm making plans to visit. You had the entire summer, Godbey, you might say. I know. I know. I'll get there.
I wear my artistic influences on my sleeve and so it's no secret to say that Charles' work has had a tremendous impact on my own. I've had the chance to see many of his other works in person and, my goodness, it's as if he's painting with distilled magic (it's actually colored inks). 
I'm drawn to his work for the exact same reasons that I'm drawn to this field of fantasy art and "imaginative realism" in general. It represents the perfect crystallization of what I love: draftsmanship, storytelling, and imagination. There is enchantment in the works of Charles Vess.
I have seen landscapes… which, under a particular light, made me feel that at any moment a giant might raise his head over the next ridge. 
Nature has that in her which compels us to invent giants: and only giants will do.

C. S. Lewis, Of Other Worlds: Essays & Stories, 1966.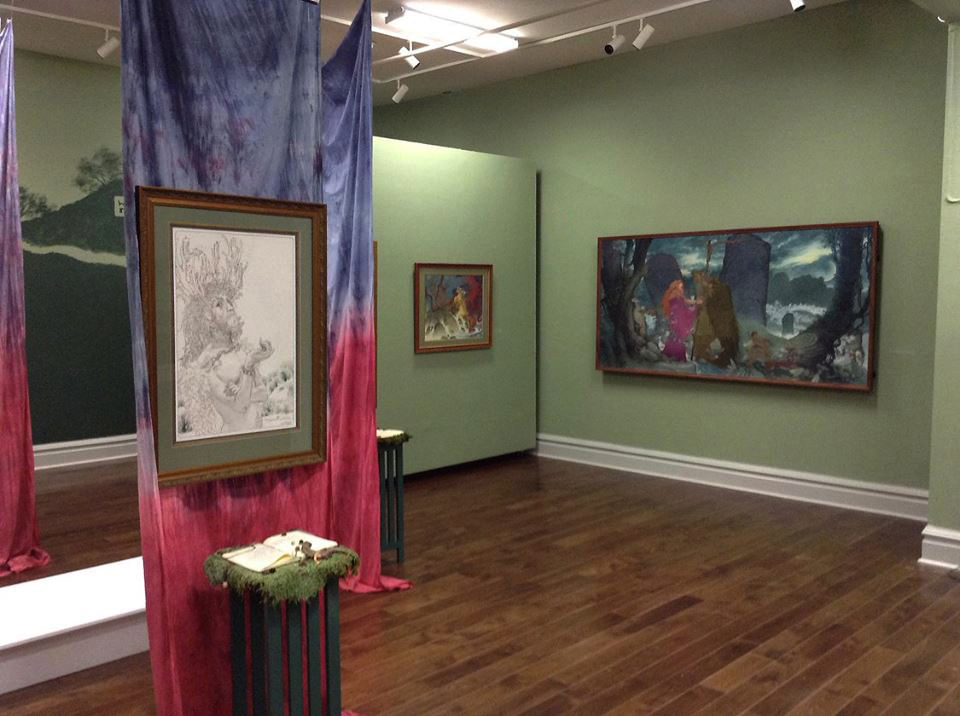 One unique feature of the exhibition that I am particularly interested to see for myself is the mural which wraps around the interior of the show. Like it? Too bad! It's only going to be there for the duration of the exhibition and when the show comes down it's gone. (Just one more reason to see it in person!)
It looks to be a wonderful collection of works from one of my very favorite voices in contemporary fantasy art. After I make it up to the show I'm sure I'll be able to do a follow up post with my own impressions.
From the
William King Museum
,
Into the Green showcases art from the fantastical worlds of Charles Vess including new works, personal favorites, and an exclusive gallery-wide mural that illustrates the journey we all travel through life.
Award winning fantasy artist and illustrator Charles Vess is known around the world and has called Abingdon, Virginia his home since 1991. Recent publications include illustrations for Charles de Lint's novels Seven Wild Sisters and The Cats of Tanglewood Forest, which are set in Washington County, Virginia. Collaborations with writer Neil Gaiman have resulted in numerous projects including several illustrated issues of his acclaimed Sandman series and the four-part series Stardust, which was made into a motion picture in 2007 and an exhibit at William King Museum of Art in 2006. Vess has worked on other commissions including the fountain Midsummer Play across from the Barter Theatre, is represented locally by Mallory Fine Art, and keeps a studio steps away from Main Street in Abingdon.
All images and photographs are © Charles Vess. Used with permission.