It seems that the more swamped I am with deadlines, the more I just want to work on personal pieces.
Here are a few more X-Men paintings I've been picking away at in my spare time.
Here is one of Kitty Pryde and her dragon familiar, Lockheed. I wanted to give this piece the feel of a classical portrait, so I decided to paint it on canvas, and a bit larger than my previous X-Men paintings.
'Portrait of Ms. Pryde'
Oils on Canvas, 14×18 inches
I started this piece off with a fairly refined pencil drawing on canvas. I then sealed the pencil with an acrylic wash of Quinacridone Gold, and a bit of magenta.
You can see some subtle differences in Lockheed's face. I struggled with his look for a while, trying to find the right balance that would make him feel real, while still maintaining his comic book features.
And here is one I recently did of Gambit as a live demo for The Illustration Master Class. I'm trying to keep the miniature paintings fun for me by making them as spontaneous and as unreferenced as possible. I started with a small thumbnail on a scrap of paper, and then just jumped right into the drawing directly on my board.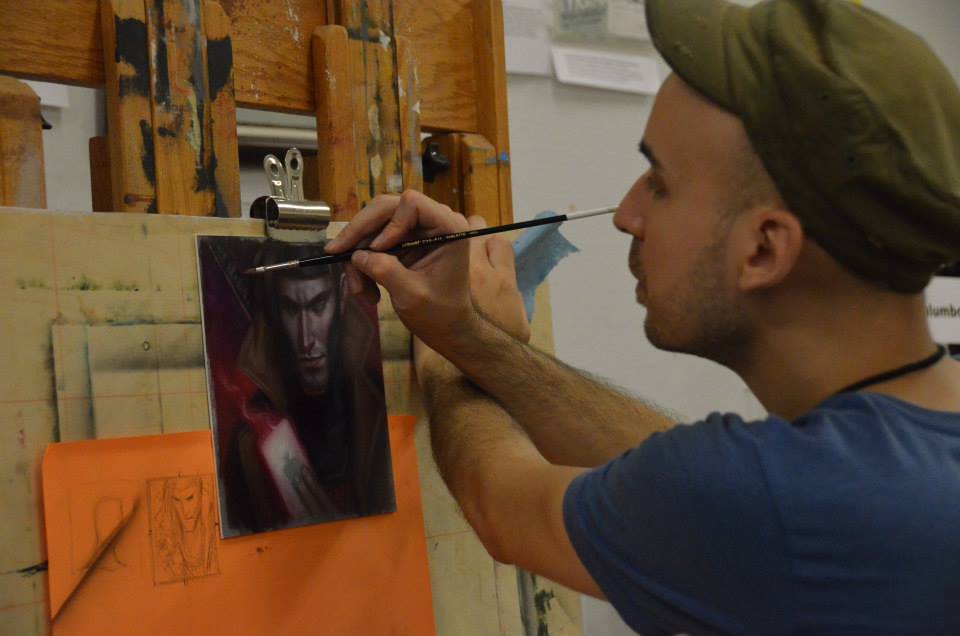 Photo © Irene Gallo
I wanted to demonstrate the use of a variety of materials for the students, so I ended up using a lot of different mediums, including: pencil, acrylic washes, acrylic airbrush, colored pencil, and oil paints. None of these mediums were particularly essential, but they work well together when handled properly.
'Gambit'
Mixed Media on board, 8×8 inches
And some of the previous X-Men in the series, which I hope there will be a lot more of soon…