Since I am surprisingly not away on a trip this post, Dan had the idea that it would be cool to see a day in the life of an Art Director — or at least this Art Director — in a candid photo stream. So stay tuned throughout the day, I will be adding as the day progresses…
 7:30am: Alarm goes off, snooze a few times, roll out of bed, hit the bathroom. Half of Orbit, including our publisher, is located in the London office, so by the time I wake up I've already got half a day's worth of emails from them to reply to. I used to answer them in bed, but it's too tempting to stay there.
Yes, it's a mermaid-themed bathroom.
8:00am: Caffeination #1. Espresso only, please.
I <3 my Nespresso
8:30am: Commute time.
The "heat dome" in NYC right now is making the subways especially sweltering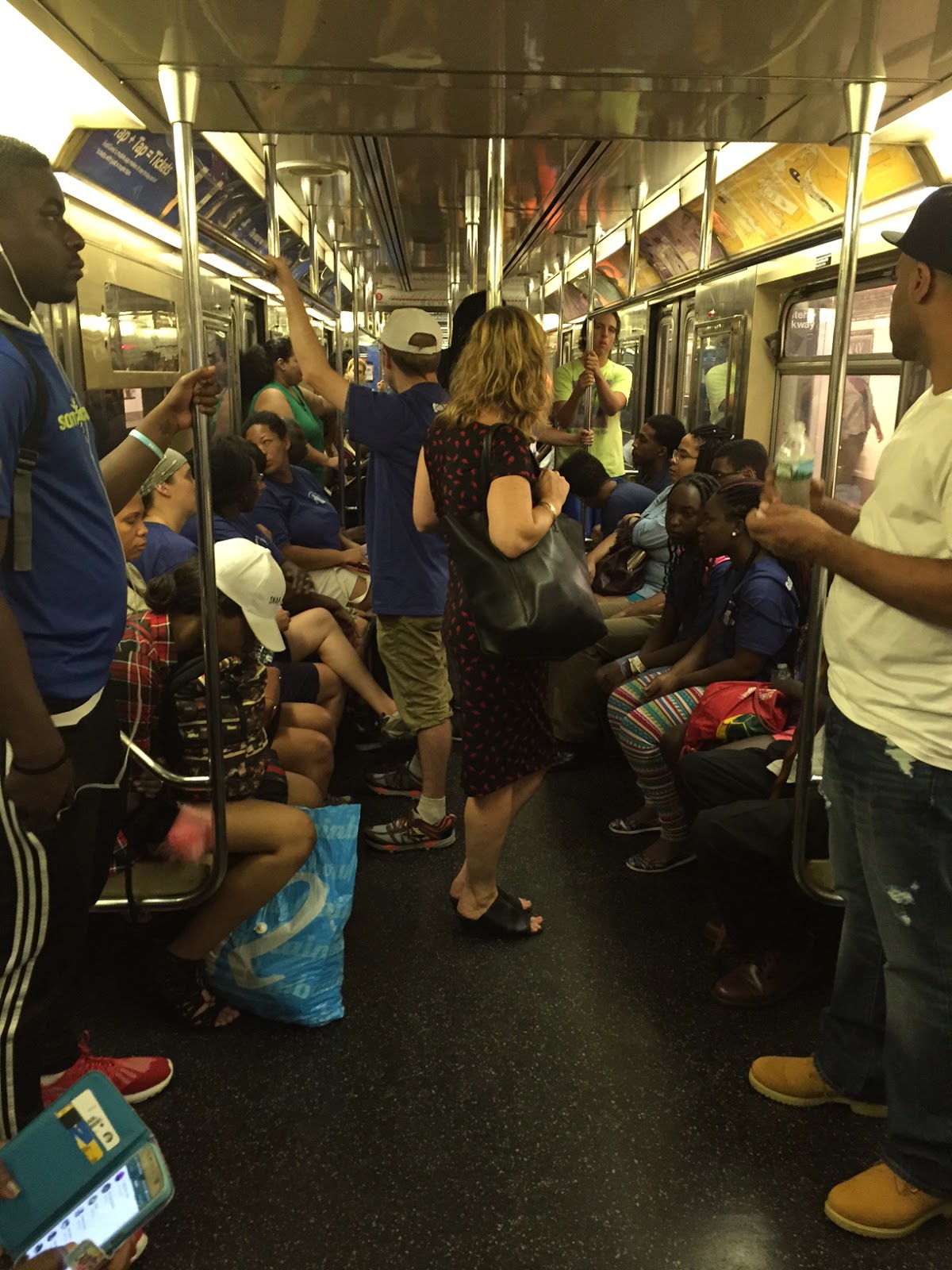 In the game of seats, you win or you lean awkwardly on a door until the train lurches you out of
your semi-consciousness and you flail to grasp a bar before you end up in someone's lap.
9:00am: Make it to Rockefeller Center and Hachette Books USA HQ.
Our perfectly white lobby…brutal on hangovers. (Not that I would know of course.)
Look at all the pretty books in our office reception! You can pick out a bunch of Orbit titles.
9:30am: My desk. Organized but overwhelmed at the moment.
Currently I have a double-wide cubicle because our display epson printer lives in the other half
and when there's an intern they sit with me. The R2D2 is a cookie jar that the Orbit team takes turns filling with candy.
The toy pile. Much Supernatural, Jean Grey, Star Wars, and an
Allen Williams original paper plate drawing <3
The Orbit Orc is, unsurprisingly, Team Dean.
The stack of "cover flats" — final printed covers we use as both a final check before
books are bound and to decorate the office, keep for reference, send to authors & artists, etc.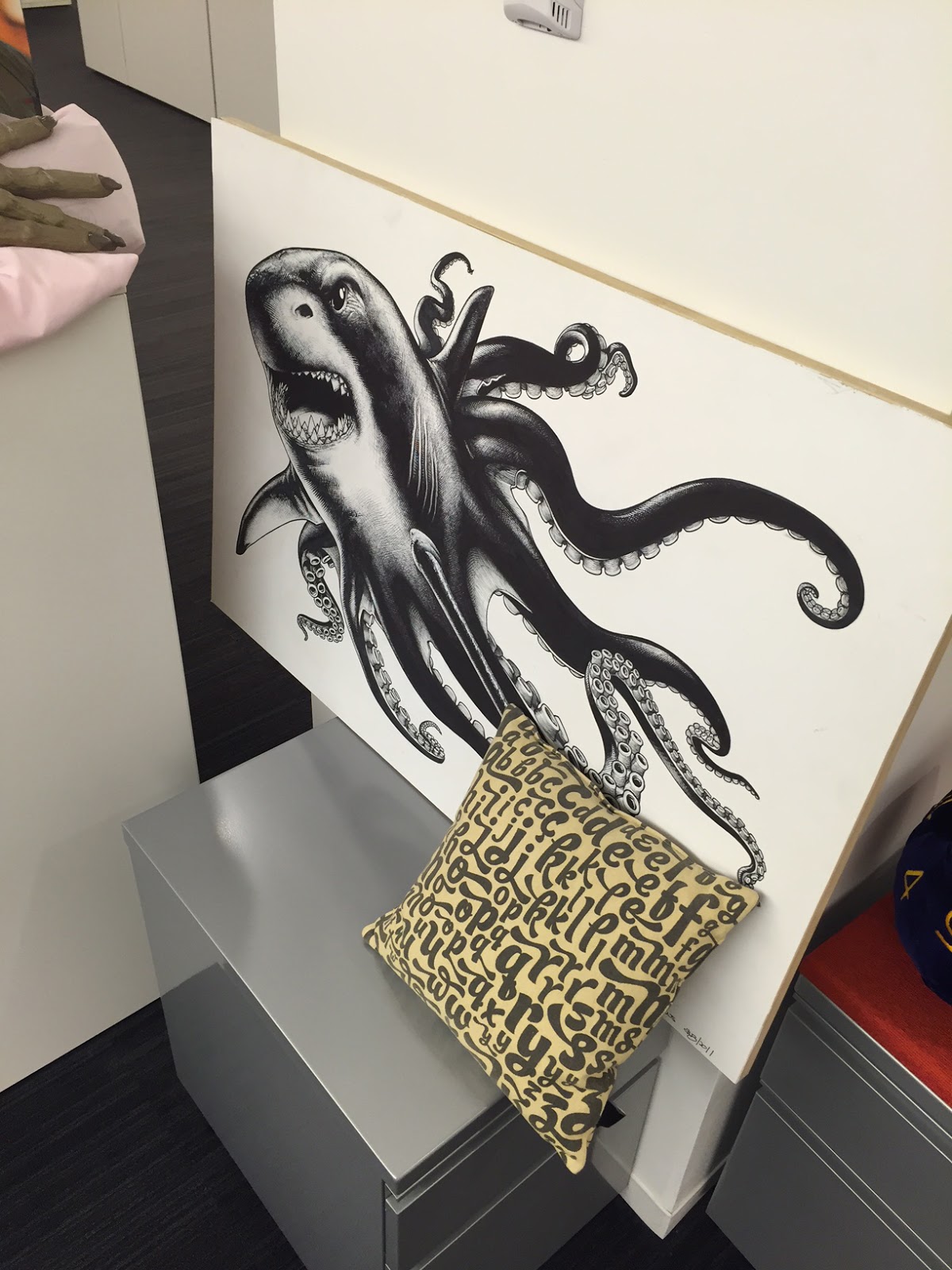 Next to the Orc lives his buddy the Sharktopus painting, courtesy
of Gregory Titus. And by "courtesy of" I mean I stole it out of his studio. (ok ok it was a gift)



10:00am: Prep for cover meeting! Every thursday, Orbit Editorial, Art, some Marketing folks, and sometimes our main Sales rep all gather in a conference room with a big screen to have the weekly cover meeting. Since half our team is in the UK, our publisher and fearless leader Tim Holman teleconferences in from London and I link my screen to the teleconference so we can present covers digitally. (As a bonus, think of all the trees we save not printing everything out!)
At a cover meeting we talk about directions for new covers, go over artist choices for covers that need illustrations or photo shoots, show WIPs from both freelancers and the in-house design team, and show covers for final approval. This week were showing progress on covers that are being worked on by Kirbi Fagan, Richard Anderson, Dominick Saponaro, and Bastien Lecouffe Deharme. So depending on what stage everything is at, I prep folders of jpegs for each cover with previous books in the series, work from the artist's portfolio, type options, etc.
Since I can't show you what we're working on in this cover meeting yet, here's some things I CAN show you related to each of those artists:
Here's the first cover in the series I'm working on with Dominick…
currently he's working on thumbs for book 2.
This is going to be Kirbi's first book with Orbit, so I can't show you previous books, but these are the images in her portfolio that I showed to get approval from Editorial. She's working on thumbs for a standalone book.
This is the first cover in the series Bastien is doing with us — currently he's finalizing the illustration for book 2.
The first series Richard Anderson illustrated for us a few years ago. Seven Princes is still one of my fave Orbit covers.
New images from Richard's portfolio that we're using for direction on the new series.
11:00am: COVER MEETING. Pretty much the apex of the week for the Art Department. We work all week to prep and design and art direct, then present everything in the cover meeting. Cover meetings at Orbit are not very bureaucratic – it's more of a collaborative conversation. Occasionally it turns into a geeky free-for-all, but that's awesome, in my book. I tend to prefer erring on the side of too much debate rather than people feeling they can't speak up about a cover. So we all give feedback and then Editorial & Art decide which path to take forward.
Where did that very green cupcake come from, you ask? Do we always have treats to get us through cover meetings? Turns out this week we had a special occasion in the cover meeting: Crystal Ben's birthday!
Who is Crystal, you ask? Well a few months back Orbit and Yen split into two separate divisions. I went with Orbit, my previous team went with Yen, and I got the opportunity to build a new design team from scratch. I haven't had a proper chance to introduce my new minions design team: Lisa Marie Pompilio, Senior Designer, and Crystal Ben, Designer (and Illustrator). They both came from St. Martin's Press, which, incidentally, is also where I got my start in book design.
Lisa Marie Pompilio with the Castiel mask, Crystal Ben with the Dean mask.
They actually made those to get my attention when I'm at my desk with my headphones on.
They're already fitting in quite well (thankfully they both like Supernatural so we don't have to do the work of indoctrinating them) and I'm excited to start sharing the work they're doing on covers.
1:00pm: Lisa & I took Crystal to Chipotle (her favorite) for her birthday lunch. She was excited because I had never had Chipotle before. Clearly I live sheltered life.
2:00pm: Post-Cover Meeting Emails: All the things discussed in the cover meeting have to be put into email form and sent to the relevant editors so they can have discussions with the publisher, author, etc., and then come back to us with feedback. Sometimes we just send the images exactly as we showed them in the meeting. Sometimes there's simple revisions and we do those before emailing them out. If we're choosing freelancers for a title it's an email composed of artist portfolio links and relevant images pulled out of those portfolios with a writeup of why each artist would be a good choice for the title.
3:00pm: Updating the cover grids: I keep a master document that shows thumbnails of all the covers for an entire season on one 11×17″ page, color-coded to what level of on-fire/past deadline they are at the time. After we send out all the emails to the editors, and back up those covers on our server, then I update the cover grids. It's like visual meeting minutes, which keep the US & UK teams on the same page, and act as a reference document for everything we need to do and all the deadlines. It's great for  the art team to be able to keep tabs on everything at a glance, and it's a great reference for Editorial to know where each title is without having to keep asking us by email.
No, I can't show you the grids, sorry.
4:00pm: Uploading covers into the vault. Catalog deadlines are coming, and we need to get our covers into the company vault digital system. It's a big intranet-accessed database that holds covers, author photos, ebooks, text—pretty much everything that gets published physically or digitally—and both archives it and feeds it out in-house to other departments, out to the catalog, and out to retailers' websites like Amazon.com and BN.com.
5:00pm: Feedback to Artists: After cover meetings, when I have feedback and direction already decided—sometimes it takes the editors some time to get back to me—I will email artists about next steps. Every Art Director has a bit of a different style of doing this, but I like to make sure the artists don't only know what to do next, but why. I will give them the problem (ex: not enough dynamic movement in the piece) and then the suggestion the editors & I have come to (add more explosions) — I am hoping that the artist thinks about the problem and the proposed solution, and if they have a better solution, that they suggest it. If the illustration is far enough along I am sending back type mockups over their art, so they can see how the cover is developing as a whole. Ideally it would be awesome to see the solution we suggested and a different solution if they have it, but that's not always time feasible. I want an artist to see and understand the problem, then revise it not just to tick a box we gave them, but to actually solve the problem. Above all other things, I want to work with artists who communicate and problem-solve. Art Direction at its best is a collaboration. 
The artists I want to work with again and again aren't just mindless hands executing what I want — they're also bringing their skill and experience and own desires to a project. Ideally my goal is to get a great cover illustration that solves all Orbit's problems, and also is a piece that the artist is proud enough of to put it in their portfolio. It's the highest compliment when I hear another AD has hired an artist on the strength of the work they've done for me. If an award or a Spectrum inclusion gets thrown into the mix, that's even better!
Some of my favorite Orbit covers that use illustration have to do with not only the final product, but the way each illustrator worked with the brief and the process it took to get to the cover:
Daniel Dociu, Greg Ruth, Stephan Martiniere, Dave Palumbo, Sam Weber, Will Staehle,
Tommy Arnold, Dan Dos Santos, Christian Hecker, Jamie McKelvie, Greg Mollica, Kirk DouPonce
7:00pm: Still giving feedback: Feedback emails are a delicate thing. You want to explain the issues, offer the suggestions, give any relevant detail that the artist needs to make those changes (which often involves looking things up in the manuscript and/or emailing the author directly for the shape of those alien ships one more time — would you say they were more geometric, or organic?) and putting it all into an email short enough that the artist will get to all the things you need without zoning out in all the details.
I know this sounds mean, but MOST ARTISTS ONLY RESPOND TO HALF THE EMAIL. It's so incredibly frustrating. If there's a "secret" tip to how to be asked back for repeat work from an AD it is simply this: READ THE WHOLE EMAIL. Then go make revisions. THEN READ THE EMAIL AGAIN. There's an artist I know that literally prints out the email, and crosses off bits as they address them, so they are sure they at least verbally address everything the AD asked for. They will have work for the rest of their days without ever needing to try. Once they've worked for an AD once, that AD is going to hit them up over and over because they are reliable and less work to art direct than other artists.
It sounds so simple that most artists scoff. (Especially the artists that I know for a fact routinely send back revisions only addressing half of what was asked for.) And then the AD has to email back again. It eats up deadlines and frustrates everyone — the AD, obviously. Then editorial, if they have to see the half-revised art due to deadlines, and either think the AD forgot to give all the feedback, or think that all artists are flakes and they just decided not to do it. The artist, in turn, gets frustrated when they think they're being asked for another round of revisions yet it's really just the revisions they didn't register in the previous round.
So read the whole email carefully. If you don't agree with something, talk to the AD about it, don't just leave it out or pretend it doesn't exist.
8:00pm: I look over at the editor also working late and we pantomime a drink and both nod. It's way past happy hour but there's a bar a block away that has decent scotch in it and sometimes you just want a drink and someone to commiserate with. NO matter how hard you try to not talk about work, you end up talking about covers and artists and feedback and status of things. I think it's really important to get to know your editors (and they need to know their designers) because each has different tastes, language to explain what they think visually, and communication styles.
Getting out of the office and sharing a drink lets you get to know someone you work with in a way you just can't in the office. A lot of what an AD does is act as a translator — between artist speak and author/editor speak — and you have to understand both languages to be a good middleman. Just sitting and talking about shared projects from each person's POV is a great empathy tool. In every project I do I have to balance the needs of Orbit — publish awesome books with awesome covers that sell really well so our authors can keep writing books and we can buy more books and support more authors — with the needs of my artists — make gorgeous art and get paid for it. Artists forget sometimes, there's creatives on both sides of that equation. Authors are creatives too, and when publishing works, it's supporting creatives on both sides. I care about my authors as much as I care about my artists, and I want both camps to succeed and be happy and well-fed.
8:45pm: Commute home.
9:30pm: Stop at Marc Scheff's house to talk about Drawn + Drafted updates we have in the works. I time it so that I show up (with food I grabbed on the way home) just as he's got the kids put to bed. We've got about an hour of constructive conversation left in me before my brain starts to turn mushy.
12:00am: Walk home. It's very convenient to pick apartments walking distance from your collaboration partner. The walk is just long enough to chat with Zoë Robinson (and perfectly timed to hit when she's getting home from Blizzard in CA) and exchange AD gossip about projects and artists.
12:30am: BED!
12:35am: Can't fall asleep without checking the work email one more time. End up responding to a few artist emails since they're probably still up late working and need feedback on WIPs/detail questions.
1:00am: SLEEP.
——————————————————
So there you have it, a very typical day for this Art Director. Things that also happen frequently that just didn't happen this particular day: Production meetings, getting interrupted 20+ times a day to approve or sign something, chasing invoices, having meetings with departments outside Orbit, looking at 100+ artist newsletters a day.
SaveSave