Well, you can probably already tell that there have been a few changes to the Blog!
With the help of our Patreon Supporters, we are hoping to grow Muddy Colors into something that will stand the test of time. That means making Muddy Colors as useful as possible for our readers by helping them find the information they need as quickly and easily as possible.
As always, the Search Bar function is your best friend if you're looking for something very specific. But for more general queries, we now have various Sections for the blog.
You will notice some new Tabs up above. Clicking on these tabs will narrow the themes of the posts you see on the blog. For instance, if you're looking to stay up to date on upcoming events such as Gallery Openings or 'Call for Entries' deadlines, just click on the 'News' tab, and you'll only see posts of the appropriate topic. There will of course be some overlap, as just about every post here on Muddy Colors falls into multiple categories, but we will try our best to keep things neat and tidy.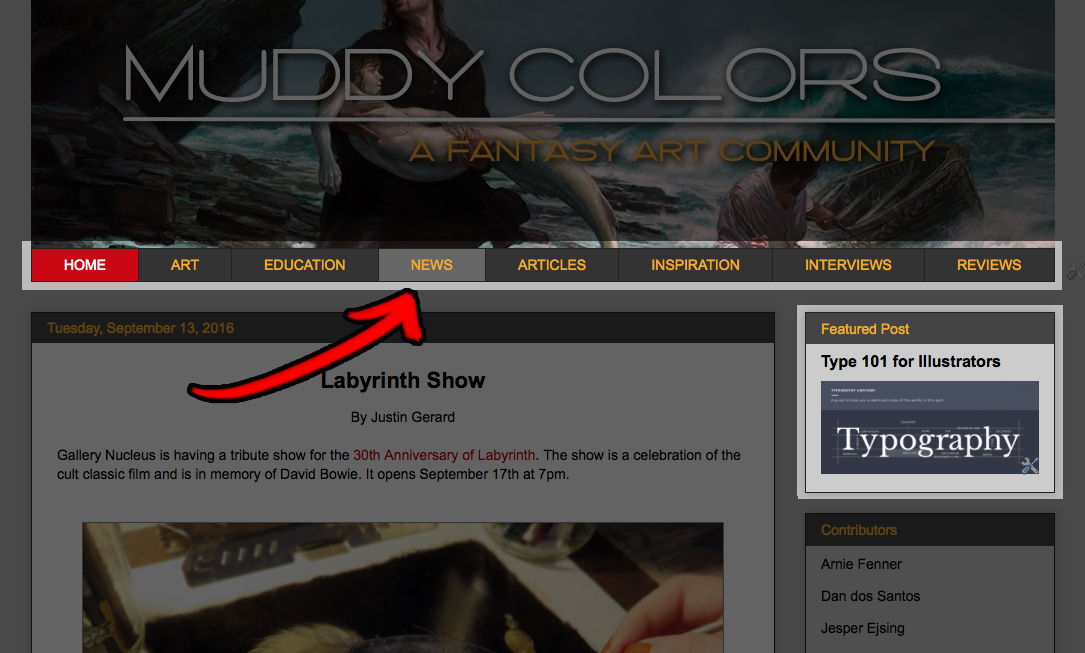 The categories are as follows:
Art: This is for posts where our Contributors show off their newest works.
Education: Here you'll find process shots, step-by-steps, and general educational materials.
News: This is for Gallery Openings, Call for Entries, Book Releases, etc.
Articles: This is where you'll find the more Opinion-driven posts delving into a variety of topics.
Inspiration: An amalgam of videos and pictures featuring other artists that we find inspiring.
Interviews: Learn more about various artists though Q&As, documentaries and podcasts.
Reviews: Here is where you'll find things like book reviews and information on tools and equipment.
And of course, just click the 'Home' tab to see ALL of the new posts as they come in, regardless of category.
In addition to the Tabs, you can now search for All Posts Written by a Single Contributor! All you have to do is click on their name in the sidebar to your right, and then follow the link that says 'See All Posts By…" If you have a favorite artist here on Muddy Colors, this is a great way to delve into their past catalog of posts.
We've also added a 'Featured Post' widget, where we will highlighting some of the very best posts of all time on Muddy Colors. Hopefully you'll discover something cool you may have missed!
Now, we do have thousands posts that we need to categorize, so it's going to be a little while before everything is complete. But we're working on it, and we've already got a good chunk of it done, including ALL the Author listings. So click around, see what you find, and enjoy!