Blue Ribbon – 18×24 Oil on Board
My mouth is dry and sweat has begun to bead on my forehead. It's been two weeks since I finished my last painting. I don't know why, but for some unknown reason, the sandstorm that has swept great empty dunes over the creative desert of my brain won't stop blowing. My eyes cringe against the wounding sunshine. In truth, I know what lies buried beneath the sand. There is a great treasure trove of ideas, hints at masterpieces. But no matter how hard I try, all I can do is stare out at the wasteland of sand that turns a brighter and brighter white as the time passes. My fingers grip tight over a quivering pencil.
This is what future faces me. The plain white gritting piece of paper.
Every ounce of effort must be applied just to put the graphite tip to that pristine white sheet. Why, I ask myself, is it so difficult? Then, in a quick, reckless stroke, a single line is applied, spoiling the clean space. A guttural emotion of triumph overwhelms me and with all hesitation abandoned, the pencil takes hold of my senses and releases what has been waiting, caged within.
Blue Ribbon Sketch
Okay, so that's a little lyrical, but it gets the point across. We've all been faced with the struggle of starting something new—and yet all it really takes is simply putting the pencil to the paper and letting it do it's job. Forget about making the perfect sketch. It will work itself out. It might take one time, it might take twenty. Here are some of the sketches I started out with before they became completed into paintings; some exceptionally simple, some worked out multiple ways, and some fairly fleshed out from the beginning. All of them began the same way—as a ridiculously frustrating plain white piece of paper.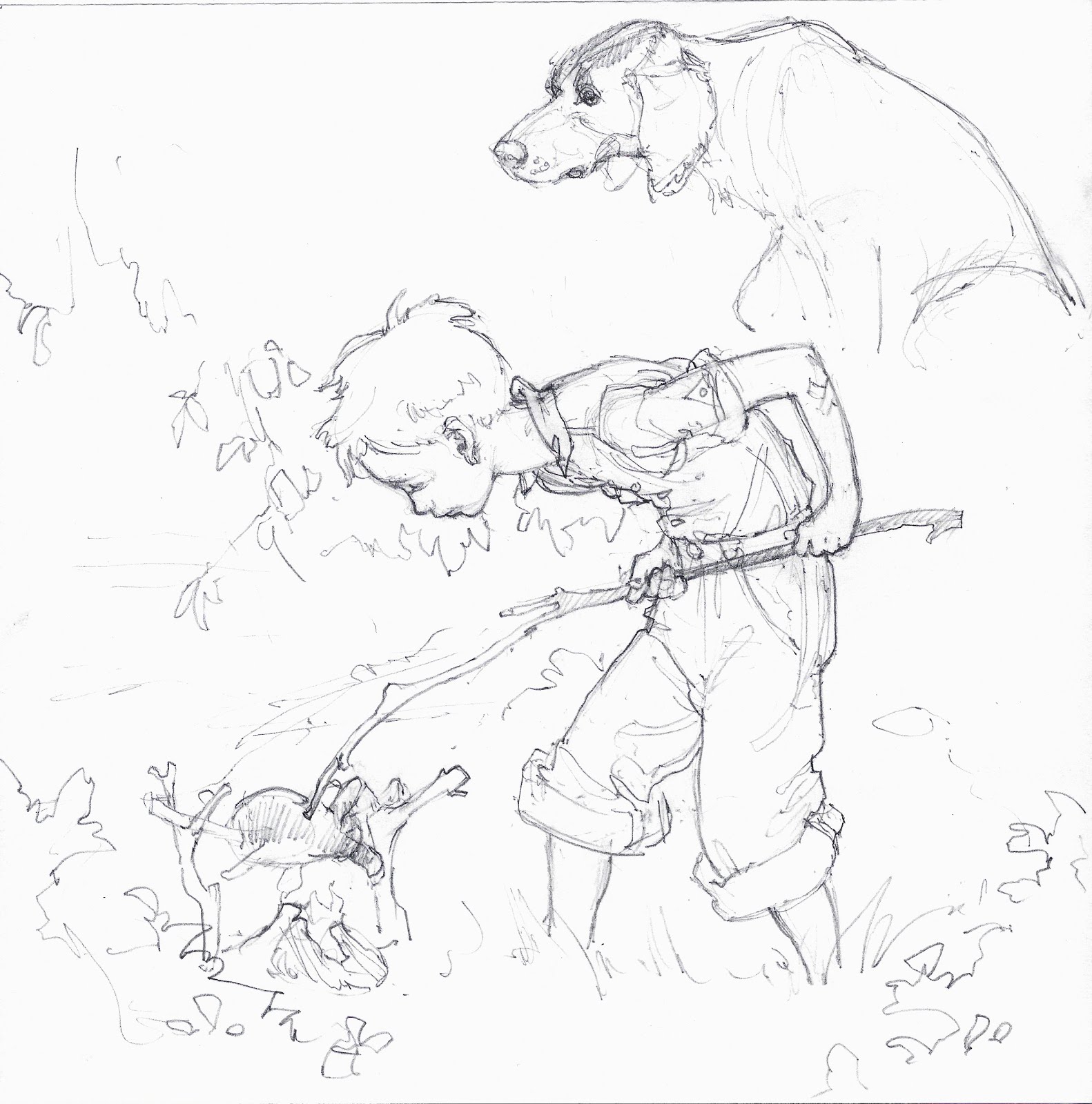 Chuck sketch
Chuck – 12×12 Oil on Board
---
Game of Chase sketches
Game of Chase – 48×24 Oil on Canvas
---
The Insatiable Mr. Toad sketch
The Insatiable Mr. Toad – 18×24 Oil on Board
---
Etherium sketches
Etherium sketch
Etherium – 18×36 Oil on Board
---
Alice sketch

Alice sketches – notice how I ran out of paper
space? I just grabbed another piece of paper
and kept on going…
Alice background sketch
We're All Mad Here – 24×48 Oil on Board
---
Crimson Ribbon rough sketch with associated reference file markers
Crimson Ribbon composition sketch compiled in Photoshop
after drawing each element separately.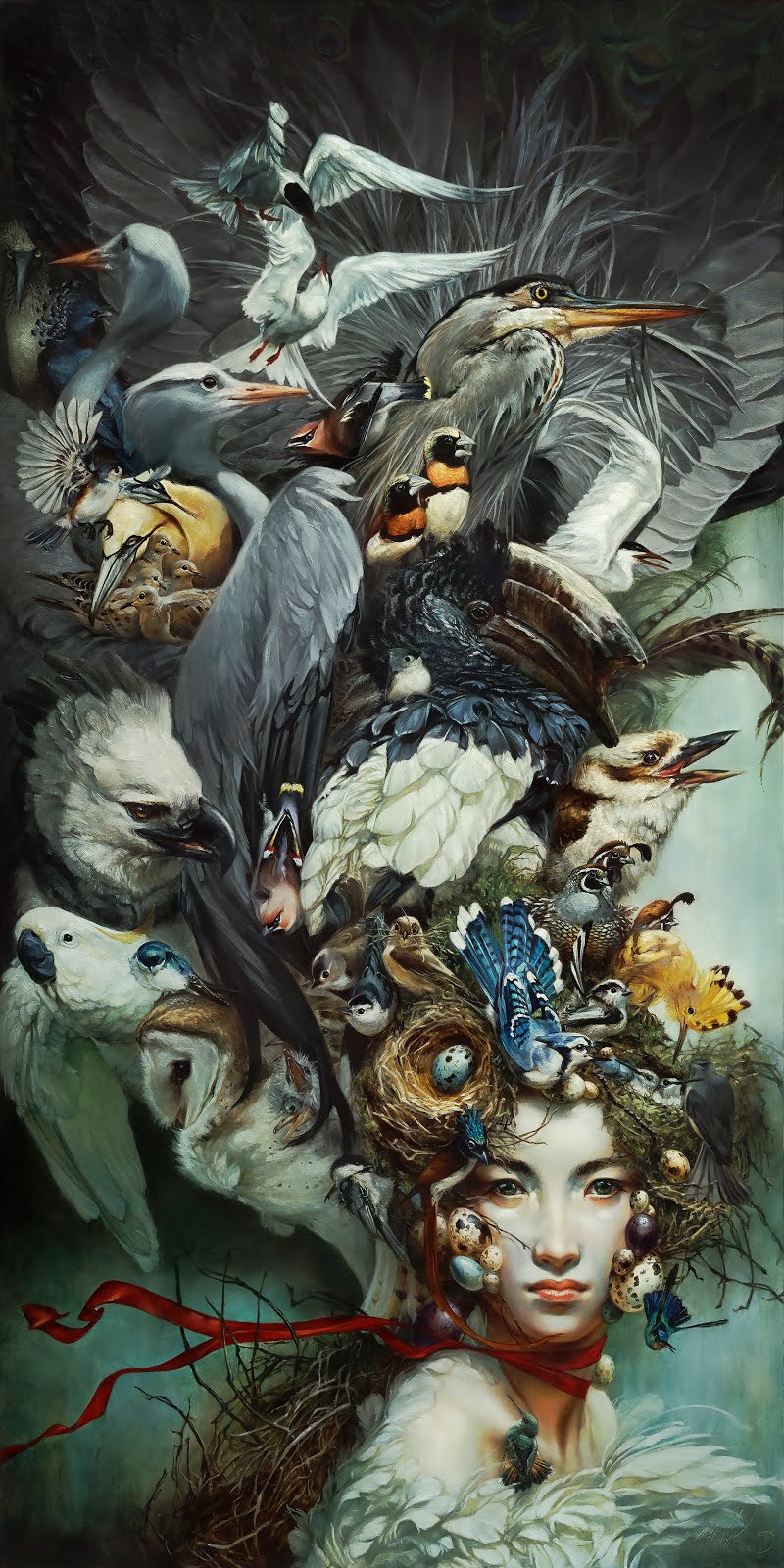 Crimson Ribbon – 18×36 Oil on Board
---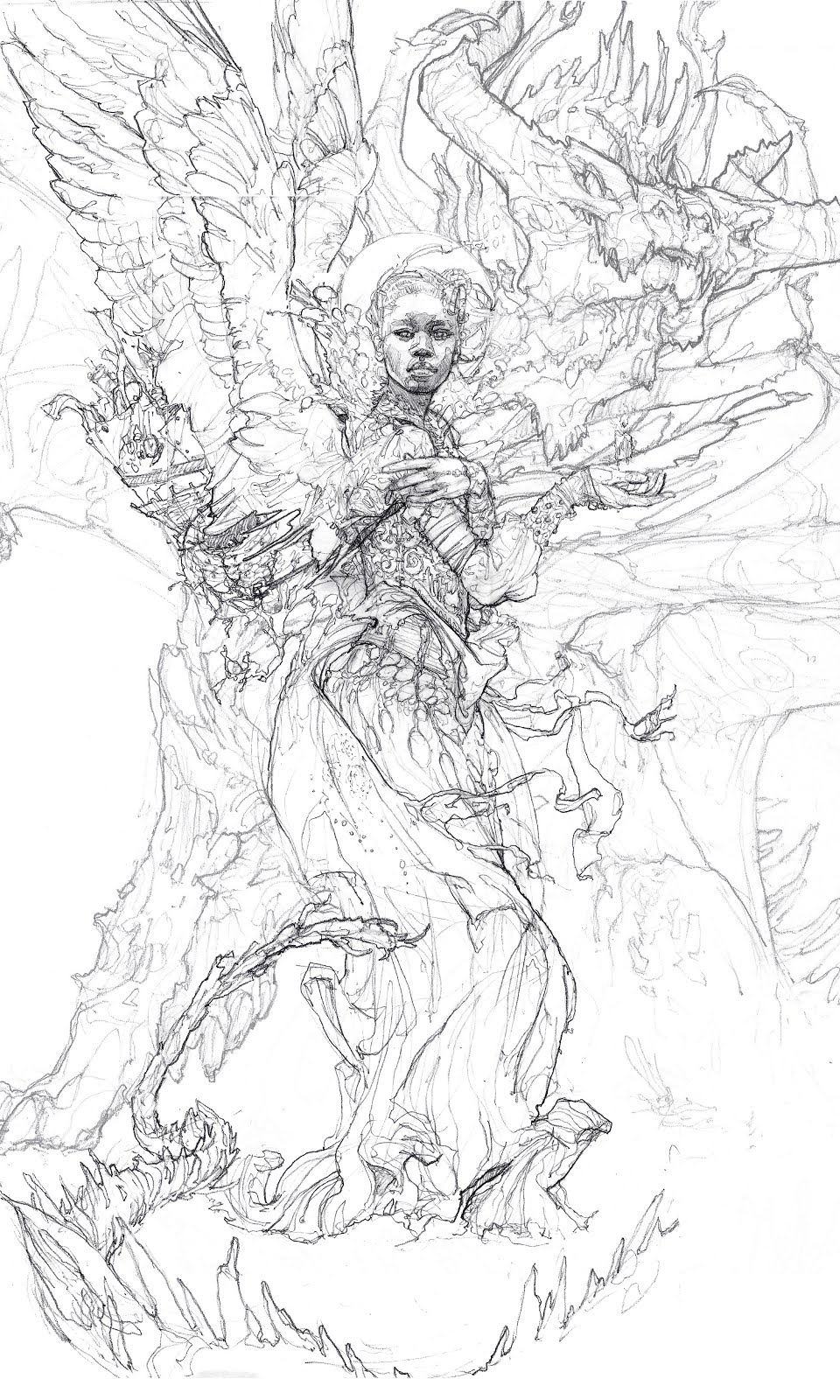 I Am sketch
I Am – 36×60 Oil and Gold Leaf on Board