The 25th anniversary Spectrum competition opens for entries today. I've written quite a bit about Spectrum: The Best in Contemporary Fantastic Art in the past and new visitors to MC can hit the links to learn the backstory. Why does Spectrum continue to matter after 25 years; why does it still matter with all of the other venues for artists via the internet and social media and conventions and self-publishing?
Well, before I introduce the Spectrum 25 jurors, let me answer the question by repeating some of the things I've said in the past.
Spectrum, quite simply, was first.
It was the first annual for the Fantastic Arts; the first to purposefully focus on both the subject matter and creators who were largely being ignored by mainstream arts organizations. It was the first to showcase dimensional works and comics art. Spectrum was the first to provide credit to artists for their works at a time when they toiled often in anononimity; the first to give a voice to our field, the first to provide a rallying point, and the first to encourage a sense of community. Spectrum opened doors of opportunity just as it opened eyes and wallets of employers and collectors; other art annuals, gallery shows, art-focused conventions, and genre-intense workshops have followed the paths that Spectrum blazed.
Spectrum is without question the most diverse, the most inclusive, and the most far-reaching art annual produced today: it has the highest circulation of any source book/best-of-the-year being published, bar none. It is not only seen, but it is used; the testimonials from artists whose careers have been helped by appearances in Spectrum are legion. More eyes means more opportunities to connect with employers and patrons.
All artists (and art directors) are welcome to participate, regardless of where they live, regardless of whether they're amateurs, students, or professionals. It's not a clique or a private club. Age, gender, race, religion, politics, nationality, ethnicity, or methodology don't matter: Spectrum simply does not discriminate against any artist. Period.
Nothing is prescreened: everything entered is voted on by the judges. There is an entry fee to participate (which routinely makes some people fuss), but the fees are used to offset the expenses of bringing the jury together (to view the art in person and cast their votes) and—something to consider—anything left after expenses goes to offset the costs of various events and exhibitions that help raise the profile of the Fantastic Arts and benefit our community as a whole. Spectrum has always given back.
No other competition for fantastic art—none, nada, zip, zilch—brings their jury together in one place, at one time, to cast votes. And their personal interaction reinforces the import of their decisions; regardless of the results, each Spectrum jury is uniquely thoughtful and deliberate in doing their job. Fellow Muddies Dan dos Santos, Donato Giancola, Greg Ruth, Justin Gerard, Greg Ruth, Cory Godbey, Greg Manchess, John Jude Palencar, and Dave Palumbo have served on previous juries and can attest to how seriously they took their responsibilities.
Not everyone who enters Spectrum gets in; admittedly that pisses some people off, but it's not a popularity contest. Artists can't go online and entreat their friends and family to cast ballots; they can't campaign for inclusion or awards like we see every year for the Oscars®. The entry fee only guarantees that the art will be reviewed by a blue-ribbon jury and nothing more—and the jury is on its own to review and contemplate and vote. Spectrum is about craft and skill and vision. It doesn't matter who someone is or how successful they might (or might not) be: the only thing that matters is the quality of the work. And because it is difficult to get a majority of the judges' votes, making it into the annual—being selected as one of "the year's best"—has significance. If an artist appears in the book year after year, it's an acknowledgement of the quality of the work itself, not the name attached to it.
Spectrum is a vibrant symbol of excellence for our field. Art directors, publishers, collectors, and fans around the world notice. It only succeeds because the community that supports it. As Gary Gianni once said, it's a benchmark for our field. And, as a result…yeah, after 25 years it most definitely still matters. Which is rather nice, don't you think?
So…without further blather from me, let's welcome the jurors for Spectrum 25!
---
Chuck Pyle
Chuck Pyle is the legendary illustrator/artist and instructor who currently serves as the Director of the School of Illustration at the Academy of Art University in San Francisco. He was presented with the prestigious Distinguished Educator in the Arts Award by the Society of Illustrators in 2015.
---
Karla Ortiz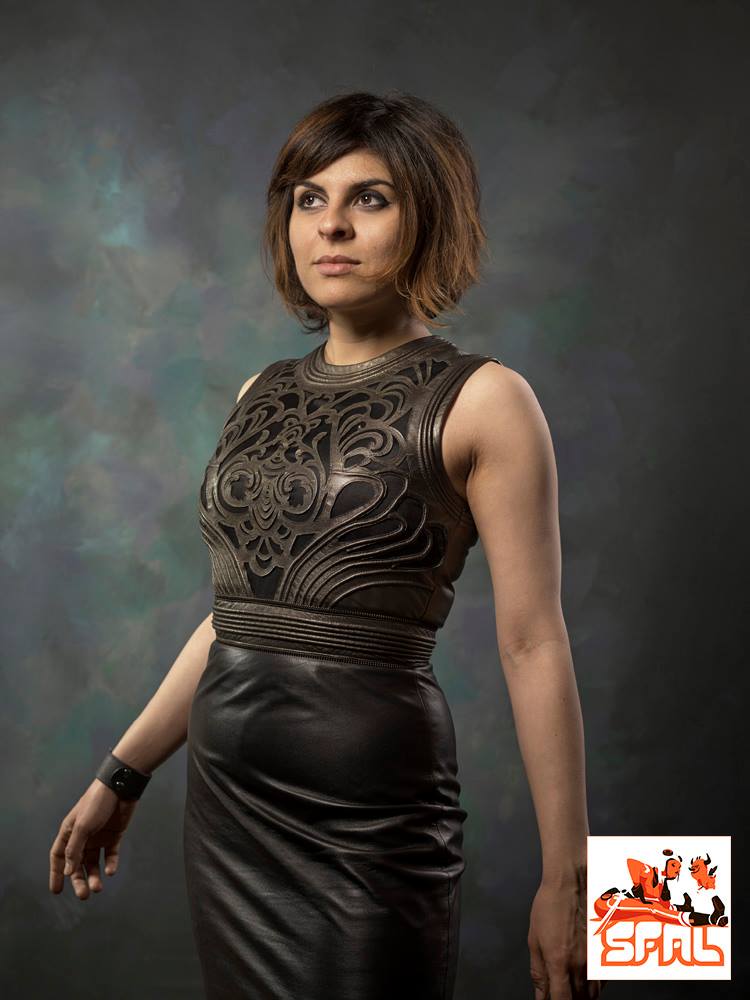 Photo by Greg Preston
Karla Ortiz is an award-winning illustrator, educator, gallery painter, and concept artist. She has worked for Industrial Light & Magic, Marvel Film Studios, and Universal Studios. Some of her most recent film design work is on display in Dr. Strange.
---
Tran Nguyen
Photo by Greg Preston
Tran Nguyen is a multiple Spectrum Award-winning artist. Effortlessly alternating between commercial assignments and fine art her clients include everyone from Smithsonian Magazine to MacDonald's to Buzzfeed to Playboy.
---
Tyler Jacobson
Already a giant in the game market (WotC, D&D, Paizo) Tyler Jacobson has now become a titan among editorial artists with assignments from Rolling Stone, Entertainment Weekly, The New Yorker, and many others.
---
Terry Dodson
Photo by Greg Preston
Terry Dodson is not only one of the hottest creators in mainstream comics (Wonder Woman, Star Wars, Harley Quinn, et al), but he has also freelanced for Hasbro, ESPN, and Hanna-Barbara.
You can find out how to participate in Spectrum 25 by visiting the official website. And allow me to direct everyone to Dan dos Santos' post on MC several years ago: it's great advise. And remember to mark the deadline on your calendars: January 25th, 2018. Thanks to everyone who participates and good luck one and all!