W. O'Connor 1991
When I was starting out as an art student I was taking an illustration course in Manhattan at Parsons School of Design. The class was taught by Stuart Leeds, a well established cartoonist for The New Yorker. One day while skimming through my sketchbook, Mr. Leeds commented that he really liked my studies and gave me the assignment of getting some art supplies and making a proper pen and ink drawing from one of my sketchbook doodles. Now, I didn't want to do pen and ink, this was 1991 and I wanted to be Keith Parkinson, but I was a dutiful student and went to the Pearl Paint  (RIP) and bought a bottle of Higgins ink, a crow quill pen and some ledger paper and took them home. I ended up producing three pen and ink drawings. I enjoyed the process, but quickly returned to my painting and left the drawings in a box. A few months later when I was building my first portfolio, it was a little thin, so I padded the back with the three pen and ink drawings, and mailed them out. About a month later I received a letter (yes, a letter). From the art director at White Wolf, who said he loved the pen and ink drawings and commissioned me to do 27 more just like it for Ars Magica. That was my first job.
October marks the return of Inktober™ in which artists are encouraged to produce and share an ink drawing every day of the month. I've decided to partake this year, and I have been enjoying seeing all the amazing work coming out of the project and having a lot of fun doing them myself, even if I am woefully rusty. I thought this would be a perfect chance to do a quick survey of the history of ink illustration and art.
•Western Ink Tradition
Ink and art go back a long way. It could be argued that drawing with ink goes back to the Egyptians or Romans, but the beginning of Pen and Ink as we would recognize it is medieval. The combination of paper and ink with quill becomes common in the monastic scriptoriums of the middle ages.
Utrecht Pslater 9th C.
The Renaissance sees a flowering of ink drawing as modern artists begin to produce sketchbooks and studies for engravings. The increasingly inexpensive medium of ink, paper and quill makes ink sketching very popular among artists for the next several hundred years, giving artists the versatility to draw and paint with the same material, even use it like watercolor, perfect for quick plain aire or figure studies.
Rembrandt
Tiepolo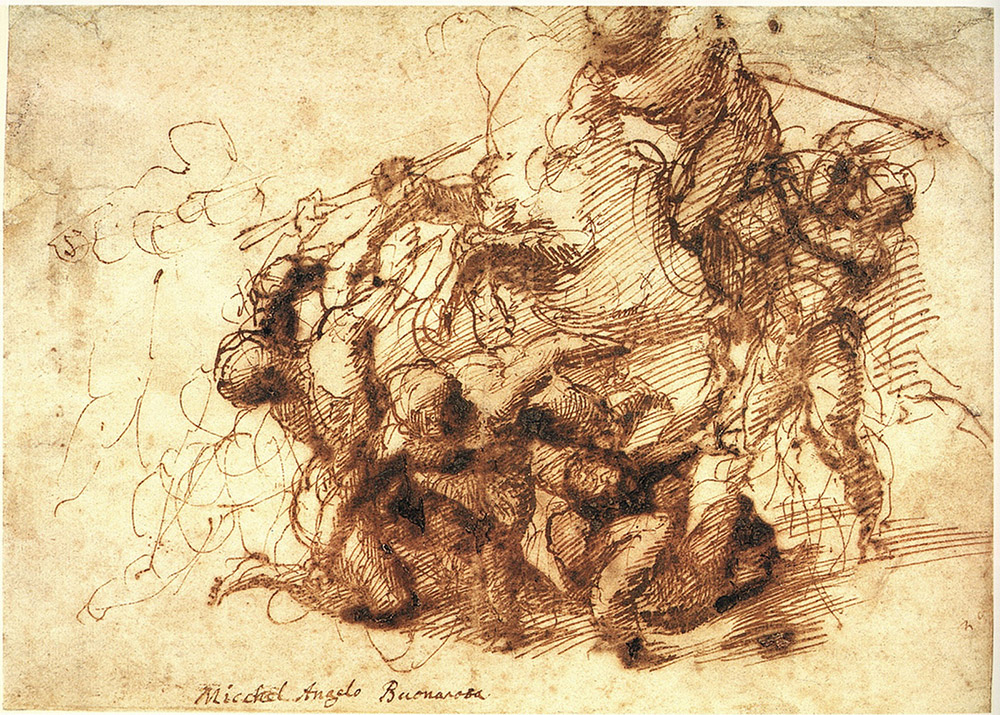 Michelangelo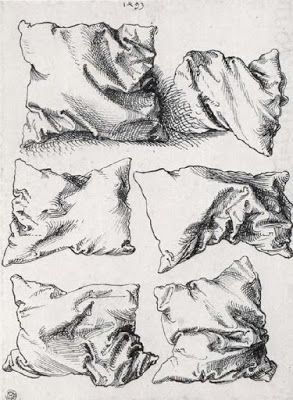 A. Durer

•Asian Ink Tradition
Nowhere in the world has ink held a more exalted place in art than in Asia. China and Japan have a millennia old history of both writing and painting with ink, producing some of the most beautiful and elegant ink works in the world. Much of this Sumi-e tradition was unknown by Western artists until Japan and China were opened up to trade in the 19th century, and ink scroll paintings and calligraphy were exported to the west where they influenced a generation of artists including the Impressionists and Expressionists.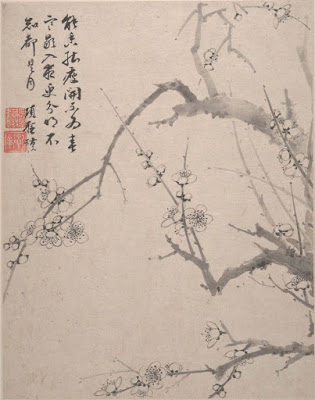 T. Lautrec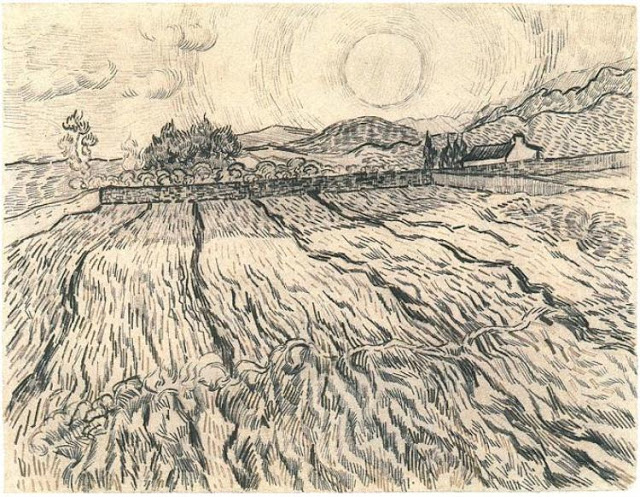 V. Van Gogh
E. Schiele
•Golden Age Ink Tradition:
Pen and Ink drawing remained a sketching medium for the first few centuries until the invention of photography and industrial printing in the late 19th century. The ability to quickly and inexpensively reproduce art was perfect for the new daily newspapers, comics, pulp novels, catalogs, magazines and children's books that were churning off the factory printing presses by the millions at the turn of the 20th century.  This was the first age of providing daily content and the lavishly illustrated magazines and books were big business. What had been a sketch tool a generation before was now the workhorse of the Golden Age of Illustration. Artwork done by freelance illustrators and staff artists in the publishing houses in NYC and London could be created and reproduced almost immediately creating a high demand for illustrators, forming The Society of Illustrators in 1901.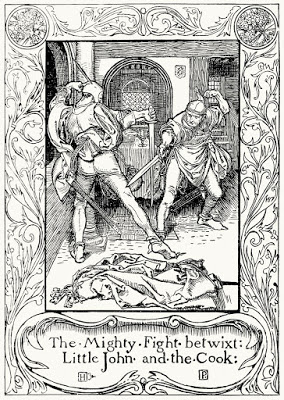 H. Pyle
E.A. Abbey
A. Beardsley
F. Booth
G. Grant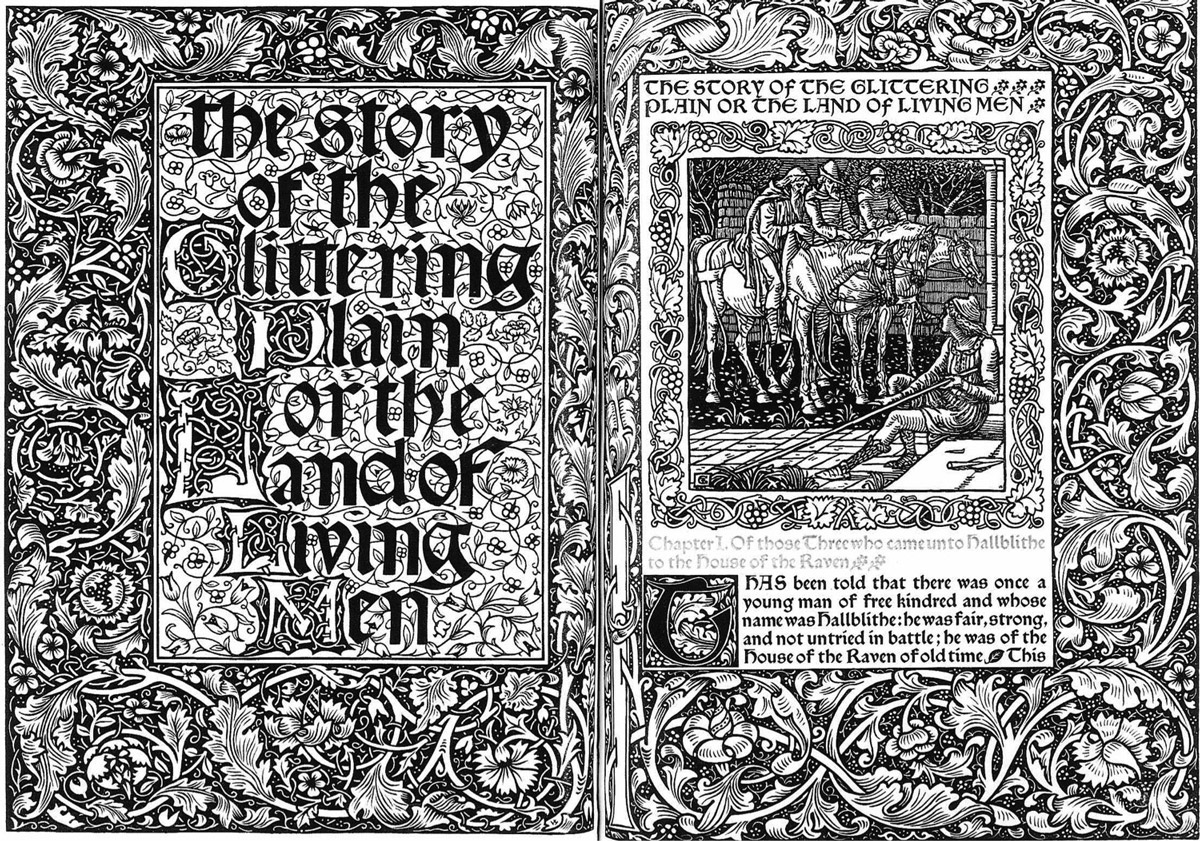 W. Crane and W. Morris
R. Kent 1930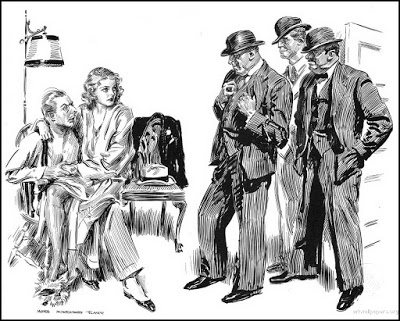 M. Flagg
After WWII we see the apex of Ink art with comics and children's books becoming popular with the Baby Boom generation combined with better reproduction techniques in premium magazines. As color photography becomes more common in periodicals and Modernism is the trending fashion,  ink illustration adopts a more stylized aesthetic for cartoons, editorials, fantasy and comics illustration during the the Silver Age and through the 1990s.
A. Hirschfeld
E. Gorey
M. Sendak The Hobbit 1967
Moebius
V. Finlay
Beatles Revolver 1966 Voormann
B. Wrightson Frankenstein 1983
Beginning in the 1990s most content became increasingly produced in full digital color using new software like Photoshop combined with inexpensive 4 color printing options and the rise of the internet, making b&w illustration less in demand for a mass market. Today, working in ink is mostly an artistic choice for artists who want their work to possess a graphic quality that  has a long artistic heritage. Over the past decade ink has had a resurgence in popularity, along with other traditional mediums,  perhaps as a response against digital art combined with a rising interest in traditional crafts.
Ink is a completely honest art form. Unlike other mediums there is no over-painting, erasing and absolutely no undo or revert option. What you see is every mark the artist made warts and all. As an artist it builds confidence because it forces you to commit to an efficiency of line and a limit of mark making. There is no hiding your drafting skills when every mark you make is indelibly inscribed. In an age of apps, filters and effects, that is a very appealing quality.
It is inspiring to see ink being appreciated by artists and fans. Hopefully through continued interest in this ancient medium ink has as rich a future as it does a past.
J. Sacco "The Great War" 2013
The House in the Night B. Krommes 2008 Caldecott Medal 2009
Spiderwick Chronicles. DiTerlizzi 2003
Y. Amano
T. Lockwood  Summer Dragon 2017
 This was only a brief selection of work and a broad overview, without even touching on comic book art,  I hope you will go and explore more artists and styles and share your favorite artists with the Muddy Colors community in the comments section!
Thanks.
WOC
follow my Inktober work at Instragram @woconnorstudios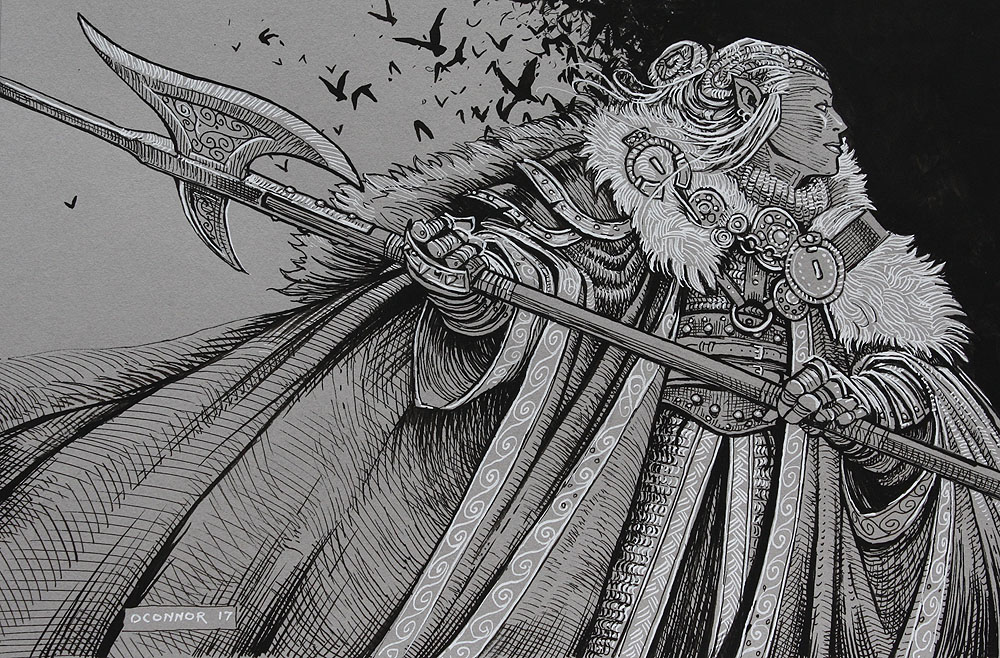 W. O'Connor "Inktober no.15" 2017
http://store.doverpublications.com/0486791513.html?gclid=EAIaIQobChMIqqGV0Lfc1gIVUrnACh1d6QQKEAkYASABEgJcsvD_BwE
To follow other Pen and Ink artists:
http://societyofpeninkartists.blogspot.com/