Someone asked me, earlier this week, to name one of my favorite comic books. We all probably have more than one to choose, but "Tell Me, Dark" by Karl Edward Wagner, Kent Williams and John Ney Rieber, was the first that came to mind.
I know that lots of you out there probably have this book on your bookshelves, and love it as I do, but I'm also sure that many of you may never have heard of it (probably the younger audience) and will appreciate the introduction.
Why is this one so special to me? Because it's very good! But also, because it came across at the right time in my life. While "Tell Me, Dark" was originally published by DC Comics in 1992, I bought it around 1999 – when I was 17 years old. It was a Spanish edition published by Ediciones Zinco.
By then, I was starting to get into Darkwave, Gothic Rock and such musical styles (and hairstyles!) and my taste in comics took that road too, so you can imagine how hooked I was when I saw that wonderfully strange cover. I had never seen something like that in a comic book, or anywhere for that matter (Please remember that this was 1999, and the Internet wasn't what it is today). That cover caught my eye immediately.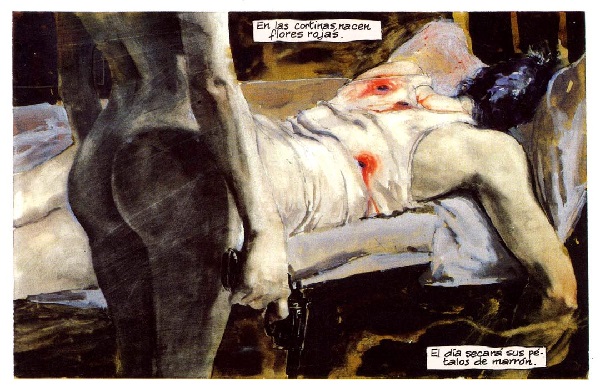 Here's the book's description, from the Vertigo Comics website:
"In the horror mystery TELL ME, DARK, a haunted man enters a world of demonic sacrifices, fallen angels and dark magic when he goes in search of his lost lover. Michael Sands's world was destroyed on the night that his girlfriend inexplicably vanished. Consumed by her memory, the lovesick man returns to England on a quest to discover the true secret behind her disappearance. But after learning that an ancient evil is responsible for his girlfriend's mysterious fate, Michael becomes trapped in a deadly game of personal betrayals and eternal damnation."
It was Kent Williams' artwork what made me buy the book, an artist that, while now is one of my favorite painters/illustrators, until then, I had never heard of, but the script ended up captivating me equally.
So captivated I was that, a few years later, after searching online about the book's authors and the creative process behind it, I came across with this interview to Karl Edward Wagner (Who died in 1994, just a few years after the book came out), made by Bradley H. Sinor, and I was very surprised by what I read.
You can read the full interview in the link above (To get to the part in which he talks about this book, scroll down almost to the end of the page) but here's a small fragment from when Wagner talks about "Tell me, Dark":
BHS: What can you tell me about Tell Me, Dark?
KEW: Tell Me, Dark was the greatest creative disaster of my life. I'm still trying to get over it.
[…]
Two years wasted. Two friendships lost. 
Here's the link to another interview, conducted by Chuck Owston for Dark Troubadour #1, from 1994, where Wagner details, one more time, the chaotic process.
It's a bit strange to find out that a book that you love was born out of a conflict and became a bitter experience to one of its creators. According to these interviews, it seems like it wasn't very fair to Wagner, but I'd be very interested in listening to Kent Williams and Karen Berger's side of the story.
After reading "Tell me, Dark", I went after what became other favorites of mine: "The Mystery Play", by Grant Morrison and Jon J. Muth, and "Enemy Ace: War Idyll", by George Pratt. Both published by DC Comics (They were on fire, back then!).
Looking back, I see that the main reason why I love this book so much is that it became the first on a line of books that, for me, would act as bridges between the world of comics and the world of painting and illustration, and with just that, it changed my life forever in a wonderful way.
Did I mention the incredible, haunting cover? Come on!
What about you, Muddy Colors' readers? Have you read this book? Did it have an impact on you? I'd love to read your opinions.