Guest Post By Bud Cook
LIMINAL – The state of in-between
---
I'm truly excited to have this opportunity to share my thoughts with this great community that has inspired and influenced me for countless years now – thanks Dan for the invitation to contribute here on Muddy Colors! As I'm sure it is true with many visual artists, although not all, writing about my work can be like pulling teeth. However, I find that when presented with the opportunity to write or speak about making my work, the act of putting my thoughts into concrete terms helps me to better understand my own decision making process. These discoveries can be very helpful as I go forward into new work, being more cognizant of the reasons why I do what I do.
I'd like to discuss the process for a couple of paintings I created for Illuxcon in 2017. The two paintings detailed below are currently at Helikon Gallery in Denver for a group show, so even though they didn't sell last year it's nice to see them out in the world. They are both 24″ x 24″, acrylic on canvas.
I titled the pieces in this series "Liminal". For me they were an exploration of the threshold between strict representation and abstraction, between where we are now and where we are headed, and finally the liminal state between life and death.
Krab Jab work and the beginning
I'd like to begin by showing the genesis of this work, and talk about my basic goals at the outset. Below are pictured three details from personal pieces I produced for a 3-person show at Krab Jab Studio in Seattle in 2016. Wanting to create something entirely new for this show, my concept was to play formally with the duality of combining flat patterns with rendered form, using geisha as the subject matter. I have always been intrigued by and drawn to Japanese culture, and the geisha as a subject worked perfectly due to the colorful wardrobe and patterns as well as the raw beauty of that world.
I would begin by identify traditional patterns from the geisha's wardrobe, then redraw/simplify these patterns so I could create stencils which are then used to apply the pattern to the surfaces (more about patterns later). The patterns served two functions; both formal and practical. The practical, or physical function, was to soften or break edges, add texture, or shift values or colors. The formal function of the use of pattern stencils was to first paint the subjects in plausible 3-D form and space, then apply the flat 2-D patterns over the top – in an attempt to balance the interplay between rendered form and flat space. Here are 3 images from the work produced for that show.
Pattern details, what and how
It took me a couple weeks to develop and refine the process of how to create and apply the patterns, but in the end I would follow these basic steps:
Identify traditional Japanese kimono patterns that were reproducible as stencils
Redraw patterns in vectors, then print letter-sized pages with the patterns at actual size for finished pieces
Cut clear plastic stencils, then add sharpie lines to match pattern overlay on the painted surface.
Hinge-tape the patterns in place on the paintings and apply color using brushes through the stencils
Lather, rinse, repeat.
To maintain the physical structure of the stencils I could only cut out the central part of the letter-sized plastic sheets. So I would trace the pattern lines onto the plastic sheet so that I could match up the pattern as I moved the sheet to different areas of the painting. Stencils could take up to 90 minutes to cut by hand with an X-acto knife, I had to take frequent breaks because my fingertips would go numb, it was a very time-consuming process.
Because I paint with acrylics, the painted patterns could be dried quickly with a blow dryer, then the stencil moved and used again. Stenciled shapes would sometimes be repainted several times, changing color or value depending on the object that the pattern overlaid.
Take a look at the photos below; I tried to include a variety of shots of the stencils in use.
LIMINAL 1
So, back to the newer pieces – my goal was to take the previous work to a new level. I wanted to abstract the scene a bit further and try to achieve a more dreamlike quality in the pieces. In addition to the geisha (and her fan), each piece featured a Japanese crane bird and some floral imagery – each element had a symbolic role personally for me. In addition to a dreamlike quality, I wanted each piece to evoke a feeling of a setting rather than trying to portray a literal space.
For each piece I would complete the compositional drawing, then project the geisha figure and start painting. Then as I progressed I would project the other elements and add them into the composition, working in a layering fashion with the different characters in the piece.
The pattern stencils were used more as a tool for abstraction in the newer pieces rather than the interplay between 2-D and 3-D rendering.
Below are some process photos showing how the pieces developed.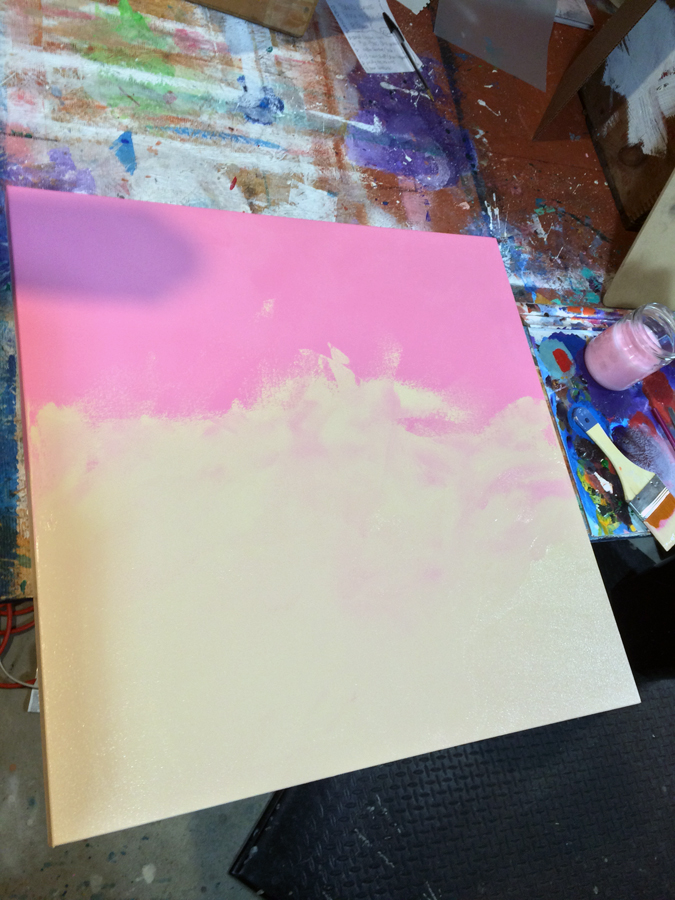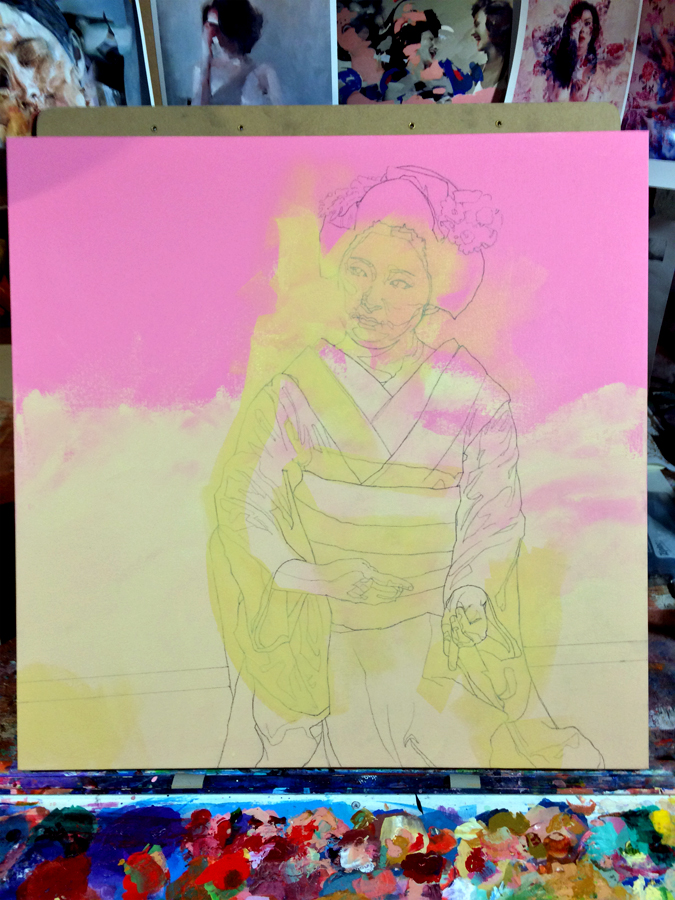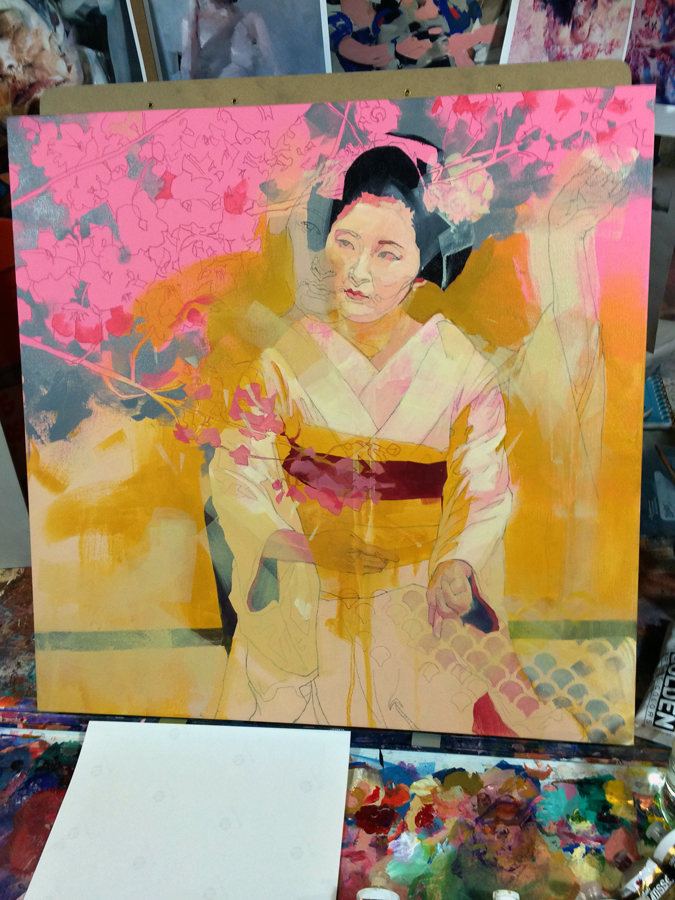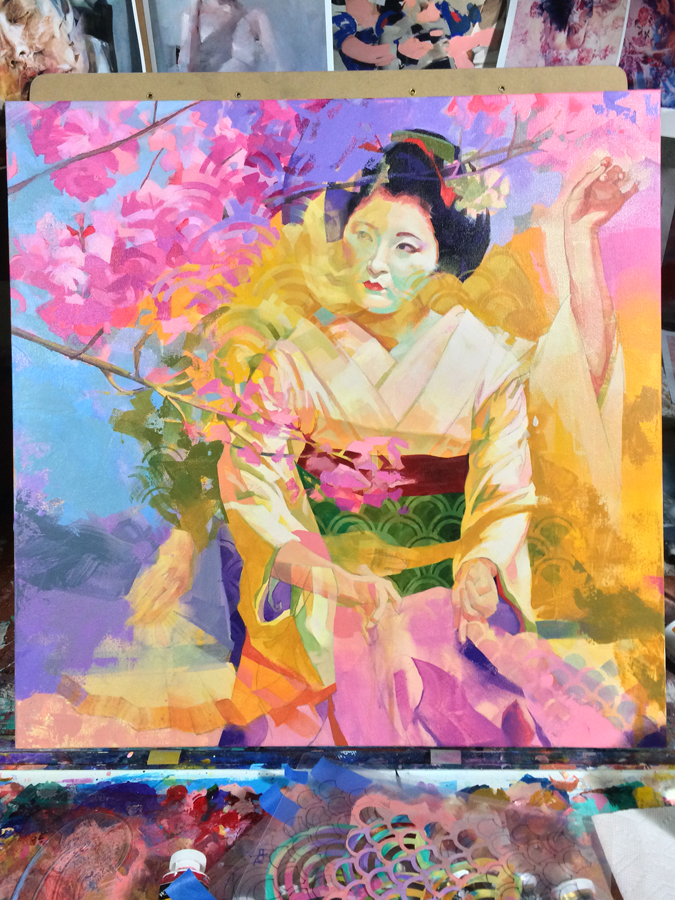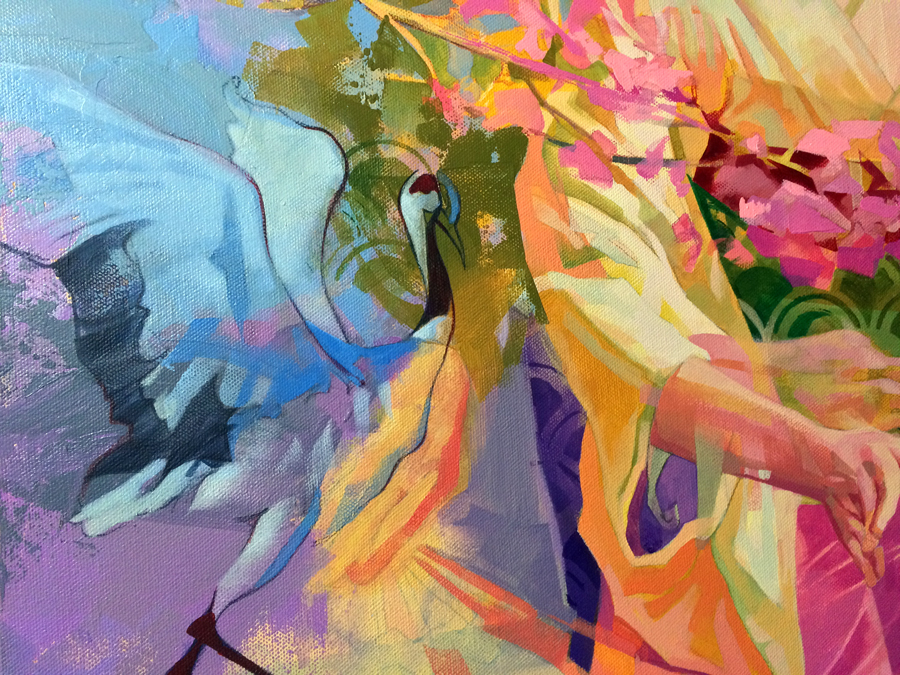 LIMINAL 2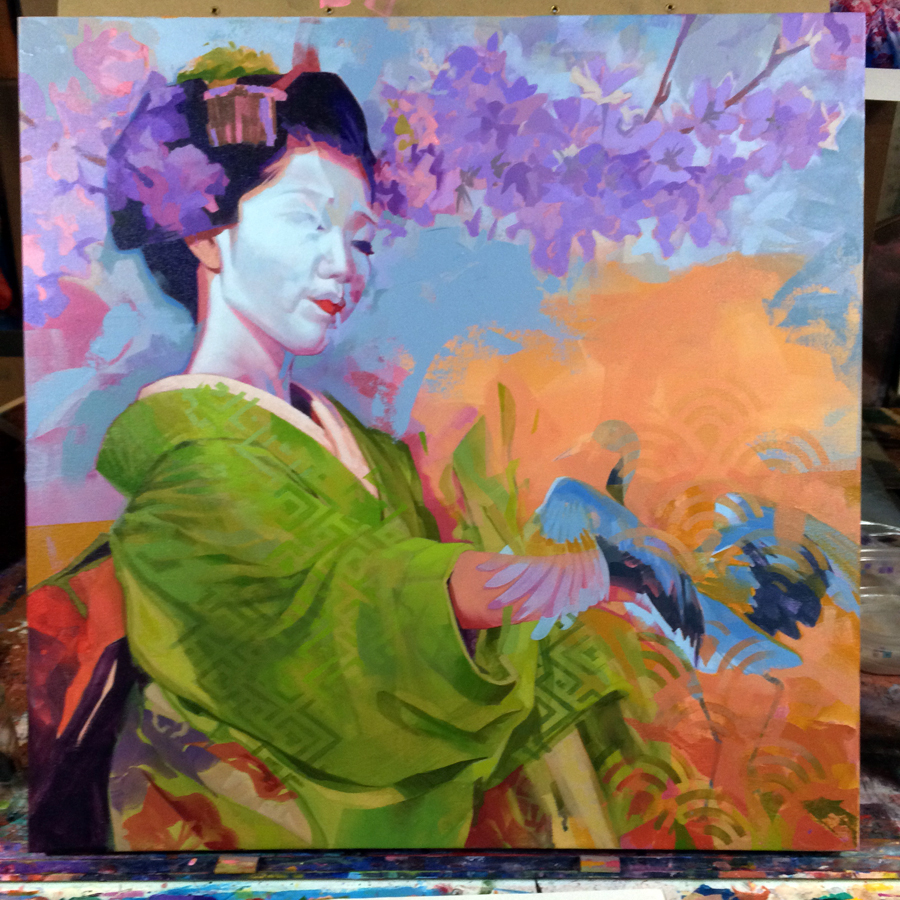 I have ideas of where I would like to take this process in the future, however the freelance life does not provide me with a great deal of time for personal work. Hopefully soon I will be able to jump back into this series and see where I can take it, and where it takes me.
The two LIMINAL pieces are in the SPECTRA show at Helikon Gallery in Denver – if you are in the area stop by on June 1st for First Friday and check out the show.
Post written by Bud Cook
Bud Cook is a painter whose strong command of the human figure is at the root of his illustrative and fine art work. His keen study of life yields a cleverly abstracted and stylized realism. This has led him to work for companies such as Wizards of the Coast, Dark Horse Comics, Wired UK and Johns Hopkins Health Review. Bud also shows his work in galleries across the country.

In 2012 he began working as an instructor for the program L'Atelier au Château, a Drawing Program in France created by Jean-Paul and Beth Jacquet. He co-teaches this intensive two-week drawing program alongside Jean-Paul in the small town of Mussy Sur Seine, France. Additionally, Bud is an adjunct instructor at Quinebaug Valley Community College where he has been teaching in the Art Department since 2014. You may follow his work on his Facebook and Instagram.