As I've been working my way through my annual sketchbook collection this year one thing has become abundantly clear, 2018 will be "2018" this time around. What I mean by that is between keeping on top of my client schedule and getting my five year sketchbook anthology hardcover, Visions of Whence, out the door this year that's has been about as much as I can physically make happen.
So I say "2018" because this collection, while all planned and begun this year will more than likely be completed in early 2019. Which isn't all bad considering the follow up series I've had planned for 2019 is a continuation of the 2018 sketchbook. In effect, my 2018 and 2019 collections are part I and part II so that feels fine to me.
All that to say, the thumbnails and planning and most of the studies are done (I've even completed all my reference gathering and photoshoots) and I'm now in the midst of at last putting pencil to paper to begin the real work.
What's the theme this time? For my 11th annual sketchbook I'm returning to fairy tales. I've been wanting to again do actual fairy tales for a sketchbook (my last collection of specifically fairy tale work was in 2009 unless you count my 2015 sketchbook, Wanderings) so I guess it only taking me 10 years isn't the worst. It's kind of the worst, though, I can't believe it's taken me this long.
Today I wanted to bring to you an old fashioned process post showing the creation of piece, thumbnail to finished drawing.
I have four fairy tales I'm working on for this series and the first one is Snow White. While I have two main pieces based on the story in the works, in addition to that there are several pages and spreads of character sketches and studies. If you've seen any of my previous sketchbooks you understand the general format. Some number of "main" pieces with all the sketches and studies that go in to making the piece and a few more exploring the ideas further. For the exploration drawings I've got a few pieces which are a look at the normal day-to-day of Snow White and the dwarves.
With this one I liked to imagine that she knows how to read but they don't and maybe just had some old book laying around as a curiosity.
I had considered including the original thumbnail scribble from which I drew up this digital value and shape study but that would have been as educational as this old Tick comic:
Suffice it to say, the original thumbnail scribble was maybe the most unintelligible thumbnail I've ever done. I knew mostly what I meant but still. Basically, I had the gist of the composition down and I just knew I wanted Snow White and a couple dwarf figures in there (with one in the background keeping watch).
Next is the light sketch stage. For this I use a brown col-erase pencil and begin build up my lines and shapes. I work directly from the digital rough (as in trace off my shapes to keep the composition in order) and then dive into the actual drawing.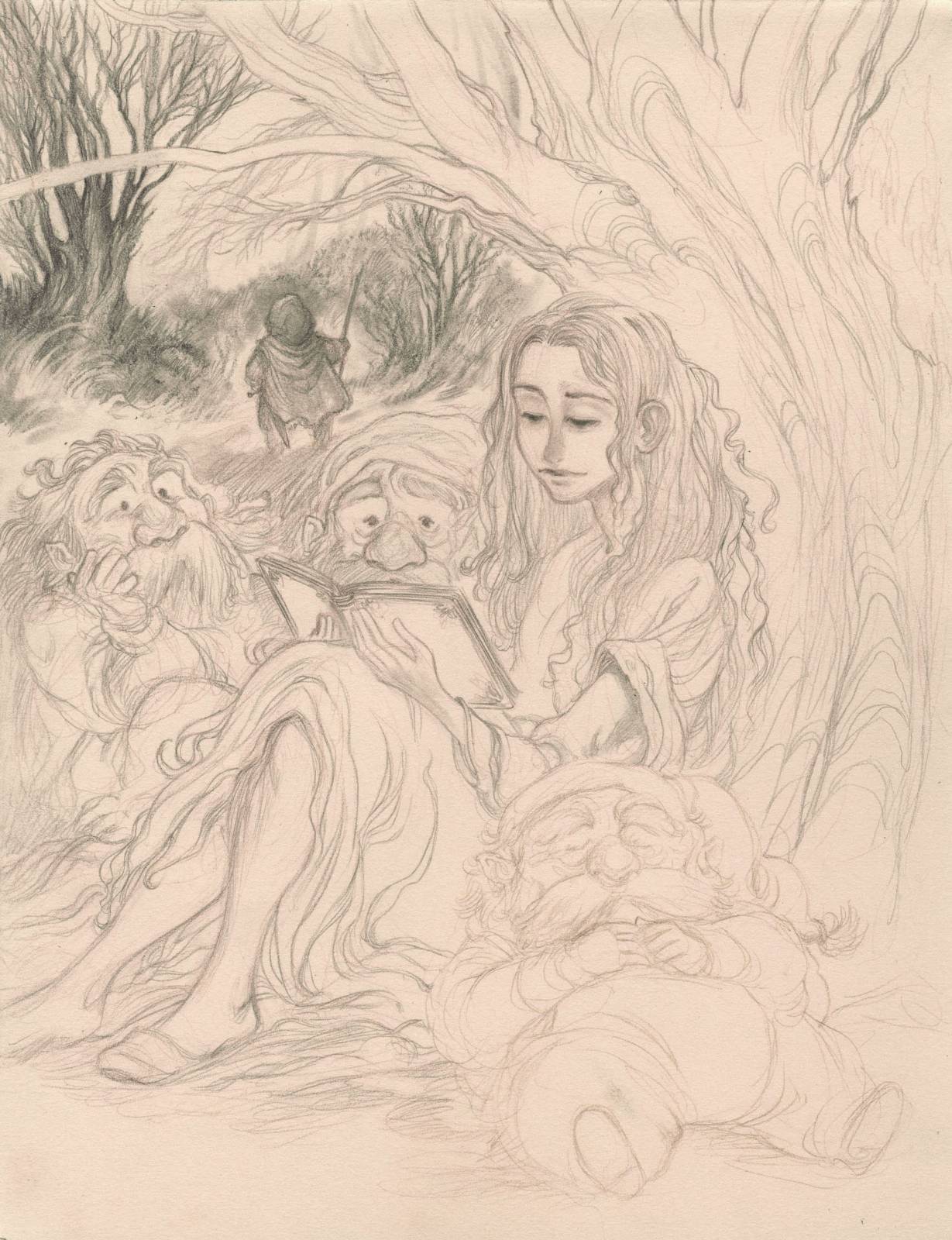 From there, hopefully, it's all down hill. Hopefully, you've done your homework and planning and the pieces start fitting together. I'll start to work my way around the image and build up the actual pencil work.
More progress.
And there you have it!
I think it was a couple days, start to finish. Not a huge drawing, probably 11 x 14, but hugely satisfying. I've felt the hustle to get on with my annual sketchbook (I usually have those out in time for New York Comic Con, again my apologies to everyone who stopped by my table earlier this month looking for the new one!) but I decided that I've got to tap the brakes a little and take my time on this year's series.
My goal is to produce more finished drawings than sketches for this collection and, thus far, I'm pleased to report it's shaping up to be just that.