Five years ago I canned the project called "the Art of Jesper Ejsing"
I had collected and categorized all the images I wanted to have in it. And piled together twice as many sketches. I even explored some different layout styles that would show the progress from thumb sketch to final in a single spread. But suddenly I realized the magnitude of the project. This would take me months! And I would have to quit the illustration projects I was working on and the ones I had lined up after? To make it short: I lost momentum.
So I told myself to stop dreaming about having my own artbook. It was hard than I anticipated. I still had the image in my head of a huge coffee table book of all my paintings. Everything I had painted. And as the years went by so did the amount of illustrations that could go into such a book. Every time I finished a painting I thought it could be the cover of the artbook or a full spread so you could see the details. I couldn't stop thinking about the artbook. But I had to.
And then one day, not so long ago, I got a Facebook message from Jean-Christophe Caurette. We had met at different conventions and he was the one who helped me get in touch with Kim Jung Gi for the interview I posted a couple of years ago. He is the publisher and founder of Editions Caurette, and what he wrote was:  "Hey Jesper, how would you feel about publishing huge artbook with me"?
It was everything I could and had ever dreamed off. Jean-Christophe, JC in short, ( sounds like a rapper ) said that there was no limits: I could have as many pages and pictures as I wanted. If I wanted to make a huge book it was fine with me. Since I had already collected everything and had added to those files almost every week for five years it was pretty simple to send all the files and I simply passed to him a dropbox link with everything. Everything from 15 years of painting is a lot.
JC brought Spiridon Giannakis along into the project.  Spiridon is also a publisher and a graphic designer and is the man behind the Firestarter Magazine, a magazine about the workshops and artist doing the teaching of art and illustration. We meet briefly at Playgrounds only a few months back and I liked him immediately for his no bullshit attitude. (That would soon come in handy when discussing the layout of my book)
With Spiridon in charge everything went fast and we soon could get a copy ready to start getting approval from the publishers who originally commissioned all my illustrations.
And come up with a title. JC pointed out that The Art of- was simply too generic and would make the book harder to find when you search for it online. So I thought of all the cool title I could come up with and ran them by my wife. Titles like "Dices and Dragons"," The Gouls Breath", "Gnomes and Goblins", Into the Fantastic World of Jesper Ejsing". the list goes on. Lea, my wife, said that there were all bad and she thought I should go for something more simple. I knew she was right. I thought about what I actually likes about fantasy. It is the ability to travel to a world that does not exist, the diving into another world. And the title Elsewhere popped up. It seemed to embrace both my monster drawings, the fight scenes and the characters…and it was simple.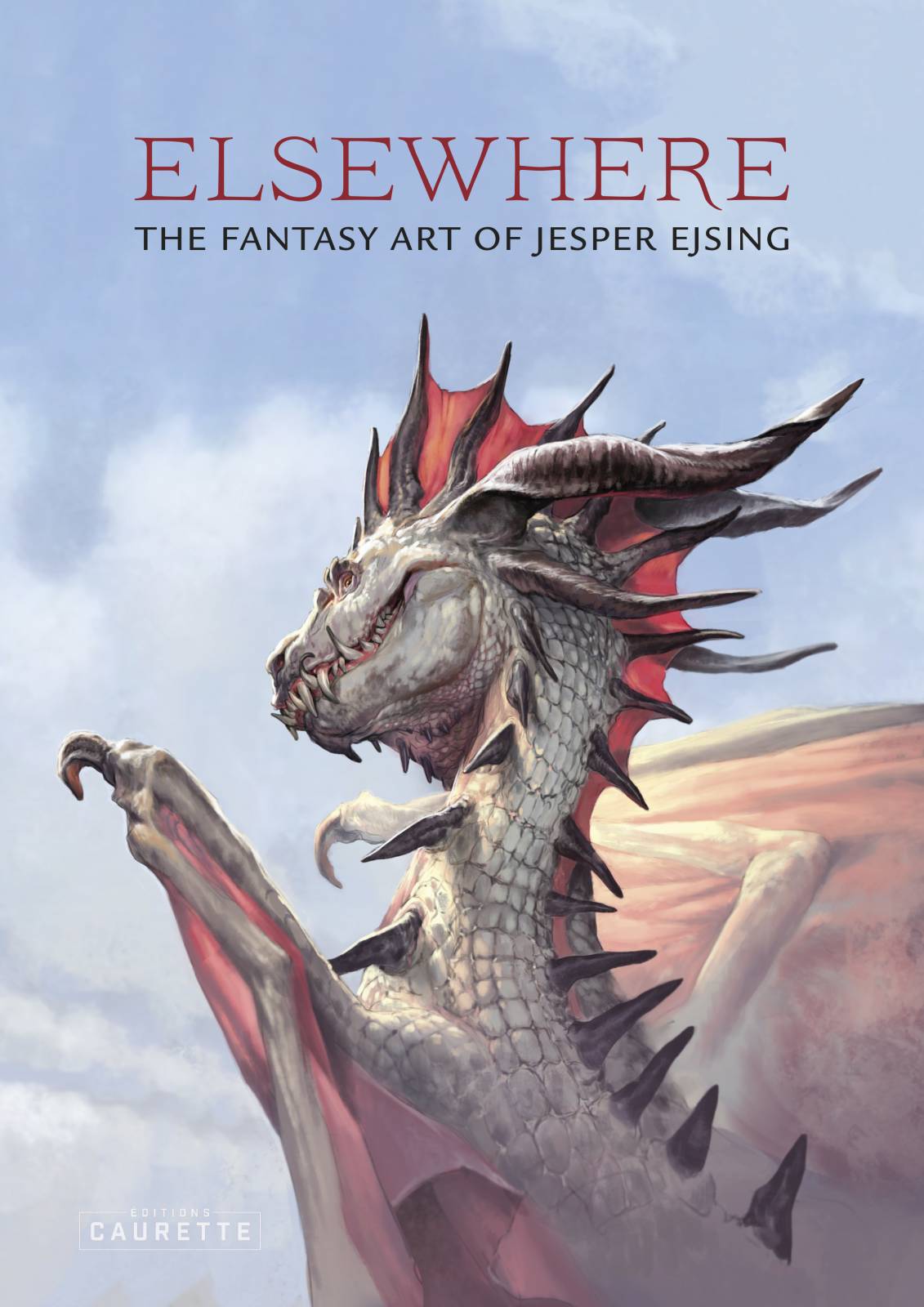 We sent the book to printing 3 days ago. Now we wait.
I cannot possibly tell you how excited I am to hold that thick and heavy book in my hand. I mean Christmas is coming up soon and that is all mighty fine, But this is like if Christmas was only once every 15thyear and I got the best present I could think of.
The book will come out in the end of January. You can read about it here and make a preorder if you'd like.