This Friday, February 1st at 7pm, the Norman Rockwell Museum presents the first Radio Play of Above the Timberline at the Mahaiwe Performing Arts Center in Great Barrington, Massachusetts. The event is free and everyone is welcome! Reserve tickets at mahaiwe.org
For bookstores around the country, I project the paintings while I read passages from the book. Only this time, we'll stage it as an old radio play, and have Berkshire County high school students acting the parts with background sound effects, music, and paintings with added animatics.
Eight student actors auditioned and won the parts to read for several characters from the radio play. Scenes include when Wesley meets Linea and the bears, and the initial airship battle.
Student Toby Keenan is directing, with Kazmin Blacklow designing the sound. Rehearsals have been wonderfully fun watching all these young adults embrace my story and bring their excitement and skills to the world of Timberline.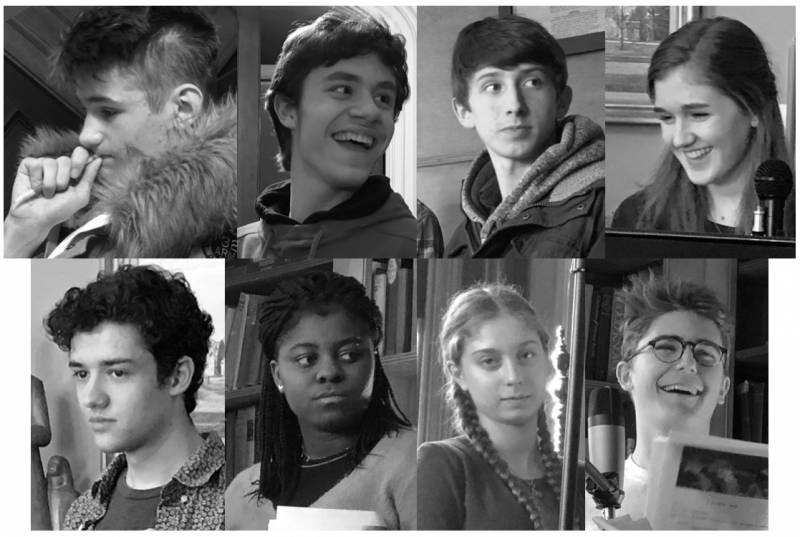 Afterwards, I'll be onstage for a brief discussion with Mary Berle, Chief Educator at the NRM, and answer questions from the audience about the production, and get to the core of the process for building the novel.
The beautiful, recently renovated Mahaiwe Theater is the perfect spot for the event. Returning full circle from its initial vaudeville acts to silent movies, talkies, and now live performances again, it has remained a cornerstone of arts culture since it opened in 1905. 
The Radio Play is in conjunction with the Above the Timberline exhibition at the Norman Rockwell Museum, now through February 24th. My second painting workshop is sold out for February 3rd, but check out the NRM website for more information and other events through the show's run.
I hope you can make it out!