Exquisite and darkly sublime, the work of Ashly Lovett is a marvel of tone and atmosphere. Her haunting portraits are dappled with a kind of nostalgia and effortlessly transport the viewer from the familiar world to one shaded in a strange light.
Recently, I got the chance to ask Ashly a few questions about her work and as well as what projects are on the horizon.
Tell me about your background. Did you have a moment in childhood when you knew you wanted to be an artist?
I look back, and I remember my elementary teachers being encouraging with my creative side. I would get to do additional drawings for class projects. Another time I was asked by my teacher what I had for breakfast. I very diligently drew her a picture of eggs and bacon. She later showed it to my parents and said they had an artist on their hands. Now, I will say I was chastised once. I was told off at recess for charging other kids a quarter for these colorful silly faces I enjoyed drawing. Made a couple of dollars for a few days before a teacher said I should share my drawing and not charge for them. Can't say I feel the same way about that now.
Do you feel that where or how you grew up has influenced your work in any tangible way?
I've given this more and more thought as people started noticing my artwork. I was working with chalk pastel exclusively back in 2015 doing portraits because I simply loved doing them. I loved playing with exaggeration and pushing this emotion with the eyes. And suddenly people started noticing, and I had as style. I wasn't looking for a style. It just happened organically. And as I said, I've been thinking a lot about that. Why does my work evoke words like eerie, ethereal, dark, scary, beautiful, and sincere?
When I was a teen, I had a lot of anxiety. It's weird deconstructing these things now as an adult. My parents had divorced which lead to a new school, new house, new family arrangements. So, I would draw these emotional looking sketches to cope with my anxiety. And that carried on as a grew up. Even as an adult. I don't have many stresses other than the norms of being a freelancer, but I still find comfort in doing more emotional drawings. I heard this somewhere, and I thought it was the perfect way to phrase it, "It's finding beauty in the darkness." So, in summary, I like emo things.
What led you to work in chalk pastels?
I get this question a lot since many people don't like working with chalk pastel. The answer is pretty straightforward. It was the media that came most naturally to me. Even in high school. I assume my brain wiring works better with dry media on paper. More so than wet media. That's why I tell students to try everything. All media on all surfaces. It's the only way you'll learn what you'll like and what brings out your strengths.
How has your process evolved over the years?
My work out of college screamed student. I had a BA in illustration from Ringling College of Art and Design in 2010 and I didn't have a clue what I was doing. I had excellent training, but my senior thesis was not illustration driven. It was more fine arts and I wish someone would have slapped some sense into me. Nothing wrong with fine arts, but I wish I had built an illustrative portfolio toward clients.
The first job I got was an in-house position doing characters for baby products, because why not. It was a paycheck. A year later, I left that company after I received a 2-year scholarship to the online school Visual Arts Passage. I have to thank my incredibly supportive husband, Matthew, for taking the wheel while I went back to school. And I'm glad I did it because that's when things changed for me. I started thinking like an illustrator, and the faculty was amazing.
I left there thinking I should pursue children's books. I absolutely love publishing, and I did all that children's stuff before. It seemed to make sense to go that route. But, as I built up my portfolio, I noticed all my kids were sad. Just sad kids. I was naturally drawn to darker stories like "Coraline" and "James and the Giant Peach." I didn't want to draw happy bears running after butterflies. Nothing wrong with that. I just personally got nothing out of it.
It wasn't until 2015 and doing the challenge Month of Fear that I realized I Ioved dark fantasy, and I never looked back. Since then it's been me exploring what I want to do with portraits and my media. I finally figured out what I love to do. It took me long enough.
Let's talk about your gallery work. What's in store for your next show?
My portrait work was the best place for galleries. I spent a year sending samples and eventually had several shows lined. Mostly with Gallery 1988 in LA doing pop-culture stuff like Rick and Morty, BoJack Horseman and Pan's Labyrinth.  And one of my goals for the year was to have a solo show eventually. So, I bit my lip, nervously sent my email proposal, and they said yes! I'll be doing portrait work of strong female characters in tv and film. It's a good challenge to pull off portraits of well-known celebrities. Plus, I'll be building up my editorial portfolio too. "The Female Gaze" opens Friday, August 2nd, at Gallery 1988 in Los Angeles, CA.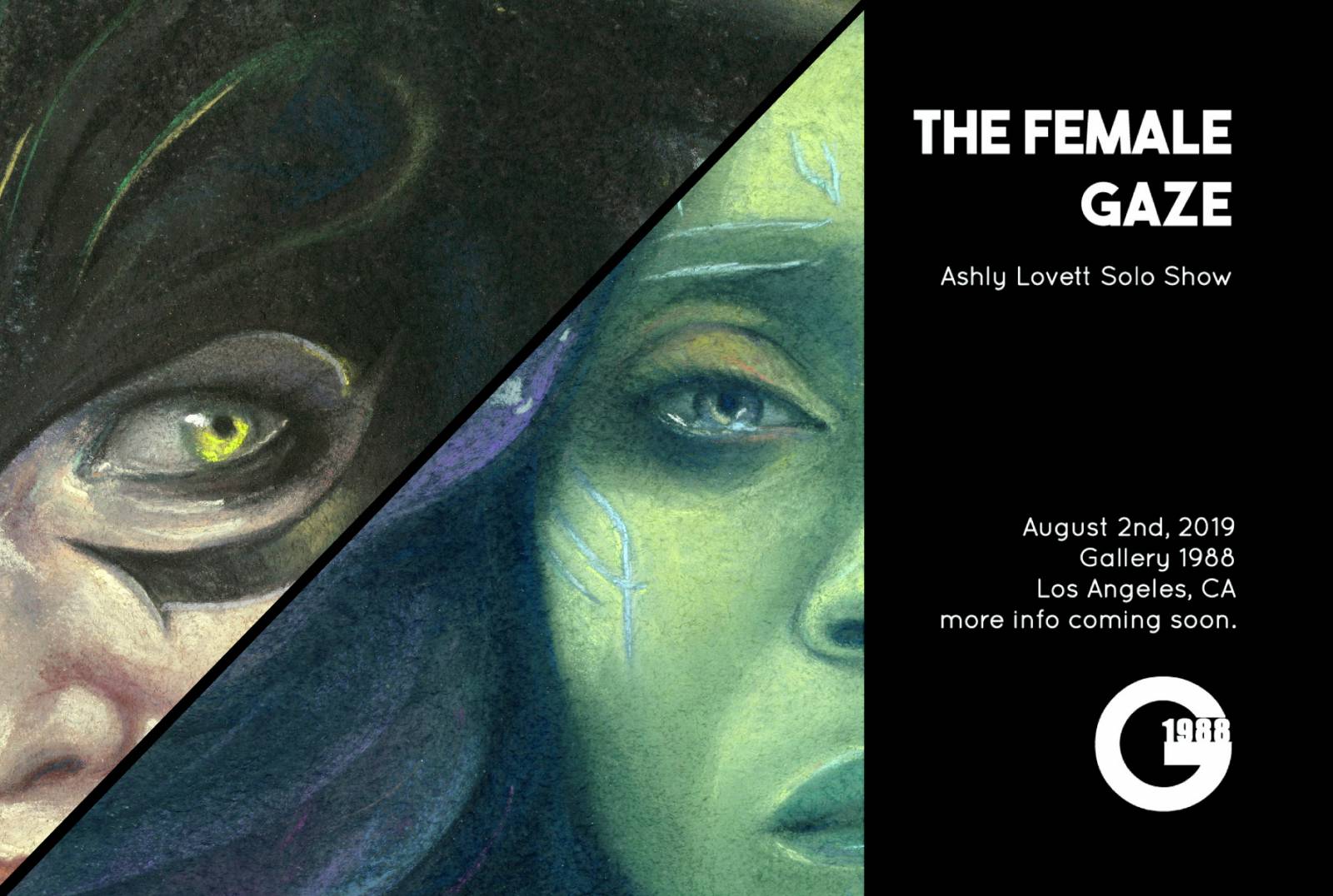 You're also currently running a Kickstarter for an illustrated adaptation of The Little Mermaid, tell me a little bit more about that.
I've been working on this project for the past year, and it's been gratifying. I'm adapting the original 1830s text. The story hasn't changed much. Mostly I'm editing the grammar and adding a few of my own ideas here and there.
It was late 2017 when I wanted to get back into illustration. Take on more challenging work and produce portfolio pieces that depicted characters within a narrative scene. I say a challenging task because of my media. Give me a pencil and paper, and I can draw you a scene. But chalk pastels are clunky, and it's taken a lot of trial and error to work out how best to use them for small detail. I think the years of working with them was necessary to get where I am now.
You can support Ashly's Kickstarter here!
I decided on the story "The Little Mermaid" because it was one I had tried to do way back when I was building my children's book portfolio. At the time, I vetoed the idea because the story was so dark. But, now it is a perfect fit for several reasons. I love drawing flowing organic shapes, long wispy hair, dark fantasy, romance, and anything that lets me play with values and expressive mark-making. Underwater scenes are fantastic with so many opportunities for fun shapes and bringing the subject in and out of focus. I also enjoy making my work luminous. So, I made my mermaids have bioluminescent hair to help them navigate the deep ocean.
The story is perfect for my aesthetic. It played to my strengths and offered an opportunity to push myself out of my comfort zone. The result is a beautiful book. I have my trade edition, which is lovely. And then there is the collector's edition, which is my baby. I've made it exactly how I wanted it to be, a limited edition, archival, lay-flat coffee table book. It'll even be produced by a local business here in my hometown, and they only use eco-friendly materials and resources. All the things that matter to me. I'm very excited to have the final book in my hand come later this year.
What were some of the specific challenges or things you had to consider when illustrating such a beloved story?
I knew I wanted the book to be black and white illustrations. I felt it was more romantic that way a nod to the age of the story. However, I was concerned audiences wouldn't be into it. But, after promoting it, those who love the original H.C. Anderson's story seem to appreciate my take on it.
Another challenge was the book covers. I had never designed a book cover with a graphic shape that will be stamped with a foil press. That was a hurtle. I can't think of a more polar opposite excise from my chalk pastel work. But, I managed to make two beautiful covers that I'm proud of.
Thank you for your time, Ashly! Where can people find you online?
Ashly Lovett is a freelance illustrator and gallery artist working primarily with chalk pastel for the horror and fantasy genre and is known for her illustrative portraiture with romanticism undertones. She has done licensed work for Jim Henson Company, Adult Swim, Netflix, Focus Features, Archie Comics, and Monty Python, etc. She received her BA in illustration from Ringling College of Art and Design and has been published in Spectrum Fantasy Art Annual 22-26, Society of Illustrators of Los Angeles, Infected by Art Vol 5-7, and more. Clients include Boom! Publishing, Lindstrom LLC., Hackle TV, ArtOrder.