Everyone's process is tailored to their personal needs. Very often it seems difficult to find tools that fit perfectly, or do the job EXACTLY the way you want or need them to work. I posed a question of FaceBook recently about this very thing. Since I use my desk at a tilt and I like my tools to stay put and close at hand, I'm constantly looking for trays and containment solutions that don't let things tumble to the floor. Most of the accessories for drawing desks don't work well once its tilted. So I've had to fabricate some of my own.
Angled Utility Tray
We all figure out over the course of time how things can work better in our own studios and modify or make things that help. This is all very personal and specific to our own process and may or may not be helpful to others but usually there is something we do that hasn't occurred to others…some studio hack that seems like common sense to us but actually is born out of individual necessity and not common knowledge at all.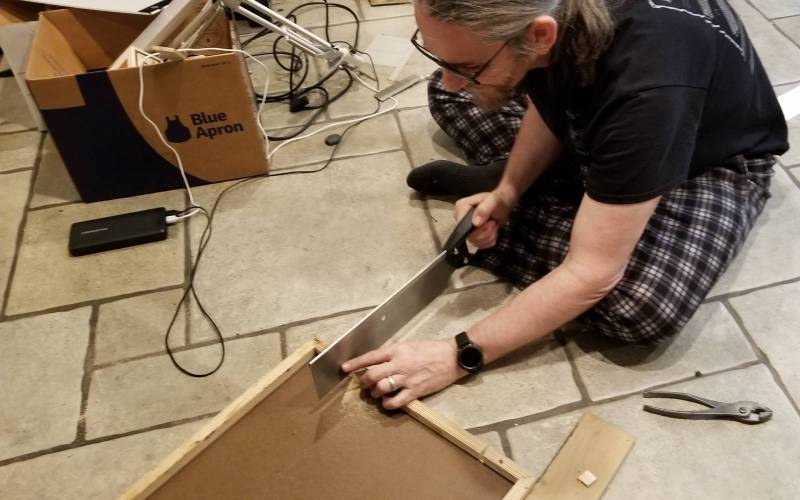 In the beginning it doesn't seem as much of an issue because you learn to work with and around the limitations of what has been designed for general efficiency. But as time moves and you become more aware of your process those limitations start to become more obvious and sometimes you look for ways to make things more personal and specific to your needs. You may remember that Scott Fisher had a great post about his particular studio adaptations. This one is about some of my own idiosyncratic solutions. I hope that anyone who has their own will feel welcome to share in the comments below. 🙂
I sometimes enjoy working in other rooms (extend to other places/while traveling) to be able to hang out and watch a show with my family so I have made myself a rather straightforward lap desk that does what I need it to and isn't too unwieldy. I have multiple configurations of this solution from very simple to a bit more complicated. The simplest version is just a cradle board, maul stick and a clip-on desk light.
My most elaborate iteration has a USB architects lamp and a USB light pad and a fairly long lasting power bank (used typically for recharging cell phones and laptops). I try and find travel/usb powered versions of most of the electronic accessories that I use most often.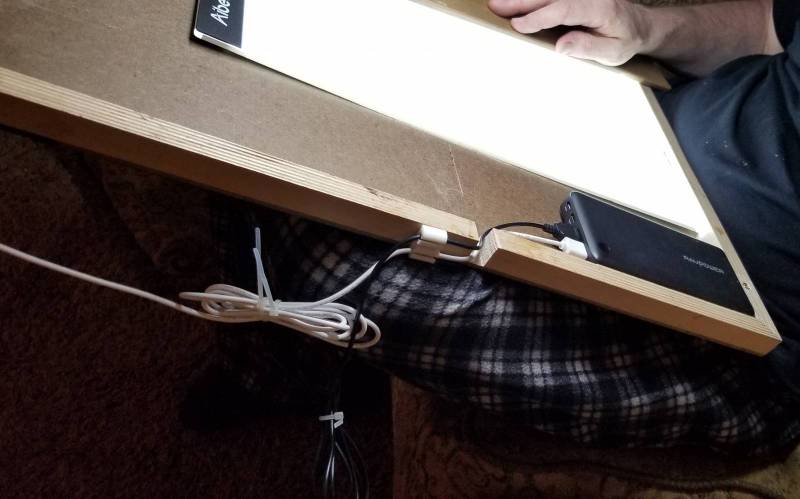 Gesso Board
https://www.dickblick.com/items/14911-1009/
The simple version of this desk is just a cradle board like the one above flipped and the piece placed inside using a board for a maul stick.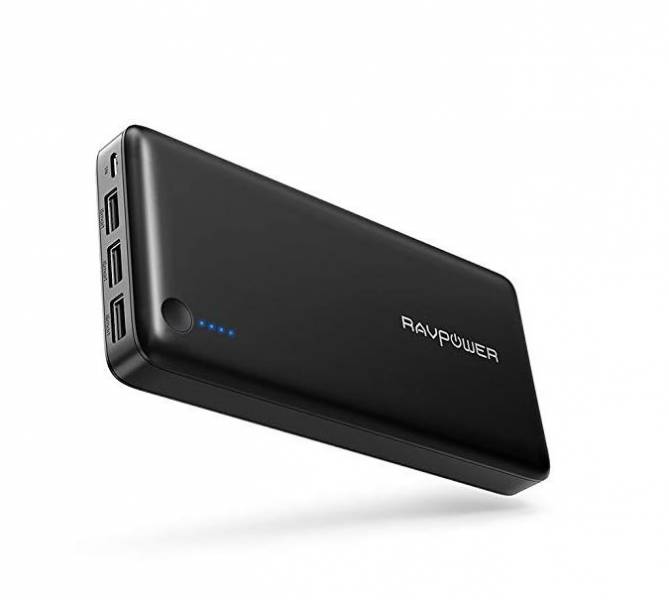 Power Bank RAVPower 26800 Portable Charger
A 3000 mAH power bank will power a cell phone for roughly 3 hrs of constant use if the cell phone uses 1000 milliamps of power/hr. The lights that I use on my lap desk seem to last longer than that so the Rav power bank that I use (it has 26000 mAh) lasts a very long time even when I have two lights and my cell phone plugged in to it. If you use a lapdesk for shorter periods than a small 2500/3200 mAH charger will obviously keep you going for a few hours…depending.
For the simple version you can use these rechargeable lamps… they last a couple of hours and are very light weight. (on a side note, for some reason they make these with ridges on the upper part of the clip. It puts dents in softer things like sketchbooks so I always grind or cut them off and put a thin piece of felt or rubber in its place.)
Daylight Clips
https://www.dickblick.com/products/daylight-smart-clip-on-lamp/
Weilori Metal LED Swing Arm Desk Lamp
https://www.amazon.com/gp/product/B07QCRG1X7/ref=ppx_yo_dt_b_asin_title_o05_s01?ie=UTF8&psc=1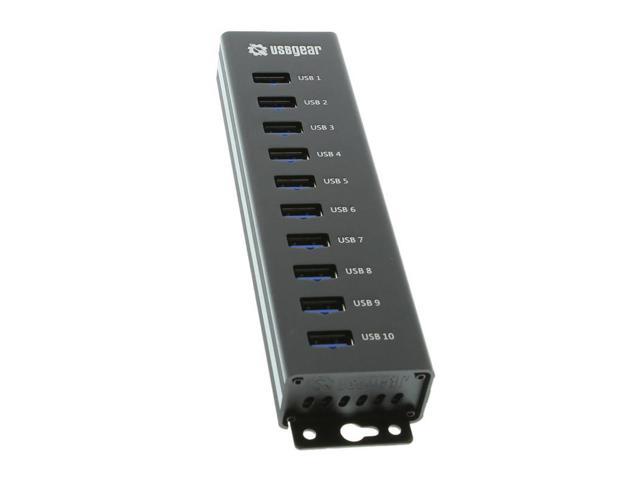 Charging Bay- I have one of these next to my desktop rig to be able to charge multiple lamps at a time.
https://www.newegg.com/usbgear-usbg-brec3010/p/0J2-008N-00028?Item=9SIA6RA55T6086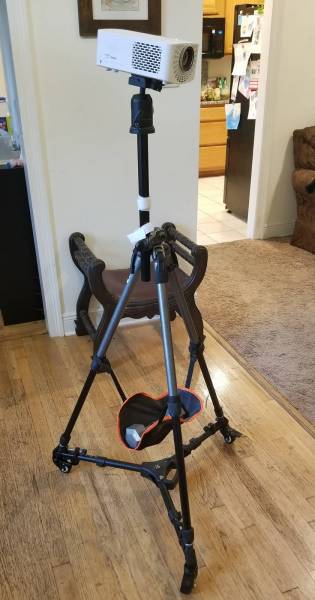 Universal Tripod Dolly (Artograph Dolly)-This little dolly system is multipurpose. For cameras or artographs. It just makes positioning easier.
https://www.bhphotovideo.com/c/product/970945-REG/magnus_dwf_2_universal_tripod_dolly.html
Swing Arm Desk Lamp
This is a basic desk lamp whose ballast has gone bad. I removed the wiring and ballast, flipped the remaining cup and removed the lamp shade bowl. Now it's a convenient place to put my electric erasers.
Dahle Sharpener (with modification)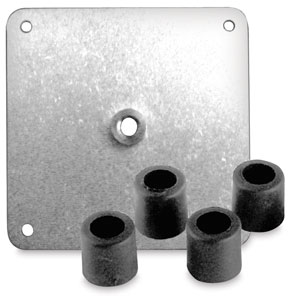 Easel drawing cradle for sketching near desk with a tripod back plate
https://www.dickblick.com/items/51740-1010/
Sakura Eraser
Sakura Eraser The above is the new version of the older Sakura that I use below.
Modified Sakura Eraser
I place a Dremel bit chuck in the Sakura's little metal eraser holder thingy so it can fit a 2mm eraser size.
So yes, I modify a lot if not most of the equipment in my studio… at some point or other. You certainly don't have to mod things but I guess you could call it a hobby as well as a way of making things work the way I want them to. 🙂